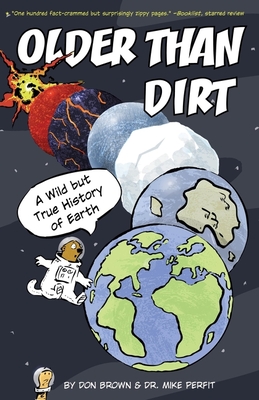 Older Than Dirt
A Wild but True History of Earth
Paperback

* Individual store prices may vary.
Other Editions of This Title:
Hardcover (9/5/2017)
Description
Two-time Sibert Honor winner Don Brown has crafted a graphic history of the world's geology with a humble groundhog tour guide, leading readers through the planet's natural history and stages of the Earth's evolution, as well as the incredible natural forces constantly at work. 

Almost 14.5 billion years ago, it all started with a Big Bang and what began as a cloud of gas, dust, and rock eventually took shape and bloomed into a molten sphere. Battered by asteroid collisions, ice ages, and shifting tectonic plates, our fledgling planet finally pushed forth continents. But if you think Earth has calmed down since then—think again! Geological activity such as earthquakes, volcanoes, and tsunamis continues to sculpt the earth's landscape, sometimes with terrible consequences for its inhabitants.
 
In this one-of-a-kind, wild, but true history of Earth, two-time Sibert Honor Medalist Don Brown takes on big concepts with humor and ease.
Praise For Older Than Dirt: A Wild but True History of Earth…
"Older Than Dirt's playful nature and innovative approach make learning science a true joy." —Shelf Awareness "The groundhog and worm's repartee results in a witty history of the planet that packs a remarkable amount of information into an engaging format." —Publishers Weekly "The groundhog is utterly endearing, and the worm is remarkably expressive considering the absence of limbs and most facial features. Readers will be entertained, informed, and inspired to learn more. . . A guaranteed hit with science lovers and a best bet for convincing skeptics that science is indeed a grand and exciting adventure." —Kirkus ? "In one hundred fact-crammed but surprisingly zippy pages, nonfiction graphic novelist extraordinaire Brown covers fourteen billion years of Earth's development. From the Big Bang to our planet's origin to land mass formation to the appearance of life, Brown and scientific consultant Perfit provide an astonishingly comprehensive overview and manage to humanize it with witty asides from the woodchuck and worm who serve as surrogate teacher and student, as well as quick visits with important historical scientists." —Booklist, starred review "...This is a worthy work of graphic nonfiction for earth science units." –School Library Journal "The graphic format, light tone, and amusing repartee keep up the pace over the course of an impressive number of geology topics."--Horn Book  —
Clarion Books, 9780358452126, 112pp.
Publication Date: July 13, 2021
About the Author
Don Brown is the YALSA excellence in nonfiction and Sibert Honor award-winning author and illustrator of many nonfiction graphic novels for teens and picture book biographies. He has been widely praised for his resonant storytelling and his delicate watercolor paintings that evoke the excitement, humor, pain, and joy of lives lived with passion. School Library Journal has called him "a current pacesetter who has put the finishing touches on the standards for storyographies." He lives in New York with his family.
www.booksbybrown.com
Instagram: @donsart
Dr. Michael Perfit
is Professor and Chair of Geological Sciences at the University of Florida where he has worked since 1982. He has authored or co-authored more than 100 peer-reviewed technical papers and articles in professional scientific publications and has been a principal investigator on numerous research grants from the National Science Foundation and NOAA. He has participated on over 20 oceanographic research cruises and served as co-chief scientist on several more. While at the University of Florida he has received several awards for excellence in teaching at the University of Florida and was the Flint Term Professor in 1999-2000. He has also enjoyed adjunct academic appointments at the Australian National University, Cornell University, University of Tasmania, and the Institut du Physique du Globe, Paris.