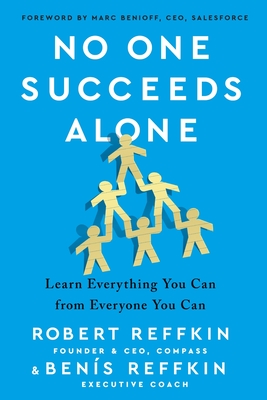 No One Succeeds Alone
Learn Everything You Can from Everyone You Can
Hardcover

* Individual store prices may vary.
Other Editions of This Title:
Digital Audiobook (5/3/2021)
Paperback (5/3/2022)
MP3 CD (5/4/2021)
Compact Disc (5/4/2021)
Description
The inspirational story of Compass CEO Robert Reffkin, whose mother, mentors, and search for belonging taught him valuable lessons that anyone with a dream can put into action today to improve their own quality of life
 
No one expected a dreadlocked fifteen-year-old who cared more about his DJ business than his homework to grow up to become one of the youngest-ever White House fellows, create multiple nonprofits, and found a multibillion-dollar company. But Robert Reffkin — raised by an Israeli immigrant single mother, disowned by his maternal grandparents for being Black, and abandoned by his father — has always defied the odds.

Compass's mission is to help everyone find their place in the world, and in these pages, Reffkin distills the wisdom he's gathered along his journey. Each chapter offers a part of his life story and a practical lesson, such as:
Love your customers more than your ideas
Find someone to give you the critical feedback others won't
Create your own "rich-kid's network"
The advice in No One Succeeds Alone will inspire you to dream bigger than you ever have before, realize your full potential, and give back by helping make someone else's dreams come true, too. All author proceeds from No One Succeeds Alone are being donated to nonprofits that help young people realize their dreams.
Praise For No One Succeeds Alone: Learn Everything You Can from Everyone You Can…
"No One Succeeds Alone is a tribute to the power of human connection and mentorship. Throughout his personal life and business career, Robert has been the beneficiary of many mentors. In the book, he shares the learnings from those important relationships, together with his own experience as a successful entrepreneur. Resilience, intellectual curiosity, optimism, and a commitment to making an impact have paved his personal journey, which is nothing short of inspirational." Ken Chenault | Former chairman and CEO, American Express; chairman and managing director, General Catalyst "In acknowledging so many of the people who have helped him on his journey, Robert has shared a deeply personal, beautiful, and relatable human story about finding your purpose, utilizing resources, and ultimately creating success! My own life is a testament to the same principles that animate this book: that if you keep your eyes and ears open, and take initiative, the possibilities are endless." Misty Copeland | Principal dancer, American Ballet Theater; acclaimed author, actor and public speaker; named one of the "100 Most Influential People in the World" by Time magazine "Whether you're running a multi-billion-dollar public company or a neighborhood restaurant, the principles of entrepreneurship are the same. Robert's book lays out what it really takes to pursue your passion and grow your business, interwoven with beautiful moments from his remarkable personal story. Every entrepreneur — and really, everyone with a dream — should read this book." John Foley | Chairman and CEO, Peloton; former president of eCommerce, Barnes & Noble "The story of how a 17-year-old kid, with no connections, went from DJing Bar Mitzvahs to graduating from Columbia, working at Goldman Sachs, and then founding a multi-billion-dollar tech startup is already a great read. But what makes it all the more compelling is Robert Reffkin explains in detail just how he pulled it off, so anyone with a dream and the courage to chase it can follow in his footsteps." David Solomon | Chairman and CEO, Goldman Sachs; founder, Payback Records; music producer, DJ D-Sol "To understand Robert's journey is to understand the American dream. And to go through this book is to know that we now have a blueprint for more people to achieve it. I have long admired and respected the pathway of my friend Robert. Reading this book I fully understand why. You will be moved and inspired by these words and will leave with an energy to inspire change in your life and the lives of others." Wes Moore | CEO, Robin Hood Foundation; New York Times bestselling author "This just might be the best business/advice book written since 'How to Win Friends and Influence People' was published almost 90 years ago...Every young person about to graduate anything — college, high school, middle school — should read this book, as it will provide for them the principles for living a successful and meaningful future. And the same is true for everyone starting a new job, a new career or a new path."  Mark Gerson | Founder, GLG and Thuzio; author of The Telling "Robert Reffkin believes that the only way to be your best self is to be your authentic self. No One Succeeds Alone showcases his brave, inspiring, and very real search for belonging, fulfillment, and authenticity. This book is an indispensable guidebook for anyone who's ever felt lost or out of place on their way to achieving their full potential." Reshma Saujani | Founder and CEO, Girls Who Code; New York Times —
Harvest, 9780358454618, 240pp.
Publication Date: May 4, 2021
About the Author
ROBERT REFFKIN is a husband, a father, and the founder and CEO of Compass, a real estate technology company that is now the largest independent brokerage in America, having helped clients buy and sell homes worth more than a quarter-trillion dollars since its founding. Reffkin graduated from Columbia in two and a half years, earned an MBA from Columbia Business School, and worked at McKinsey, Lazard, and Goldman Sachs. He ran fifty marathons, one in each US state, to raise $1 million for charities— including America Needs You, the nonprofit he founded to serve young people living below the poverty line who are the first in their families to go to college.