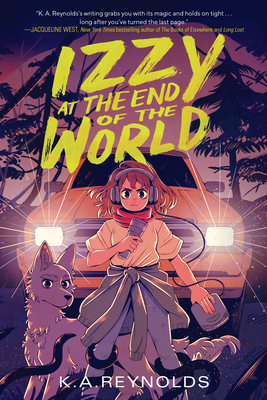 Izzy at the End of the World
Hardcover

* Individual store prices may vary.
Description
The Last Kids on Earth meets Margaret Peterson Haddix in this middle grade adventure about fourteen-year-old Izzy, an autistic girl surviving the end of the world who must team up with her loveable dog to uncover the hidden truth behind her family and the rest of humanity's disappearance.   
Ever since Izzy Wilder's mom died, she's wanted life to feel normal. She plays video games with her little sister, helps her grandparents around the house, and takes care of her best dog, Akka. But losing her mom is far from normal, and for Izzy, who is autistic, it feels like the end of the world.
When mysterious lights flash across the mountains outside Izzy's house one night, and suddenly everyone except her and Akka seem to have disappeared in an instant, Izzy is more alone than ever. But Izzy is a fighter and she won't lose anyone else in her family, even if it means battling terrifying gray, ugly monsters and decoding cryptic messages that seem a lot like her mom talking to her from beyond the grave.
In the face of disaster, Izzy and Akka embark on an epic adventure filled with nail-biting suspense, unexpected allies, and life's greatest mysteries as they uncover the true endurance of the human spirit and save the world.  
Praise For Izzy at the End of the World…
"Both heartbreaking and hopeful at the same time, this story has grief, love, and acceptance in its center, encased in an alien adventure that us impossible to put down!" — Beth Revis, New York Times bestselling author of Star Wars: Rebel Rising
"With rapid fire pacing this powerful book does not shy away from hard topics like grief and anxiety but instead shines a light on them, showing everyone that the key to facing the hardest truths is to do it with love in your heart. K. A. Reynold proves, once again, that if you listen to what the universe is telling you, you can do anything. Even save the world." — Ally Malinenko, author of This Appearing House 
"Fierce and tender, funny and tenacious, Izzy at the End of the World is the disabled-kids-save-the-world story of my dreams." — Cindy Baldwin, author of Where the Watermelons Grow
"K.A. Reynolds's writing grabs you with its magic and holds on tight. You'll love open-hearted Izzy and her disastrous dog Akka, and you'll carry their hope and courage with you like an amulet long after you've turned the last page." — Jacqueline West, New York Times bestselling author of The Books of Elsewhere and Long Lost
"In Izzy and Raven, K.A. Reynolds has written the heroes we all need right now. Izzy at the End of the World is a fun, fast-paced sci-fi adventure that's filled to the brim with heart and hope." — Samantha M Clark, author of Arrow and The Boy, The Boat, and the Beast
"The ones who love us never really leave us, even at the end of the world; Izzy's adventure is like listening to the one song that keeps you believing on repeat." — Sarah Cannon, author of Oddity 
"An action-packed apocalyptic adventure with a beautiful message at its heart, Izzy at the End of the World is both heart-pounding and heart-filling. A book about death that thrums with exuberant life." — Hayley Chewins, author of The Sisters of Straygarden Place 
Clarion Books, 9780358467779, 352pp.
Publication Date: February 21, 2023