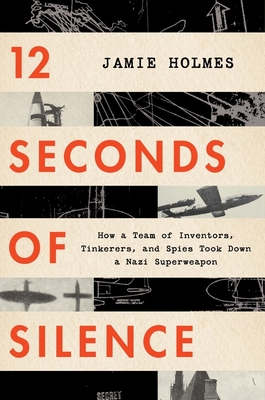 12 Seconds of Silence
How a Team of Inventors, Tinkerers, and Spies Took Down a Nazi Superweapon
Paperback

* Individual store prices may vary.
Other Editions of This Title:
Digital Audiobook (8/3/2020)
Hardcover (8/4/2020)
CD-Audio (8/4/2020)
MP3 CD (8/4/2020)
Description
The riveting story of the American scientists, tinkerers, and nerds who solved one of the biggest puzzles of World War II—and developed one of the most powerful weapons of the war
 
12 Seconds of Silence is the remarkable, lost story of how a ragtag group of American scientists overcame one of the toughest problems of World War II: shooting things out of the sky.
 
Working in a secretive organization known as Section T, a team of physicists, engineers, and everyday Joes and Janes took on a devilish challenge. To help the Allies knock airplanes out of the air, they created one of the world's first "smart weapons." Against overwhelming odds and in a race against time, mustering every scrap of resource, ingenuity, and insight, the scientists of Section T would eventually save countless lives, rescue the city of London from the onslaught of a Nazi superweapon, and help bring about the Axis defeat. A holy grail sought after by Allied and Axis powers alike, their unlikely innovation ranks with the atomic bomb as one of the most revolutionary technologies of the Second World War. Until now, their tale was largely untold.
 
For fans of Erik Larson and Ben Macintyre, set amid the fog of espionage and dueling spies at the dawn of an age when science would determine the fate of the world, 12 Seconds of Silence is a tribute to the extraordinary wartime mobilization of American science and the ultimate can-do story. 
Praise For 12 Seconds of Silence: How a Team of Inventors, Tinkerers, and Spies Took Down a Nazi Superweapon…
"The story of the first 'smart' weapon . . . Holmes is a meticulous historian . . . Fascinating . . . with an exciting finale."—Kirkus Reviews
"Rousing and carefully researched . . . Holmes maintains a brisk pace, highlighting the human drama . . . This entertaining chronicle rescues a tale of American wartime ingenuity from obscurity."—Publishers Weekly

"A fascinating account of the evolving specter of war, replete with biographies of important figures who may not have been world leaders, but whose work altered it forever."—Booklist

"Perhaps the greatest praise I can offer as an author is to admit to wishing that I had written this book myself. Jamie Holmes takes an arcane chapter of World War II science and reveals it to be a story full of drama and intrigue, an engrossing narrative that keeps you turning pages . . . Holmes's storytelling is exquisite. Absolutely superb."—Gregory A. Freeman, best-selling author of The Forgotten 500 and Sailors to the End

"A tale of science, spycraft, and ingenuity—a ripping yarn from start to finish."—Larrie D. Ferreiro, author of Pulitzer Prize finalist Brothers at Arms

"Holmes writes like a dream . . . it all unfolds with the pace of a thriller."—Peter Bergen, New York Times best-selling author of Manhunt and Trump and His Generals

"In his eye-opening marvel of a book, Jamie Holmes reveals the fascinating story of the humble proximity fuse. It turns out to be not so humble, but rather a mighty war-winner and soldier-saver—and all thanks to an eccentric and eclectic band of tinkerers, hobbyists, and geeks who overcame enormous obstacles to turn what was once science fiction into a reality."—Alexander Rose, New York Times best-selling author of Washington's Spies and Empires of the Sky

"Holmes vividly demonstrates what American military leaders knew well by the close of World War II: the atomic bomb ended the war, but the proximity fuse won it."—G. Pascal Zachary, author of Endless Frontier: Vannevar Bush, Engineer of the American Century
 
Mariner Books, 9780358508632, 416pp.
Publication Date: May 25, 2021
About the Author
JAMIE HOLMES is a writer living in Washington, DC. His work has appeared in print or online in the New York Times, The New Yorker, Slate, the Christian Science Monitor, the New Republic, the Atlantic, Foreign Policy, USA Today, and the Daily Beast. His first book was Nonsense: The Power of Not Knowing.