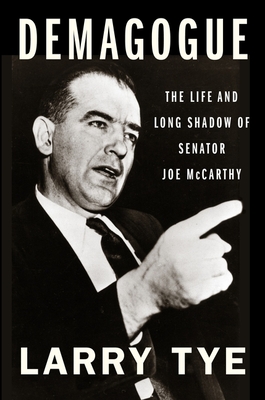 Demagogue (Paperback)
The Life and Long Shadow of Senator Joe McCarthy
Mariner Books, 9780358522485, 608pp.
Publication Date: April 27, 2021
Other Editions of This Title:
Hardcover (7/7/2020)
CD-Audio (7/7/2020)
MP3 CD (7/7/2020)
Pre-Recorded Audio Player (7/7/2020)
* Individual store prices may vary.
Description
The definitive biography of the most dangerous demagogue in American history, based on exclusive access to his papers and recently unsealed transcripts of his closed-door Congressional hearings

In the long history of American demagogues, from Huey Long to Donald Trump, never has one man caused so much damage in such a short time as Senator Joseph McCarthy. We still use "McCarthyism" to stand for outrageous charges of guilt by association, a weapon of polarizing slander. From 1950 to 1954, McCarthy destroyed many careers and even entire lives, whipping the nation into a frenzy of paranoia, accusation, loyalty oaths, and terror. His chaotic, meteoric rise is a gripping and terrifying object lesson for us all. Yet his equally sudden fall from fame offers hope that, given the rope, most American demagogues eventually hang themselves. Only now, through best-selling author Larry Tye's look at the senator's records, can the full story be told.
About the Author
LARRY TYE is the best-selling author of Bobby Kennedy and Satchel, as well as Superman, The Father of Spin, Home Lands, and Rising from the Rails, and coauthor, with Kitty Dukakis, of Shock. Previously an award-winning reporter and national writer at the Boston Globe and a Nieman fellow at Harvard University, he now runs the Boston-based Health Coverage Fellowship. He lives in Massachusetts.
Praise For Demagogue: The Life and Long Shadow of Senator Joe McCarthy…
"Tye captures 'Low Blow Joe' in all his shambolic ingloriousness . . . The result is an epic expose that . . . will leave [readers] shaking their heads over the rise and fall of the greatest demagogue in American history, with the possible exception of the current White House incumbent."
—Boston Globe

"In an age when we see the resurrection of Senator Joe McCarthy's tactics—exaggeration and lies, guilt by association, the smearing of political opponents, and above all the acquiescence of enablers who know better—Larry Tye's Demagogue is a gripping, essential read. Drawing on records newly unsealed after sixty years, Tye explains how McCarthy's fearmongering caught fire, offering timely insight into the rise of bullies and what is required to defeat them."
—Samantha Power, former US ambassador to the United Nations and New York Times best-selling author of The Education of an Idealist

"For many contemporary readers, Joseph McCarthy is a done and dusted relic for the history books, but Tye (Bobby Kennedy, 2016) brings him back to ferocious life . . . Tye is an even-handed reporter, tracking the truth of stories advanced by both McCarthy's devotees and detractors . . . This is a must-read biography for anyone fascinated by American history, and every reader will blanch at its events' resemblances to today's fraught political conflicts."
—Booklist, starred review
 
"Larry Tye's Demagogue nails the defining biography of Joe McCarthy. I grew up a Cold War kid watching it all on television. I thought I knew it all, but Tye makes it real. To understand Donald Trump, you have to understand Joe McCarthy first, and Tye's your guide."
—John Kerry, former US secretary of state

"Tye has written a fabulous, can't-put-down examination of one of the most dangerous politicians in American history. But Demagogue is more than a biography—it's a warning of the peril we are facing."
—William Cohen, former US secretary of defense

"[A] sure-handed account . . . searing and informative portrait of [Senator Joseph McCarthy] and his specific brand of self-aggrandizing demagoguery."
—Publishers Weekly

"Meaty narrative . . . A timely examination of a would-be savior whose name remains a byword for demagoguery."
—Kirkus Reviews

"As the demagogue now in the Oval Office—mentored personally by McCarthy's unscrupulous disciple Roy Cohn—asserts monarchical authority, it has never been more urgent to have Larry Tye's definitive answers to the questions: How did Joe McCarthy get power in America? And how was he brought down?"
—Daniel Ellsberg, nuclear defense analyst and author of The Doomsday Machine 
 
"Tye takes us, step by step, as one of America's most dangerous right-wing populists learns how to use fear and deception to vault his way into power and threaten our country's most basic rights. The lessons for today are all too clear."
—Steven Levitsky, coauthor of How Democracies Die
 
"This well-crafted, deeply researched study of Joseph McCarthy and McCarthyism reveals the awful consequences of demagoguery in America, and its toll on our democracy. Tye provides not only untold history, but an essential primer for the times of Trump. We cannot ignore the lessons revealed in Larry Tye's narrative."
—John W. Dean, former Nixon White House counsel
 
"Larry Tye's deeply reported Demagogue accomplishes two essential tasks at once. As first-rate biographies do, it lifts Joe McCarthy from stereotype to vivid flesh, while also using the past to illuminate the present."
—David Maraniss, Pulitzer Prize–winning author of A Good American Family: The Red Scare and My Father
 
"Fueled by a trove of newly uncovered documents, Demagogue charts the legacy of Joe McCarthy, reviled master of the political smear, through the malign tutelage of McCarthy henchman Roy Cohn and directly to Donald J. Trump. A must-read."
—Richard Ben-Veniste, assistant Watergate special prosecutor and author of The Emperor's New Clothes
 
"Larry Tye's razor-smart and riveting account is a timely, and dismaying, reminder of how hard it is for American politics to turn on a demagogue who exploits our fears. Joe McCarthy left few profiles in political courage in his wake."
—Tim Naftali, former director of the Nixon Presidential Library and coauthor of Impeachment: An American History
 
"There couldn't be a more fitting time for Larry Tye to revisit the history of Senator Joe McCarthy. Based on new archival findings, Demagogue tells the story of one of the notorious senators in congressional history, a legislator who destroyed lives, shattered reputations, and damaged institutions until he eventually did himself in."
—Julian Zelizer, author of Burning Down the House: Newt Gingrich, The Fall of a Speaker, and the Rise of the New Republican Party