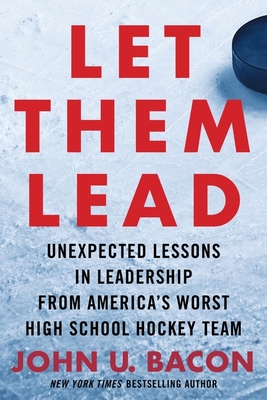 Let Them Lead
Unexpected Lessons in Leadership from America's Worst High School Hockey Team
Hardcover

* Individual store prices may vary.
Other Editions of This Title:
Digital Audiobook (9/6/2021)
MP3 CD (9/7/2021)
Compact Disc (9/7/2021)
Description
An uplifting leadership book about a coach who helped transform the nation's worst high school hockey team into one of the best. Bacon's strategy is straightforward: set high expectations, make them accountable to each other, and inspire them all to lead their team.
 
When John U. Bacon played for the Ann Arbor Huron High School River Rats, he never scored a goal. Yet somehow, years later he found himself leading his alma mater's downtrodden program. How bad? The team hadn't won a game in over a year, making them the nation's worst squad—a fact they celebrated. With almost everyone expecting more failure, Bacon made it special to play for Huron by making it hard, which inspired the players to excel. Then he defied conventional wisdom again by putting the players in charge of team discipline, goal-setting, and even decision-making – and it worked. In just three seasons the River Rats bypassed 95-percent of the nation's teams.
 
A true story filled with unforgettable characters, stories, and lessons that apply to organizations everywhere, Let Them Lead includes the leader's mistakes and the reactions of the players, who have since achieved great success as leaders themselves. Let Them Lead is a fast-paced, feel-good book that leaders of all kinds can embrace to motivate their teams to work harder, work together, and take responsibility for their own success.
Praise For Let Them Lead: Unexpected Lessons in Leadership from America's Worst High School Hockey Team…
"Let Them Lead: Unexpected Lessons in Leadership from America's Worst High School Hockey Team, is where Ted Lasso meets the Mighty Ducks." -Dan Shaughnessy, Columnist, The Boston Globe   "Plenty of adjectives describe Let Them Lead — practical, readable, lively, compelling, thought-provoking. Whether the story of the hockey program or the leadership principles proves the greater draw, both will stay with readers after finishing the book. This is a volume worth returning to for insight and inspiration." -John Young, Pittsburgh Post-Gazette   "Hey, Mighty Ducks. Meet the River Rats. It is not just a high-school hockey book, and it is not just a self-help book for aspiring bosses, teachers and coaches. Bacon works two timelines into one good story with ease. He's quick to point out he played 86 high school games without scoring a goal. He found a greater reward as a coach, and that's the heart of a must-read book for those who want to learn more about that pursuit. Great read for youth coaches!"  -Bill Bender, The Sporting News   "Journalist Bacon delivers a heartfelt narrative about the leadership skills he learned when he returned to his alma mater to coach the lowest-ranked high school hockey team in Michigan… Interspersed are moving stories about the confidence, motivation, and humility the players gained. These valuable lessons will inspire readers regardless of whether they've ever picked up a hockey stick." -Publishers Weekly   "You get hooked by the River Rats, and you just have to see how this thing turns out. In making it hard to be a part of the team, more kids wanted to join it. This feel-good tome resonates whether you're a coach or a corporate type. It's an easy read, and you'll take a lot from it." -John Johnson, Michigan High School Athletic Association   "Just finished this excellent book, which weaves lessons for life and leadership throughout an entertaining, inspiring story. It transcends hockey and sports. Great for coaches, parents, players and leaders in all walks of life." -Nick Cotsonika, Columnist, NHL.com   "Highly recommended. To call it a great sports book is to dramatically undersell it. There's something in it for everyone. Seriously, a must read. Do yourself a big favor: Put it on your reading list and order it now." -Keith Gave, author, The Russian Five, and director, The Russian Five documentary "How do you take the country's worst hockey team and turn it into one of the best? John Bacon knows the answer, because he made it happen. This book is brimming with brilliant, concrete and actionable insights on leadership — like the importance of less theory and more practice, what we get wrong about motivational speeches, and why you should be strict on a few rules and loose on the others. But the best part is that Bacon's a born storyteller. Some of his  stories will inspire you, others will tug at your heartstrings. Some will do both- like the tale of the third string, quiet goalie who led his team to a championship season. But all of these stories will keep you turning the pages. This is the leadership book you've been looking for." -Susan Cain, author of the New York Times bestseller, Quiet "While the pandemic taught all of us what it's like to be isolated, and the world polarizes around so many issues, our belief in the potential of younger folks to work hard —
Mariner Books, 9780358533269, 256pp.
Publication Date: September 7, 2021
About the Author
John U. Bacon has written for The Wall Street Journal, The New York Times, The Washington Post, Sports Illustrated, ESPN, and NPR, among others. He has authored seven national bestsellers on sports, business, health, and history. A popular corporate speaker, executive coach, and leadership consultant, Bacon lives in Ann Arbor with his wife and son.