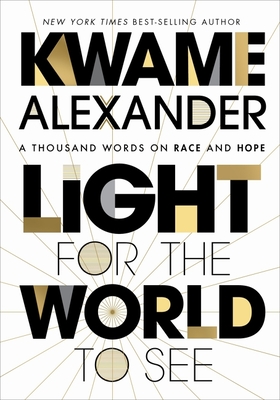 Light For The World To See
A Thousand Words on Race and Hope
Hardcover

* Individual store prices may vary.
Other Editions of This Title:
Digital Audiobook (11/16/2020)
Description
From NPR correspondent and New York Times bestselling author, Kwame Alexander, comes a powerful and provocative collection of poems that cut to the heart of the entrenched racism and oppression in America and eloquently explores ongoing events.   A book in the tradition of James Baldwin's "A Report from Occupied Territory,"  Light for the World to See is a rap session on race. A lyrical response to the struggles of Black lives in our world . . . to America's crisis of conscience . . . to the centuries of loss, endless resilience, and unstoppable hope.   Includes an introduction by the author and a bold, graphically designed interior.
Praise For Light For The World To See: A Thousand Words on Race and Hope…
"The widely acclaimed author of nearly three dozen books for children, Alexander turns his poetic attention to three milestones in recent U.S. history: the murder of George Floyd by police officers in Minneapolis, the kneeling protests of Colin Kaepernick during the national anthem before NFL games, and the election of Barack Obama. Alexander works through these events in reverse chronological order, committing one long poem apiece to each of the three turning points. The poems are defined as much by their direct language and stark imagery ("we can't hold a gun / we can't stop that whip / we can't wear this skin") as by the highly stylized typography: much of the text appears on yellow banners against black backgrounds, mimicking police tape at crime scenes. Other pages include broken chains in grayscale and the American flag with its stars replaced by X's. One of the most powerful passages occurs when Alexander lists the names of Black individuals murdered by police and white vigilantes and stirs his readers to action. A brave intervention by a talented writer of conviction...Alexander's uniquely designed poems offer a useful entry point for conversations about racism in America."--Booklist "This collection poignantly captures the pain, rage, injustice, and resistance that mark this moment in American history."--School Library Journal —
Mariner Books, 9780358539414, 96pp.
Publication Date: November 17, 2020
About the Author
Kwame Alexander is the New York Times Bestselling author of 32 books, including The Undefeated; How to Read a Book; Solo; Swing; Rebound, which was shortlisted for prestigious Carnegie Medal; and his Newbery medal-winning middle grade novel, The Crossover. He's also the founding editor of Versify, an imprint that aims to Change the World One Word at a Time. Visit him at KwameAlexander.com
Foreword
Freedom Now
In Brooklyn, New York, on the morning of November 7, 1978, as I got ready for school, my father, the principal, informed me that the entire student body would be marching over the Brooklyn Bridge into Manhattan to protest the police killing of Arthur Miller, a Crown Heights Black civic leader. My first reaction was fear.
I cried as my classmates and I shakily marched across the Hudson River, along narrow streets lined with supporters and policemen. Even though this was not my first racial justice-themed school "field trip," it was my first march across a bridge, and I did not want to suffer the same fate John Lewis and his fellow civil rights demonstrators did on the Edmund Pettus Bridge in 1965—attacked and bloodied by police officers. In my ten-year-old mind I was certain that if police officers who were sworn to serve and protect human beings could murder a civic leader—and be acquitted of all charges—then surely they wouldn't think twice about siccing their police dogs on us, or fire-hosing us, or worse, somehow managing to open up the bridge. While we were on it.
Among the marchers and protestors on that cloudy day were Jitu Weusi, founder of Uhuru Sasa Shule ("Freedom Now School" in Swahili), the progressive school I attended; Anna Quindlen, New York Times reporter; Sonia Sanchez, poet; and members of the congregation of the House of the Lord Church, whose pastor, Herbert Daughtry, was the protest's organizer and leader.
As the march entered Lower Manhattan and capstoned into a spirited rally, the reverend shouted atop a car, "We have not been satisfied that police are going to stop killing our children," and then he began to lead us in song . . . in a psalm of resistance: "We're fired up, we can't take no more. We're fired up, we can't take no more." As the chants grew louder, the rhythm stronger, a spiritual momentum gained, and I found myself joining the chorus of activists shouting triumphantly. The moment was contagious, akin to being in church and not realizing you're on your feet, clapping, making a joyful noise like everybody else . . . until you are. My angst cooled. I raised my huge placard with Miller's face on it and found my footing. I couldn't articulate what was happening at the time, but somehow, in that moment, I found comfort in my voice, in those around me who were lifting theirs. But it wasn't just comfort that the words and sounds brought me, it was also a kind of muscularity. A power to face the world and demand that it see me. The power to speak up about what mattered. Black lives.
Recently, as I've struggled to find my own meaningful way of parting these waters of racial injustice that threaten to drown us today, that have haunted us for centuries, I keep returning to the words we chanted that day. And wondering, are they strong enough to carry this weight?
This book is me attempting to answer that question. Me lifting my voice, using my words to say something . . . about racism, about Black triumph, about solidarity. About police brutality and its devastating impact on Black America, on America. This book is a sort of wading into the water, a roll of thunder, a call to action. A rally in verse.
Audre Lorde wrote, "Poetry lays the foundations for a future of change, a bridge across our fears of what has never been before." We find ourselves in a world like never before. And, yet, we've always been here. In this moment, as we grapple with the fear, the uncertainty, the awakening, I turn to poetry, a small but powerful emotional geography that has the ability to reach inside of us, map our humanity, anchor us on solid ground, heal, and lift our souls to the heights of joy.
These three poems have been my balms. They are my chants, my psalms, my songs of protest. My hope for us is built on nothing less. We all want to be a part of the change that's happening in the world. So, yes, we are fired up, because we can't take no more. And we are coming for our freedom. Now.
Kwame Alexander
London, England
July 2020