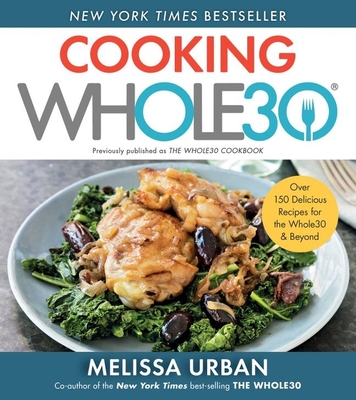 Cooking Whole30
Over 150 Delicious Recipes for the Whole30 & Beyond
Paperback

* Individual store prices may vary.
Description
Previously published as Whole30 Cookbook, this bestseller is now in paperback for the first time, complete with 10 exclusive new recipes and a new introduction from Melissa Urban

The groundbreaking Whole30 program has helped millions of people transform their lives by bringing them better sleep, more energy, fewer cravings, and a healthy relationship with food, built on a foundation of healthy habits that last a lifetime. In this cookbook (previously published as The Whole30 Cookbook) best-selling author and Whole30 co-creator Melissa Urban delivers over 150 recipes to help readers prepare delicious, healthy meals during their Whole30 and beyond. 
A Whole30 refresher, including an updated introduction to the program, 5 steps to get you started, and tips for stocking your Whole30 kitchen.
More than 150 recipes for main dishes, sides, dressings, and sauces.
Easy tips that simplify meal planning and prep to save time and money.
Recipe Remixes designed to turn one dish into two or three different meals.
10 exclusive, new recipes from community recipe creators.
Whether you've done the Whole30 once or five times—or just want to make a variety of satisfying, nourishing meals—this book will inspire you to change your life in 30 days with the Whole30 program.
Praise For Cooking Whole30: Over 150 Delicious Recipes for the Whole30 & Beyond…
"Say good-bye to mundane meals with The Whole30 Cookbook. These mouthwatering recipes will help you reset your health while filling your life with delicious good food." —DANIELLE WALKER, New York Times best-selling author of Against All Grain and Meals Made Simple   "As a food nerd who lives to eat, it's important that my lifestyle is as tasty as it is healthy. The Whole30 completely changed the game for me and gave me a fresh start in more ways than one, and with The Whole30 Cookbook, you can reboot your life, too—one delicious, deprivation-free bite at a time." —MICHELLE TAM, New York Times best-selling author of Nom Nom Paleo: Food for Humans   "Melissa is the kind of person you'd love to have next to you at yoga class because she gives excellent advice, knows the best stuff to eat, and says just the right thing to turn your day around. Lucky for all of us, her expert guidance is readily available on bookshelves everywhere. Add this book to your arsenal and crush your next Whole30!" —MELISSA JOULWAN, author of the best-selling Well Fed cookbooks   "Delicious is now synonymous with healthy thanks to Melissa's latest book. These gorgeous recipes truly defy the odds by being flavorful to the taste buds, nourishing to the body, and fulfilling to the tummy—all at the same time." —ALI MAFFUCCI, New York Times best-selling author of Inspiralized "Hartwig, a sports nutritionist and cocreator of the Whole30 diet plan, packs her fourth book on the subject with 150 recipes that are, as the cover proclaims in all-caps, "totally compliant." That means heavy emphasis on eggs, meat, fish, and fresh vegetables, but no grains, dairy, legumes or added sugars. Whether or not one buys into Whole30, there is no denying that Hartwig has come up with a clever array of healthy and flavorful dishes. Highlights include Asian beef zoodle (zucchini noodles) soup, which is similar to Vietnamese pho but uses zucchini noodles, and grilled Jamaican jerk salmon with fresh mango salsa. Many of the recipes come courtesy of guest cooks from various food blogs. For instance, Michelle Smith, from the Whole Smiths blog, contributes cherry-chipotle BBQ chicken thighs, with the fruit providing the sweetness and ground chipotle bringing the heat. Veteran food and cocktail photographer Brent Herrig drives home the point that a burger served on a tomato slice is as delectable as one on a bun, and that meatballs do just fine in a cream sauce made with coconut milk. (Dec.)" —Publishers Weekly —
Harvest, 9780358539926, 336pp.
Publication Date: December 29, 2020
About the Author
MELISSA URBAN is the co-founder and CEO of Whole30, and a six-time New York Times bestselling author. She is the host of the Do the Thing podcast, and is a prominent keynote speaker on social media and branding, health trends, and entrepreneurship. She lives in Salt Lake City, UT.