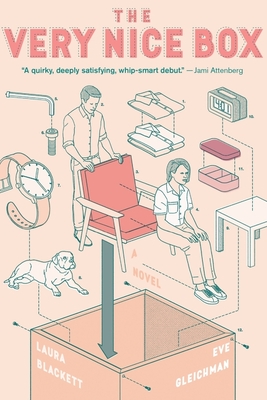 The Very Nice Box
Hardcover

* Individual store prices may vary.
Other Editions of This Title:
Digital Audiobook (7/5/2021)
Compact Disc (7/6/2021)
Paperback (6/14/2022)
MP3 CD (7/6/2021)
Description
"Laura Blackett and Eve Gleichman are linguistic magicians, and their sparkling debut manages to expose the hollowness of well-being jargon while exploring, with tender care and precision, how we dare to move on after unspeakable loss . . . [They have] constructed a mirrored fun house, one that leads us down different paths, each masterfully tied up at the end, yet reflecting and refracting our own quirky selves."
—New York Times Book Review, An Editors' Choice

"A very funny debut — and perhaps the most original office satire of the year."
—Washington Post

For fans of Elinor Oliphant Is Completely Fine and Severance: an offbeat, wryly funny debut novel that follows an eccentric product engineer who works for a hip furniture company where sweeping corporate change lands her under the purview of a startlingly charismatic boss who seems determined to get close to her at all costs . . .

Ava Simon designs storage boxes for STÄDA, a slick Brooklyn-based furniture company. She's hard-working, obsessive, and heartbroken from a tragedy that killed her girlfriend and upended her life. It's been years since she's let anyone in.

But when Ava's new boss—the young and magnetic Mat Putnam—offers Ava a ride home one afternoon, an unlikely relationship blossoms. Ava remembers how rewarding it can be to open up—and, despite her instincts, she becomes enamored. But Mat isn't who he claims to be, and the romance takes a sharp turn.

The Very Nice Box is a funny, suspenseful debut—with a shocking twist. It's at once a send-up of male entitlement and a big-hearted account of grief, friendship, and trust.
Praise For The Very Nice Box…
A New York Times Editors' Choice
One of Apple Books' Best Books of July
A "Read Carolina" Book Club Pick
One of Shondaland's "Best Books of July"
One of Bustle's "Most Anticipated New Books of July 2021"
One of LitHub's "New Books to Keep Your Summer Reading Going Strong"
One of Alma's "Favorite Books for Summer 2021"
One of LGBTQ Reads' "Most Anticipated"
One of Beyond the Bookends' "Outstanding Reads"

"Laura Blackett and Eve Gleichman are linguistic magicians, and their sparkling debut manages to expose the hollowness of well-being jargon while exploring, with tender care and precision, how we dare to move on after unspeakable loss . . . While themes in The Very Nice Box are clear-cut — heart versus head, form versus function, creativity versus commerce — their execution is anything but. The crowded action unfolds through comic set pieces, red herrings, character reveals and story reversals that make us reconsider everything we've just read . . . [The authors have] constructed a mirrored fun house, one that leads us down different paths, each masterfully tied up at the end, yet reflecting and refracting our own quirky selves. Recently, we've seen a spate of dazzling workplace novels featuring sharp-eyed, silver-tongued female millennials. With Severance, Temporary, The Other Black Girl and, now, The Very Nice Box (whose storage metaphors alone could have filled this review), traditional office fiction has been ripped from its white-collar, white-man origins and refashioned into language-twisting, genre-bending, electrifying art."
—Jillian Medoff, New York Times Book Review

"A very funny debut — and perhaps the most original office satire of the year . . . There's no way to put The Very Nice Box into, well, a box. It's a parody that feels like an extended inside joke; it's a thriller, a romance and a quirky coming-of-age saga. Gleichman and Blackett are trying to make a lot of points: about gender disparities in the workplace; about corporate responsibility; about gentrification. About insidious male toxicity and queer representation . . . The novel's witticisms and smart takes help it shine, and its empathetic commentary on grief humanizes it. Ava has closed herself off for years, and watching her open back up is satisfying. Plus, who can resist a novel that takes down an entitled man-child in absurdly grand fashion? Very Nice, indeed."
—Angela Haupt, Washington Post
"Rather than boxing in queerness, the authors suggest queerness as a lens for seeing, reading, and, arguably, for their own storytelling, which refuses trite or stereotypical generic moments. The story charms, it entices, and it keeps the reader in their hands, wanting more."
—Los Angeles Review of Books
"If you are looking for something compelling, quirky, and different, this novel is your July pick . . . In a darkly funny, thought-provoking,and twisty novel, readers will be entertained and root for Ava, and for a life where grief and hope can coexist."
—Shondaland, "The 5 Best Books of July"

"The Very Nice Box is highly readable, full of twists and irony—inspiring deep belly-laughs with every sentence."
—Vanessa Chan, BOMB

"In this bitingly funny thriller, a heartbroken woman takes a chance on love and gets more than she bargained for . . . This debut novel by the writing duo Eve Gleichman and Laura Blackett takes on hipster corporate culture with biting wit while also balancing breezy romance and pulse-pounding suspense. The Very Nice Box will have you laughing and nodding along right up to the final shocking twist."
—Apple Books, Best Books of July

"Blackett and Gleichman are particularly good at describing the cultish nature of millennial workplace culture by exposing the hollow roots of toxic wellness jargon . . . [The] book's uncanny nature is what makes it so damn smart and also more than a little terrifying . . .  The novel isn't a dystopia, a romance, a satire, a tragedy, or perhaps even a suspense. (Though it most definitely provides incisive social commentary on queerness, toxic masculinity, and workplace culture.) But it does all of these things very well, a literary accomplishment that some might call genre-bending, but I'm choosing to simply call it fantastic engineering."
—Nylah Burton, Bitch 

"A dazzling and hilarious debut seeped in the ills of corporate culture and male entitlement . . . The Very Nice Box offers a little bit for everyone—blending rom-com, satire, and thriller . . . Witty and sharp."
—Catapult

"A quirky, deeply satisfying, whip-smart debut that critiques corporate culture and male entitlement while also offering a heartfelt look at how to work through grief. Meticulously constructed and truly original—I inhaled it."
—Jami Attenberg, author of All This Could Be Yours

"The Very Nice Box is a fascinating look at the ways people choose to compartmentalize grief. The writing is sharp and dynamic, the plot wonderfully compelling. It's a very fun read, but it's also a timely one: how does toxic masculinity in corporate culture restructure and rebrand itself in order to appear innocuous? The Very Nice Box is a very nice book, and Blackett and Gleichman have created something stellar here."
—Kristen Arnett, author of With Teeth

"This debut has everything I crave in a novel: emotional intelligence, humor both subtle and satirical, pathos galore, and sentences that you could bounce a quarter off. Eve Gleichman and Laura Blackett have managed to write a literary page-turner that is full of heart and scathing social critique, not to mention a surprise ending to rival those of my favorite mysteries. I absolutely devoured it."
—Melissa Febos, author of Girlhood
 
"A satire of contemporary corporate culture. An exploration of how vulnerable we become in grief. A surprising romance. A cautionary tale. Somehow The Very Nice Box manages to be all of the above. Eve Gleichman and Laura Blackett have a wicked sense of humor and a keen view on our current moment. This is a delightful and propulsive read."
—Helen Phillips, author of The Need
 
"What kind of box is this book? Is it a giftbox, or a memory box, or a coffin? It's all of the above, a deftly packaged story that hinges on the way we organize our days, our work, and our love. I relished living in its perfect compartments. Gleichman and Blackett have engineered a narrative not only very nice, but exceptional."
—Hilary Leichter, author of Temporary

"This sharp page-turner is as well-constructed and pleasing as the titular Box, with a heroine whose affecting quirks lend heart and consequence to the headlong plot." 
—Emily Gould, author of Perfect Tunes

"The Very Nice Box is a thrill ride, an enthralling tale of love and vengeance. It's a rare novel that both sparkles with humor and pulses with deep emotion. At once a transgressive love story and an exploration of how to bring back life's meaning after loss, the plot builds in twist after twist to a shocking ending."
—Molly Dektar, author of The Ash Family 

"Smart, witty, wonderfully queer, The Very Nice Box is a moving novel about love and grief, a satire on corporate culture and thriller with a brilliant twist, all at once. Utterly original, warm-hearted and addictive."
—Kate Davies, author of In at the Deep End

"This book is fantastic . . . It's a heartbreaking novel about grief and trauma. It's a maddening look at male entitlement. It's an examination of love and sexuality . . . [with] dry, dark humor . . . I absolutely loved it."
—Liberty Hardy, BookRiot, "All the Books!"

"This nicely hard-to-define joint debut combines workplace satire, steamy romance, and genuine suspense . . . Gleichman and Blackett irresistibly and unpredictably entertain with surprising plot twists and lots of diverting scenery."
—Booklist

"At once a compulsively readable satire of white men in tech and a loving look at the power of friendship . . . [And the] ending absolutely delivers."
—Alma, "Favorite Books for Summer 2021"

"Years after the unexpected death of her girlfriend, Ava spends her days working at STÄDA. Her job at the Brooklyn furniture store provides her with a much-needed distraction from her lingering pain, but everything changes when she meets Mat. Her new boss is handsome and charming, and as they strike up an unanticipated relationship, things seem to be looking up for Ava. When she finds out the secret Mat's been keeping from her, however, Ava's life jerks into another surprise twist."
—Bustle, "Most Anticipated Books of July 2021"

"The limits of self-preservation and the giddiness of new attraction collide in Blackett and Gleichman's sharp debut . . . The authors play their cards carefully, balancing the buoyancy of infatuation with subtle red flags and red herrings. Blending comedy, thriller, and romance to great and surprising effect, this should have wide appeal."
—Publishers Weekly

"The Very Nice Box is a gleeful satire of relationships and start-up culture, as well as an incisive examination of grief and male entitlement."
—Public Libraries Online

"Set in a unique, fun and exciting workplace environment, everything from Ava's character arc, to the slow unraveling of the real story, were all very well developed and executed."
—WFXB, "Read Carolina" Book Club Pick for August

"The Very Nice Box is a surprising blend of romance, thriller, and satire that you won't want to put down."
—Sit Down & Write

"A book filled to the brim with social commentary [and] sharp humor."
—The Nerd Daily

"The quirky personality of Ava, the protagonist in this tale, is reminiscent of Eleanor Oliphant. Being inside Ava's unique brain was a real treat . . . As her backstory unfolds, this books goes from romance to thriller in the most delightful way. One of the most original vacation books of 2021. It's a must-read for laughs and suspense."
—Beyond the Bookends, "7 Vacation Books to Devour in Summer 2021"
Mariner Books, 9780358540113, 368pp.
Publication Date: July 6, 2021
About the Author
EVE GLEICHMAN's short stories have appeared in the Kenyon Review, the Harvard Review,Bomb Daily, and elsewhere. Eve is a graduate of Brooklyn College's Fiction MFA Program and lives in Brooklyn.

LAURA BLACKETT is a woodworker and writer based in Brooklyn.
1. Consider how the authors employ satire. What does the opening of the story reveal about STÄDA and its culture? Did it feel familiar to you? How would you say that STÄDA compares to real-life businesses? What does Ava do at the company and why does she like working there? Alternatively, what does she try to avoid while she is there? As Ava stands in the Imagination Room for the announcement of Karl's departure, she wonders "Am I in a cult?" (13). How would you answer her question?
2. What are Mat's first interactions with Ava like and what are her first impressions of him? Why does Ava accept a ride home from Mat even though it was "the last thing [she] wanted" (24)? Were you surprised when she agreed to meet Mat at the dog park the following day?
3. How does STÄDA "demand" the so-called "self-care" of its employees? What is problematic about this? What does this say about the true nature of self-care and wellness and how they can best be cultivated? What alternative offering or solutions from STÄDA—and real-life businesses—might be better contributions to their employees' actual health and wellness?
4. When Mat tells Ava about an email from Judith in which she chided him for being five minutes late to his job interview, Ava thinks "men got to be this way . . . constantly in the midst of forgiving themselves" (48). What do you think she meant by this? Do you agree with her? Where else does the book offer thoughts on male entitlement?
5. Explore the theme of grief. Years after the deaths of her parents and her fiancée, Andie, how are these losses still impacting Ava? What support does she have? What are some of her coping mechanisms? Do they seem to be effective? How does Ava's grief influence her decision-making? What is—or could have been—most helpful for Ava as she attempts to reimagine her life after such enormous loss?
6. Evaluate the symbolism of the Very Nice Box. Why did Ava feel so passionate about this particular project? What do you think that the box represents for her? Why do you think the book was named after this object? How does it reflect or refer readers back to the major themes and motifs of the book?
7. What is Ava's relationship with Jaime like? How does their relationship change once Ava begins dating Mat? What insights does Jaime offer into their relationship from an outside perspective and how does Ava respond to this? Would you say Ava is a good friend to Jaime?
8. Who are the Red Hook Vandals and why are they trying to stop the development of the Vision Tower? How does the book provide a counterpoint to the characterization of the Vandals? Why does a member of this group tell a reporter that it is ironic that STÄDA sees itself as the victim? Who are the Vandals revealed to be at the book's conclusion and how does this tie in with contemporary conversations about activists and their portrayal in the media?
9. How do the authors create suspense within the story and how does this contribute to a conversation about the themes of trust and intuition? Were you surprised by Mat's identity? Why or why not? What were some of the red flags that Ava ignored? What made her particularly vulnerable to Mat's predatory behavior? What does the book ultimately suggest about who one should make oneself vulnerable to and how can people make good choices in this area?
10. What is it that Mat and Ava ultimately have in common? At the end of the novel, how has she been changed by her experience and what steps does she say that she wants to take in order to begin a true process of healing?