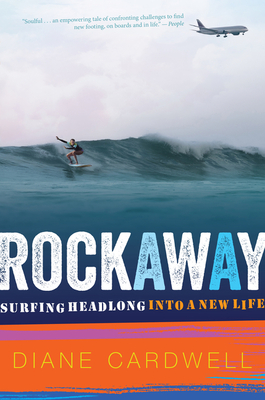 Rockaway
Surfing Headlong into a New Life
Paperback

* Individual store prices may vary.
Other Editions of This Title:
Digital Audiobook (7/6/2020)
Hardcover (7/7/2020)
CD-Audio (7/7/2020)
MP3 CD (7/7/2020)
Description
The inspirational story of one woman learning to surf and creating a new life in gritty, eccentric Rockaway Beach

Unmoored by a failed marriage and disconnected from her high-octane life in the city, Diane Cardwell finds herself staring at a small group of surfers coasting through mellow waves toward shore—and senses something shift. Rockaway is the riveting, joyful story of one woman's reinvention—beginning with Cardwell taking the A Train to Rockaway, a neglected spit of land dangling off New York City into the Atlantic Ocean. She finds a teacher, buys a tiny bungalow, and throws her not-overly-athletic self headlong into learning the inner workings and rhythms of waves and the muscle development and coordination needed to ride them.

As Cardwell begins to find her balance in the water and out, superstorm Sandy hits, sending her into the maelstrom in search of safer ground. In the aftermath, the community comes together and rebuilds, rekindling its bacchanalian spirit as a historic surfing community, one with its own quirky codes and surf culture. And Cardwell's surfing takes off as she finds a true home among her fellow passionate longboarders at the Rockaway Beach Surf Club, living out "the most joyful path through life."

Rockaway is a stirring story of inner salvation sought through a challenging physical pursuit—and of learning to accept the idea of a complete reset, no matter when in life it comes.  
Praise For Rockaway: Surfing Headlong into a New Life…
"Toes to the nose, knees to the chin, Diane Cardwell's memoir about learning to surf in midlife shows us how to pop up again and again, with style." —Jill Eisenstadt, author of From Rockaway and Swell
 
"Diane Cardwell's Rockaway is a remarkably moving, entertaining, honest and heartening memoir of reinvention and resilience." —Francine Prose, author of Blue Angel and What to Read and Why

"Becoming someone new is hard work. Diane Cardwell does not stint. With a reporter's eye for detail, and rare honesty, she pushes through heartache, self-consciousness, long-held fears, Hurricane Sandy, and innumerable walls of white water. Her progress toward surfing skillfully, love, and an unlikely community is a deeply satisfying ride." —William Finnegan, author of Barbarian Days

"Diane Cardwell's Rockaway is so invigorating that it makes you want to get outside, try something new, live more fully and freely. This story of a woman following her passion is an inspiring reminder about the possibilities of renewal and reinvention." —Tova Mirvis, author of The Book of Separation

"Surfing is hard, wild, daring, and sometimes dangerous; so is life after heartbreak and divorce. Bravely, Diane Cardwell pushed herself to embrace the unknown—in many ways—and find a new form. What she also found, among the surfers at Rockaway Beach, was joy and community. Rockaway is the inspiring story of her discovery and mastery of a new life." —Liza Mundy, author of Code Girls: The Untold Story of the American Women Code Breakers of World War II

"In this eloquent narrative, the author offers a moving portrait of a woman in search of herself as well as a joyful celebration of physicality, friendship, and the art of surfing. A bighearted and uplifting memoir." —Kirkus Reviews

"Poignant. Written with a warm and conversational style, this is an unusual story of personal triumph, insight into what makes a community stronger, and a reminder that perceived limitations are often self-imposed . . . An offbeat, uplifting account . . . engaging." —Library Journal

"Cardwell's moving story washes over the reader with its emotionally rich portrayal of the ragged ways we can embrace our vulnerabilities in order to overcome them." —BookPage

"Readers don't have to surf to be taken away by Cardwell's story . . . A rich account of living through . . . disaster and rebuilding in its aftermath." —Publishers Weekly

"A moving memoir about reshaping your own destiny." —New York Post, "30 best summer books to help you escape 2020"

"This memoir busts a lot of stereotypes in a delightful way . . . Rockaway is not just a story about starting over, it's also a treatise on tenacity, on grabbing something you want and absolutely, stubbornly refusing to let go, no matter where it takes you. What an unexpected and inspiring book." —Minneapolis Star-Tribune
Mariner Books, 9780358561965, 272pp.
Publication Date: May 25, 2021
About the Author
DIANE CARDWELL is an award-winning journalist who has covered a variety of subjects, including alternative energy, popular culture, politics, crime, and New York's hospitality industry. A former reporter for the New York Times, she was among the inaugural writers of "Portraits of Grief," the Times's signature profiles of those killed in the 9/11 World Trade Center attack, and helped found Vibe. She lives, gardens, and surfs in Rockaway Beach, New York.