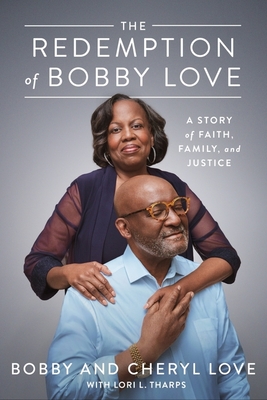 The Redemption of Bobby Love
A Story of Faith, Family, and Justice
Hardcover

* Individual store prices may vary.
Other Editions of This Title:
Digital Audiobook (10/4/2021)
Compact Disc (10/5/2021)
MP3 CD (10/5/2021)
Description
The inspiring, dramatic, and heartwarming true account of an escaped convict and his wife of thirty-five plus years who never knew his secret, which captured the imaginations of millions on Humans of New York.

Bobby and Cheryl Love were living in Brooklyn, happily married for decades, when the FBI and NYPD appeared at their door and demanded to know from Bobby, in front of his shocked wife and children: "What is your name? No, what's your real name?"

Bobby's thirty-eight-year secret was out. As a Black child in the Jim Crow South, Bobby found himself in legal trouble before his 14th birthday. Sparked by the desperation he felt in the face of limited options and the pull of the streets, Bobby became a master thief. He soon found himself facing a thirty-year prison sentence. But Bobby was smarter than his jailers. He escaped, fled to New York, changed his name, and started a new life as "Bobby Love." During that time, he worked multiple jobs to support his wife and their growing family, coached Little League, attended church, took his kids to Disneyland, and led an otherwise normal life. Then it all came crashing down.

With the drama of a jailbreak story and the incredible tension of a life lived in hiding, The Redemption of Bobby Love is an unbelievable but true account of building a life from scratch, the pain of festering secrets in marriage, and the unbreakable bonds of faith and love that keep a family together.

 
Praise For The Redemption of Bobby Love: A Story of Faith, Family, and Justice…
"The Redemption of Bobby Love is the perfect title for a story that explores both redemption and love with such vital, fulsome heart. At once tender and brutal, the Love family's journey explores parenthood, marriage, the penal system, and the human condition of sustaining hope in the center of the storm. The systems that govern our most vulnerable are larger than one family, and yet this family's story encompasses those systems with a power that will shake you."
— Jeff Hobbs, author of The Short and Tragic Life of Robert Peace
"the full, astounding story of an unbelievable life and what it means for true love to endure above all else." —Newsweek
"This book is more than a jailbreak/escapee story. Sure, there's lots of drama and tension, but in the hands of Bobby and his wife, Cheryl, faith and love take center stage in this well-paced book about forgiveness and revealing a person's true self." —Garden & Gun

"In this moving story of struggle and forgiveness, an escaped convict reflects on his life in hiding alongside his wife of 35-plus years...In parallel narratives from Bobby and Cheryl, those secrets are disclosed against the history of their unshakable love...Readers will be awestruck by this inspiring account."
— Publishers Weekly

"A rumination on the justice system and the way that it can work in inequitable ways…. Coauthored in an alternating storyline by Bobby and his wife, Cheryl, the book sees the Loves rewind their love story and dissect Bobby's 'roadmap to destruction.' … Bobby writes honestly about his own self-reflection, the realities of growing up in North Carolina during Jim Crow, and the impact that incarceration had on his early life."
—Booklist

"A warmhearted story of an ex-con's long and winding road to an honest life."
—Kirkus Reviews

"In this captivating memoir, Bobby and Cheryl Love share the astounding secret Bobby had kept for over 35 years of their marriage: that Bobby wasn't his real name and that he had escaped from prison when he first met Cheryl...The Loves' warmth, humor, and honesty shine from the pages"
—Library Journal, STARRED review
Mariner Books, 9780358566052, 288pp.
Publication Date: October 5, 2021
About the Author
BOBBY LOVE was born in Greensboro, North Carolina. He is a husband, a father, and a professional cook. He currently splits his time between Brooklyn, New York and the metro Atlanta area, with his wife and children.

CHERYL LOVE was born in New York. She is a wife, mother, and nutrition coordinator. She currently splits her time between Brooklyn, New York and the metro Atlanta area, with her husband and children.
1. Why do you think the authors chose to open the story with Cheryl's perspective of Bobby's arrest more than forty years after his prison break? What fears does Cheryl say that she had when the FBI and police invaded her home? Despite this, what did Cheryl's instincts tell her to do? Were you surprised by her reaction to Bobby's arrest? Why or why not? Why does Cheryl say that she felt a sense of relief on this day?
2. When we first hear from Bobby as narrator, what stunning statements does he tell readers the police made to him following his arrest? Why did the police decide to pursue the case even though the crimes were committed so long ago, and they knew that Bobby was now an upstanding citizen? When Bobby arrives at Rikers Island and is alone in his cell for the first time, what question does he ask himself? How does the book answer this question?
3. What were the childhoods of Cheryl and Bobby like? What did they have in common? When Bobby thinks back on his childhood, what is "all [he] remembers about that time" (page 24)? What lessons does it seem like Cheryl and Bobby learned during this time and how did these experiences ultimately shape or influence the people they became?
4. How were Bobby and his family impacted by the Civil Rights Movement and the beginning of desegregation? When and why does Bobby first begin to get into legal trouble? Are Bobby's legal troubles tied to his behavior at school in ways that surprised you? How did this contribute to the path Bobby ends up on?
5. Explore the themes of justice and injustice. Why does Bobby begin to steal and how does he say that he justified it? Are the injustices Bobby faces throughout his life connected to one another? Alternatively, what examples of justice are evident in the book? Does the book suggest whether we live in a basically just or unjust society or suggest how we could contribute to a more just society?
6. Instead of decades in prison, Bobby spent decades on the outside – working, raising a family, and staying out of trouble. Is he rehabilitated, even though he escaped from prison? Would he have been more rehabilitated had he not escaped? Regarding Bobby's criminal activity, has justice been served?
7. What does the title of Chapter 4 "Broken Promises" refer to? What promises were broken in Cheryl and Bobby's lives? What promises did they break? Why did Bobby and his friends feel that they "had permission to make [their] own rules for survival" (page 100)? How did the figurative broken promise of Bobby and Cheryl's education and career prospects affect their trajectory?
8. What question does Bobby's mother ask him when she visits him in jail and how does he answer her? How does he feel about his chances on the outside at that point? What advice does Big Mike give Bobby shortly after and what "major things changed along the way" (page 134) as Bobby followed his advice? What impact does have on Bobby's self-image and the future he can imagine for himself?
9. Why does Bobby's bag give him hope? What new refrain does he say that he started to recite as a result? In his new life after his escape from prison, what made Bobby start to think that there was a higher power playing a part in his life? When Bobby has several "brushes with his past" (page 172) during this time, what does it make him realize?
10. What does Chapter 8 reveal about the real life of Bobby and Cheryl? Why did they leave the Pink Houses and what was life like for them afterwards? How did Bobby say that he looked at work and what questions did he ask himself about his jobs? What does he say that he learned at Baptist Medical that he subsequently used at all of his jobs? Why was Bobby fired from his job with the IDA and how did this affect him and his family?
11. What recurring dream does Cheryl say that she would have after arguing with Bobby? What was at the root of her arguments with her husband? What does Cheryl say that she ultimately prayed for as a result of this, and how does she say that her prayers were answered?
12. Examine and discuss the motif of community. Where do we see Cheryl and Bobby relying on community for support? Where did community fail them? Who were the two able to turn to when times were difficult? How did Cheryl and Bobby also contribute to and create community and what impact did this have on their own lives and the lives of others?
13. How does the memoir create a dialogue about identity? When Bobby reflects on the various names he has gone by in his life, what does he realize that he incorrectly assumed a different name could do for him? How does the book function as a vehicle of self-exploration and self- discovery for Cheryl and Bobby? When Cheryl asks Bobby which name she should use for him and for herself as his wife, how does he respond? Why does he decide to legally change his name?
14. Consider narration and voice. Why do you think the Loves made the decision to share two perspectives in this memoir? Was there one voice that you related to more and, if so, why?
15. Explore the theme of redemption. How does Bobby rehabilitate himself and break the cycle of crime? What role does his family and community play in his redemption and how does faith contribute to this journey? How did Bobby's ideas about faith and religion evolve over the course of his life? In addition to religious faith, how did Bobby's faith in himself change in the decades following his escape and during his re-incarceration?