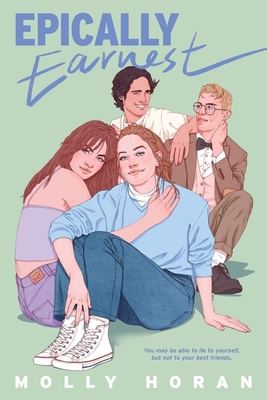 Epically Earnest
Hardcover

* Individual store prices may vary.
Other Editions of This Title:
Digital Audiobook (6/20/2022)
MP3 CD (6/21/2022)
Description
In this delightfully romantic LGBTQ+ comedy-of-errors inspired by Oscar Wilde's The Importance of Being Earnest, a high school senior works up the courage to ask her long-time crush to prom, all while deciding if she should look for her bio family.
Jane Worthing's claim to fame is that she was one first viral internet sensations, dubbed #bagbaby—discovered as a one-year-old in an oversized Gucci bag by her adopted father in a Poughkeepsie train station.
Now in her senior year of high school, Janey is questioning whether she wants to look for her bio family due to a loving, but deeply misguided push from her best friend Algie, while also navigating an all-consuming crush on his cousin, the beautiful, way-out-of-her-league Gwen Fairfax.
And while Janey's never thought of herself as the earnest type, she needs to be honest with her parents, Algie, Gwen, but mostly herself if she wants to make her life truly epic. With a wink toward Oscar Wilde's beloved play, Epically Earnest explores the complexity of identity, the many forms family can take, and the importance of being . . . yourself.
Praise For Epically Earnest…
"How do you update Oscar Wilde for the internet age? In Molly Horan's charming debut, the answer is to wrap the dazzling wordplay around a gentle—even earnest—exploration of new love and old wounds. Epically Earnest is a hopeful, romantic, sharply observed comedy of manners with a winning cast, and a group dance number that belongs in the rom-com hall of fame." — Amanda Sellet, author of By the Book and Belittled Women
"A delightful story that puts Ernest in the shoes of a modern girl as she navigates internet fame, first love, and the real meaning of family. With dazzling wit and heart for days, Horan's stand-out debut would make Oscar Wilde proud!" — Kaitlyn Hill, author of Love From Scratch
"Debut-author Horan delivers a lighthearted, feel-good romp with engaging characters who are clever and well realized." — Booklist
"Horan's snappy banter and lighthearted approach to conflict make for a breezy read." — Publishers Weekly
"A lighthearted romance with just enough drama and some sincere exploration of familial and romantic relationships." — Kirkus Reviews
"Non-stereotypical portrayals of queer ­identity make this a worthwhile addition to high school ­collections." — School Library Journal
Clarion Books, 9780358566137, 208pp.
Publication Date: June 21, 2022
About the Author
Molly Horan is a graduate of the New School's MFA program in writing for children and young adults. After graduating, she worked as a web writer and editor focusing on entertainment writing at sites like KnowYourMeme and Refinery29. She currently works as an English professor teaching writing for young adults and writing for the web at NYU and SVA. Molly resides in Astoria, New York.
Twitter: @Molly_Horan