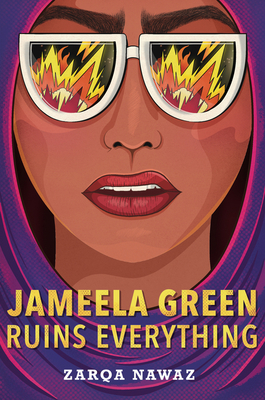 Jameela Green Ruins Everything
Hardcover

* Individual store prices may vary.
Other Editions of This Title:
Digital Audiobook (5/9/2022)
Paperback (5/9/2023)
MP3 CD (5/10/2022)
Description
"I think we got off on the wrong foot, with you telling me I had to be killed and then me getting all upset about it. Let's start again. My name is Jameela, and I'm a writer. What do you do, besides . . . assassinations? Is that a hobby or more of a full-time thing?" 
Jameela Green has only one wish: to see her memoir on the New York Times bestseller list. When that doesn't work out, she decides that her best next step is to make a deal with God, so she heads over to her local mosque. The idealistic new imam, Ibrahim Sultan, is appalled by Jameela's shallowness but agrees to assist her, on one condition—that she perform a good deed. 
Jameela reluctantly accepts his terms, kicking off a series of unfortunate events. The homeless man they try to help gets recruited by a terrorist group, causing federal authorities to become suspicious of Ibrahim. When the imam mysteriously disappears, Jameela is certain that the CIA has captured her new friend for interrogation and possibly torture. 
Despite having no talent for this sort of thing, Jameela decides to set off on a one-woman operation to rescue him. Her quest soon lands her at the center of an international plan targeting the leader of the terrorist organization—a scheme that puts Jameela and count-less others, including her hapless husband and clever but disapproving daughter, at risk. 
A no-holds-barred satire about the international cost of the American Dream, Jameela Green Ruins Everything is a compulsively readable, darkly comedic, yet unexpectedly touching story of one woman's search for meaning and connection.
Praise For Jameela Green Ruins Everything…
A Shondaland's "Best Books for May 2022" * A Pop Sugar "New Book That Is A Must Reads in 2022" —
"Jameela Green Ruins Everything" by Zarqa Nawaz is a deliciously dark comedy that takes on America's foreign policy in the Middle East, the lengths people are willing to go to for success, and one woman's search for meaning." — Popsugar
"A satire about ISIS is a big swing to take—but Zarqa Nawaz knows a thing or two about taking chances. Jameela Green Ruins Everything may be her first foray into the world of fiction, but Nawaz has made a career of being a trailblazer. . . . The book manages to weave American foreign policy and thwarting a terrorist organization with one woman's search for faith, meaning and redemption."  — Chatelaine
"Nawaz's understated humour shines in this lovely comedy of errors—and faith."  — Maclean's
"International politics is personal in this brilliant satire from the always provocative—and deeply funny—mind of Zarqa Nawaz."  — Rick Mercer
"A breezy dark comedy about serious contemporary issues." — Quill and Quire
"Zarqa Nawaz is a comic genius who has done the impossible in this brilliant fiction debut: Jameela Green Ruins Everything is, all at once, an incisive examination of recent Middle East history, a biting indictment of Western imperialism, and a darkly comic satire on terrorism. Follow Jameela Green, the comic she-ro for our modern times, as she bumbles through the unimaginable on this hilarious whirlwind adventure. I guarantee you will never think about the phrase 'East meets West' in quite the same way again. Three cheers for Jameela Green!"  — Uzma Jalaluddin, author of Ayesha at Last and Hana Khan Carries On
"Zarqa Nawaz is one of the few writers around who can deftly navigate that minefield between high-stakes, war-torn, geopolitical upheaval, and one woman's hilarious but meaningful journey to find her place in her family and community. Is it a searing satire on America's war on terror, or a side-splitting family adventure? Well . . . yes, it is, and a crazy ride, too. Funny, moving, brilliant."  — Terry Fallis, two-time winner of the Stephen Leacock Medal for Humour
"Finally, an action plot featuring a middle-class Muslim mom from North Dakota! Zarqa Nawaz makes ample room for her protagonist, Jameela Green, to be a multidimensional woman of color who flexes between a flawed insecure instigator to a championing hero in one humor-filled international ride." — Pooja Reddy, comedian and cohost of Kutti Gang
"Jameela Green Ruins Everything is zany, daring, and hilarious, and exactly the type of novel we'd expect from Zarqa Nawaz, creator of CBC's award-winning sitcom, Little Mosque on the Prairie. . . . the story is a wild and humorous one—Zarqa's use of comedy is gutsy as hell. . . . The result is a satirical masterpiece that few on earth would dare to do."  — shedoesthecity.com
"A comedy of errors about an ordinary Muslim woman thrust into a high-stakes international crisis. It's also a tale of internal struggle, interspersed with characters' private prayers to God. . . . provocative and cheeky."  — Maclean's
 "What I love about this biting satire is the initially unlikeable main character Jameela, who is messy and selfish and unapologetic—rare for a Muslim, South Asian female character, who are most often portrayed as submissive victims or perfect model minorities. But then, Nawaz has always been ahead of her time (full disclosure, she is a friend)."  — Uzma Jalaluddin, Toronto Star
"This black comedy explores the price of success and one woman's search for meaning — Chatelaine
"[A] biting yet warm-hearted satire from the Regina-based creator of the groundbreaking CBC sitcom Little Mosque On The Prairie [that] somehow . . . manages to interrogate everything from prejudice to foreign policy to what it means to be a 'good person.'" — TheKit.ca
"Canadians are funny people—that's a given—and when our special brand of humour is coupled with the skill of a writer like Zarqa Nawaz, creator of Little Mosque on the Prairie, brilliant things happen."  — Canadian Living
"Jameela Green Ruins Everything will keep you laughing all the way to the end. A heartwarming story of faith, family, and friendship that is only amplified by Zarqa Nawaz's sharp and brilliant wit. All the sacred cows are skewered—what you are left with at the end is the power, beauty, and humour of one woman's journey back to faith."  — Ausma Zehanat Khan, author of A Deadly Divide
"Nawaz writes about religion and faith in an easily digestible way."  — The Canadian Press
Harper, 9780358621232, 288pp.
Publication Date: May 10, 2022
About the Author
Zarqa Nawaz is a Canadian film and television producer, public speaker, journalist, and former broadcaster. She is the author of the memoir Laughing All the Way to the Mosque, which was shortlisted for the Leacock Medal for Humour, the Kobo Emerging Writer Prize, and two Saskatchewan Book Awards. She also created the hit CBC comedy series Little Mosque on the Prairie, the world's first sitcom about a Muslim community living in the West, and is the creator and star of her self-titled CBC Gem series the forthcoming series Zarqa. She lives in Regina, Saskatchewan, with her loving but long-suffering family.