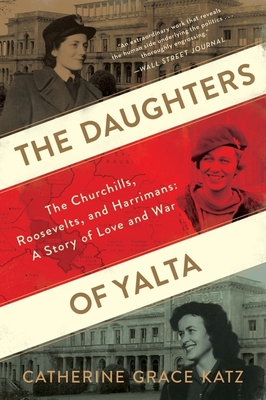 The Daughters Of Yalta
The Churchills, Roosevelts, and Harrimans: A Story of Love and War
Paperback

* Individual store prices may vary.
Other Editions of This Title:
Digital Audiobook (9/28/2020)
Hardcover (9/29/2020)
MP3 CD (9/29/2020)
Description
The untold story of the three intelligent and glamorous young women who accompanied their famous fathers to the Yalta Conference in February 1945, and of the conference's fateful reverberations in the waning days of World War II

Tensions at Yalta threatened to tear apart the wartime alliance of Franklin Roosevelt, Winston Churchill, and Joseph Stalin just as victory was close at hand. Catherine Grace Katz uncovers the dramatic story of the three young women who were chosen by their fathers to travel with them to Yalta, each bound by fierce family loyalty, political savvy, and intertwined romances that powerfully colored these crucial days.

Kathleen Harriman, daughter of U.S. ambassador to the Soviet Union Averell Harriman, was a war correspondent and champion skier. Sarah Churchill, an actress-turned-RAF officer, was devoted to her brilliant father, who depended on her astute political mind. Roosevelt's only daughter, Anna, chosen instead of her mother, Eleanor, to accompany the president to Yalta, arrived there as keeper of her father's most damaging secrets. Situated in the political maelstrom that marked the transition to the postwar world, The Daughters of Yalta is a remarkable story of fathers and daughters whose relationships were tested and strengthened by the history they witnessed and the future they crafted together.
Praise For The Daughters Of Yalta: The Churchills, Roosevelts, and Harrimans: A Story of Love and War…
"Skillfully written and meticulously researched, it's an extraordinary work that reveals the human side underlying the politics . . . The Daughters of Yalta is a thoroughly engrossing book, as acute about the contentious politics of the day as it is about the remarkable daughters who participated." —Wall Street Journal "[In] Catherine Grace Katz's detailed behind-the-scenes account . . . she skillfully marshals diaries, letters, oral histories and memoirs to support her thesis that the pressures of wartime had warped normal familial bonds, so that the Western leaders' relationships with their daughters had become more like those between business partners than between parent and child. Loyalty and discretion were prized above all . . . Light on political drama, this entertaining history is nevertheless packed with vivid personalities, jockeying aides and insider observations about a pivotal moment in history." —New York Times Book Review "A stirring account of one momentous week that would unleash fifty years of tyranny for half of Europe and plunge the world into the Cold War, as seen through the eyes of three young women. Catherine Grace Katz's debut book, The Daughters of Yalta, is a marvelous and extraordinary work that reveals the human experience of the conference, with all its tragedy, love, betrayal, and even humor. She defines the relationships that shaped our world, and continue to shape our future." —Julian Fellowes, Oscar-winning writer and creator of Downton Abbey   "Catherine Grace Katz paints a vivid portrait of one of history's great international summits through the eyes of three young women, each a daughter of a key participant. We get the inside story, and learn the compelling details that bring history to life." —Erik Larson, author of The Splendid and the Vile   "Catherine Grace Katz's The Daughters of Yalta is a revelation. It's a story of World War II, the origins of the Cold War, a key moment in diplomatic history, but above all a coming-of-age tale about three fascinating women in an extraordinary time." —Jeffrey Toobin, author of True Crimes and Misdemeanors and American Heiress   "Both intimate and sweeping, Catherine Grace Katz vividly captures a little known story against the backdrop of a very big one. Meticulously researched and emotionally gripping."—Amy Pascal, producer, Little Women (2019)   "The Daughters of Yalta is an absorbing, revealing, and expertly crafted narrative that takes us behind the scenes of some of World War Two's most consequential periods of political leadership and diplomacy. Catherine Grace Katz possesses a novelist's gift for character, and for how supposedly minor characters may influence and color the intimate movements of history. A truly impressive debut." —John Burnham Schwartz, author of The Red Daughter and The Commoner "The Daughters of Yalta is yet more proof that behind every great man is an army of exceptional women. We need their stories told; so three cheers for Catherine Katz!" —Amanda Foreman, author of Georgiana and A World on Fire "In 1945 an American president, his ambassador to the Soviet Union, and a British prime minister chose to make the trip to Yalta with their daughters in tow. Over the next weeks those 'second mates' served as their fathers' eyes and ears, their tasters, confid —
Mariner Books, 9780358627944, 432pp.
Publication Date: October 19, 2021
About the Author
CATHERINE GRACE KATZ is a writer and historian from Chicago. She holds degrees in history from Harvard and Cambridge and is currently pursuing her JD at Harvard Law School.