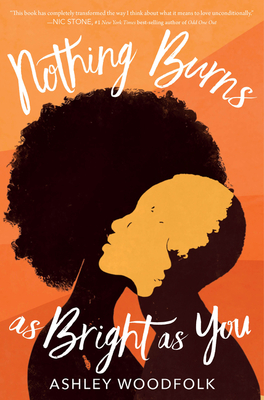 Nothing Burns as Bright as You
Hardcover

* Individual store prices may vary.
Other Editions of This Title:
Digital Audiobook (4/4/2022)
Paperback (2/7/2023)
MP3 CD (4/5/2022)
Description
Five starred reviews!
From New York Times bestselling author Ashley Woodfolk, Nothing Burns as Bright as You is an impassioned stand-alone tale of queer love, grief, and the complexity of female friendship.
Two girls. One wild and reckless day. Years of tumultuous history unspooling like a thin, fraying string in the hours after they set a fire.
They were best friends. Until they became more. Their affections grew. Until the blurry lines became dangerous.
Over the course of a single day, the depth of their past, the confusion of their present, and the unpredictability of their future is revealed. And the girls will learn that hearts, like flames, aren't so easily tamed.
It starts with a fire.
How will it end?
Praise For Nothing Burns as Bright as You…
"A tautly written, fast-moving novel…that captures the unbalanced experience of an all-consuming love." — Publishers Weekly (starred review)
"Tight and energetic, effective and deeply affecting… An uncommon exploration of girlhood and its messier relationships."  — Booklist (starred review)
"The rich language describing the way the two love each other is magnificent... A beautiful, emotionally charged novel." — Kirkus Reviews (starred review)
"All of Woodfolk's choices—every line break, indentation, and italicization... Even the blank space on the page helps to carry this piece to its full potential as a feverishly gripping, immersive, and emotional ride that will stick with readers for a long time... A masterfully crafted love letter to tumultuous, young, queer love and its lessons." — School Library Journal (starred review)
"An emotional inferno and Woodfolk's best book yet."  — BookPage (starred review)
"Prepare yourself, because this stunning novel is packed with an emotional intensity that's sure to touch your heart." — Popsugar
"Unapologetically shows the more challenging elements of falling—and staying—in love… This book has completely transformed the way I think about what it means to love unconditionally." — Nic Stone, #1 New York Times best-selling author of Odd One Out
"Nothing Burns as Bright as You is a beautiful exploration of first love with the emotional resonance that only an Ashley Woodfolk novel can bring. Exquisite from beginning to end." — Angie Thomas, #1 New York Times best-selling author of The Hate U Give
"Nothing Burns as Bright as You is utterly captivating, brimming with passion and heartbreak and the beautiful complexity of the human heart." — Nicola Yoon, #1 New York Times best-selling author of The Sun Is Also a Star and Instructions for Dancing
"Wildly ambitious, fearlessly honest, and crackling with the top volume feelings of messy first love. Ashley Woodfolk is a virtuoso. Consider my breath fully taken." — Becky Albertalli, #1 New York Times best-selling author of Simon vs. the Homo Sapiens Agenda and Leah on the Offbeat
"This highly original story is both heart-wrenching and hopeful. Ashley Woodfolk takes chances with form that make this verse novel captivating. Her skill as a writer has never burned so bright. Pure fire!" — Kwame Alexander, New York Times best-selling author
"There is something sacred in the way Woodfolk bears witness to the scariest, most vulnerable parts of an untamable heart. A fierce, wrenching, deeply honest look at first love—I invite Ashley Woodfolk to break my heart with a book like this anytime." — Leah Johnson, author of the Stonewall Honor book You Should See Me in a Crown
"A loving ode to the queer twin flame relationships of our adolescence that smolder quietly in so many of us. These characters, like Woodfolk's dazzling and soulful lyrical prose, are both limitless and full of complexity. An exhilarating and quixotic read." — Junauda Petrus, author of the Coretta Scott King Honor book The Stars and the Blackness Between Them
"Nothing Burns as Bright as You consumed me like a flame. The interspersed timelines will keep readers breathless as the love between these girls splatters raw on the page, the poetry absolute perfection. A novel to at once devour and savor." — Kip Wilson, author of White Rose
Versify, 9780358655350, 288pp.
Publication Date: April 5, 2022
About the Author
Ashley Woodfolk worked in children's book publishing before becoming an author full-time. Her novels include the highly acclaimed The Beauty that Remains and When You Were Everything.


Woodfolk says in the author's note "how ingrained bi-erasure is in our culture." What does she mean by this and what examples in the story illustrate this concept?  


The story's timeline is told in a non-linear fashion. If Woodfolk had written the story in a more traditional narrative style and with a linear timeline, what effect would it have on the book's message and the relationship between the Narrator and You?


Re-read "1232 Days Before the Fire" (page 39). How does this incident relate to the Narrator's relationship with You? Why does she recount this memory and what do you observe about her emotional strength?


What is the symbolic significance of the dilapidated house that the Narrator visits? Does its meaning shift from the first visit to the last?


Nothing Burns as Bright as You is written in free verse. How does this change the tempo of the storytelling? How does this style help to create a deeper understanding of the Narrator's emotional experience?


The use of fire is a key important symbol in the story. It represents the volatility of the relationship between the Narrator and You. Provide other interpretations as fire relates to the central characters and/or supporting characters.


A central narrative theme is "the promise of something is better than the actual thing" which is referenced when the Narrator and You are watching movie trailers. Explain the significance of this quote. Do you agree with this idea


Nothing Burns as Bright as You is told from the Narrator's point of view. If the story was told from You's point of view, how do you think she would have understood the relationship? Consider her age, socioeconomic, and psychological background. Can you be empathetic to her circumstances?


How does the Narrator's relationship with her family (i.e., her mother, father, brother, and Grandmother) help to inform her about her relationship with You? Which family member's advice and wisdom are the most helpful and least? Why?


Why do you think Woodfolk wrote the "A Truth" and "A Lie" sections separately and in a different format from each other? How do they play into the overall theme of the story and what do they tell you about how the Narrator understands the connection between herself and You?