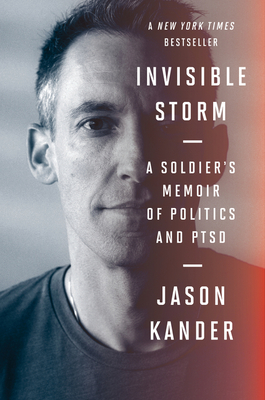 Invisible Storm
A Soldier's Memoir of Politics and PTSD
Hardcover

* Individual store prices may vary.
Other Editions of This Title:
Digital Audiobook (7/4/2022)
Paperback (8/15/2023)
MP3 CD (7/5/2022)
Description
NEW YORK TIMES BESTSELLER
From political wunderkind and former army intelligence officer Jason Kander comes a haunting, powerful memoir about impossible choices—and how sometimes walking away from the chance of a lifetime can be the greatest decision of all.
"A truly special book. This combination of honesty, thoughtfulness, urgency, and vulnerability is not common in leaders, and Jason demonstrates boundless occupancy of all of these traits." —Wes Moore, New York Times bestselling author of The Other Wes Moore
In 2017, President Obama, in his final Oval Office interview, was asked who gave him hope for the future of the country, and Jason Kander was the first name he mentioned. Suddenly, Jason was a national figure. As observers assumed he was preparing a run for the presidency, Jason announced a bid for mayor of Kansas City instead and was headed for a landslide victory. But after eleven years battling PTSD from his service in Afghanistan, Jason was seized by depression and suicidal thoughts. He dropped out of the mayor's race and out of public life. And finally, he sought help.
In this brutally honest second memoir, following his New York Times bestselling debut Outside the Wire, Jason Kander has written the book he himself needed in the most painful moments of his PTSD. In candid, in-the-moment detail, we see him struggle with undiagnosed illness as he considered a presidential bid; witness his family buoy him through challenging treatment; and, giving hope to so many of us, see him heal.
Praise For Invisible Storm: A Soldier's Memoir of Politics and PTSD…
"In Invisible Storm, author, soldier, activist, and political leader Jason Kander generously details his quest to manage and support his mental health as a road map for those who may be wary of the journey. With spare and unflinching narrative and unexpectedly humorous insights, he rejects the culture of shame and denial, boldly detailing how he often used his political career and ambitions to avoid confronting personal struggles. More importantly, he invites the reader inside his reckoning and the critical work of the aftermath. As we grapple with the toll of pandemic, unrest, and disruption, now is the time for a national referendum on how we elevate the importance of mental health, and the cause has no finer ambassador than the dynamic Jason Kander and his latest book." — Stacey Abrams, politician and author of Lead from the Outside
"If you think war is rough, try politics! Jason Kander has written a deft, wonderful book about trying to serve our country in combat and in government. The war didn't break him, but politics almost did. Woven through this extraordinary narrative is an important and enormously helpful account of his struggle with PTSD. I read Invisible Storm in one sitting and will be thinking about it for a long time to come." — Sebastian Junger, bestselling author of Tribe: On Homecoming and Belonging and War
"Invisible Storm is a truly special book. This combination of honesty, thoughtfulness, urgency, and vulnerability is not common in leaders, and Jason demonstrates boundless occupancy of all of these traits. You will learn, you will laugh, you will cry, you will think, and you will act. I'm thankful for everything that this book will do to make our society better." — Wes Moore, New York Times bestselling author of The Other Wes Moore
"Kander displays a level of vulnerability not often seen in political memoirs, offering a bracing portrait of untreated PTSD and an insightful psychological profile of political ambition. Readers will appreciate the candor of this harrowing tale." — Publishers Weekly
"Essential reading for those interested in the veteran experience as well as fans of political memoirs." — Booklist (starred review)
"Invisible Storm is refreshingly raw. It's almost haunting and yet so full of hope. I absolutely loved the choice to include Jason's wife Diana's first-person perspective throughout. In telling their story, the Kanders are telling the story of countless military families, but really, this is a book for anyone who has struggled with mental health or simply loved someone who has." — Rachel Vindman, cohost of the podcast The Suburban Women Problem
"Jason going public with his diagnosis saved my life. I was suicidal and my life was crumbling. But after Jason came forward about his struggles with PTSD, I knew I could deal with my struggles too. Jason has truly shared his heart, soul, and courageous spirit with each of us in Invisible Storm. It's an honest and heartfelt book. I can't wait to see how many lives it improves. Because it will." — TSgt (Ret.) Chuck Fox, US Air Force
"An extremely moving and honest account of a kickass public servant being gut-punched and knocked down by PTSD and getting back to his feet to resume kicking ass."  — Nick Offerman (via Twitter)
"A beautiful read for those who know the struggle of trauma and mental illness. An even better read for those who don't."  — Mark Duplass (via Twitter)
"It's a page-turning, inspiring story, and I know Jason and Diana's courage and honesty will help so many. This is an indispensable read." — Hillary Clinton (via Twitter)
"Brave, breathtakingly honest, and deeply humane."  — Mary Trump (via Twitter)
"A serious and funny memoir."  — Jimmy Kimmel (via Twitter)
"Kander's advice is urgent and relevant: 'Either you deal with your trauma, or your trauma deals with you.' ... A heartfelt message borne of pain and true sacrifice." — Kirkus Reviews
Mariner Books, 9780358658962, 224pp.
Publication Date: July 5, 2022
About the Author
JASON KANDER is a former army captain who served in Afghanistan. He was elected to the Missouri state legislature in 2008 and as Missouri secretary of state in 2012, making him the first millennial ever elected to statewide office. In 2016, while Donald Trump was winning Missouri by nineteen points, Jason nearly unseated a Republican US Senator. In 2017, he founded Let America Vote, a national campaign against voter suppression. His memoir, Outside the Wire, became a New York Times bestseller the following year. Jason is the president of the Veterans Community Project, a national nonprofit organization, and the host of Majority 54, one of the nation's most popular political podcasts. He lives in Kansas City with his wife Diana, their son True, and their daughter Bella.