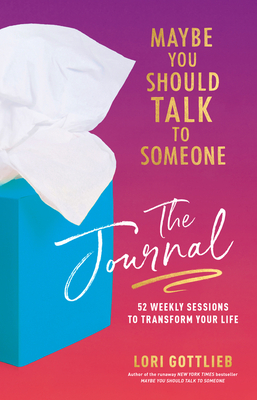 Maybe You Should Talk to Someone
The Journal: 52 Weekly Sessions to Transform Your Life
Hardcover

* Individual store prices may vary.
Description
Based on Lori Gottlieb's groundbreaking runaway bestseller Maybe You Should Talk to Someone, this official companion journal offers 52 weekly thought-provoking sessions to help you transform your life.
"Most big transformations come about from the hundreds of tiny, almost imperceptible, steps we take along the way," Lori tells readers. "Each line, sentence, and word you write in this journal is an essential step, one footprint on a path to meaningful and lasting change."
In Maybe You Should Talk to Someone, Lori Gottlieb gave us a brilliant behind the scenes look at a therapist doing everything to help her patients—and herself. Now, in this gorgeous guided journal, you can put Gottlieb's compelling ideas into practice in your own life. Structured as a weekly therapy session, the journal takes you through 52 thought-provoking prompts to consider over the course of seven days–just like the time between sessions–opening the possibility for meaningful growth and reflection.
Along with captivating illustrations, reflective coloring pages, kindness check-ins, progress assessments, and Lori's personal introduction, this journal offers a unique experience to help you gently go deep and hear the clarity of your own voice. Love and desire, meaning and mortality, guilt and redemption, terror and courage, and hope and change have never been more accessible than in this must-have, powerful road map for changing your life.
Praise For Maybe You Should Talk to Someone: The Journal: 52 Weekly Sessions to Transform Your Life…
A Joy Behar's "Ladies Get Lit pick" on THE VIEW —
An addictive book that's part Oliver Sacks and part Nora Ephron. Prepare to be riveted. — People Magazine, Book of the Week
Entirely reframes the way we think about psychotherapy [. . .] Movingly depicts our collective longing for lasting connection. — Entertainment Weekly
Gottlieb's book is perhaps the first I've read that explains the therapeutic process in no-nonsense terms while simultaneously giving hope to therapy skeptics like me who think real change through talk is elusive. — Judith Newman, New York Times
A psychotherapist and advice columnist at The Atlantic shows us what it's like to be on both sides of the couch with doses of heartwarming humor and invaluable, tell-it-like-it-is wisdom. — O, the Oprah Magazine
Authentic . . . raw . . . an irresistibly candid and addicting memoir about psychotherapeutic practice as experienced by both the clinician and the patient. — New York Times
Provocative and entertaining . . . Gottlieb gives us more than a voyeuristic look at other people's problems (including her own). She shows us the value of therapy. — Washington Post
This relatable memoir reminds us that many of our struggles are universal and just plain human. — Real Simple
[In the end, Gottlieb and her patients] are more aware—of themselves as people, of the choices they've made, and of the choices they could go on to make . . . It's exploration—genuinely wanting to learn answers to the question 'Why am I like this?', so that maybe, through better understanding of what you're doing, you figure out how to be who you want to become. — Slate
A no-holds-barred look at how therapy works. — Parade
Who could resist watching a therapist grapple with the same questions her patients have been asking her for years? Gottlieb, who writes The Atlantic's 'Dear Therapist' column, brings searing honesty to her search for answers. — Washington Post
Reading it is like one long therapy session—and may be the gentle nudge you need to start seeing a therapist again IRL. — Hello Giggles
In her memoir, bestselling author, columnist, and therapist Lori Gottlieb explores her own issues — and discovers just how similar they are to the problems of her clients. — Bustle
In prose that's conversational and funny yet deeply insightful, psychologist Lori Gottlieb is here to remind us that our therapists are people, too. — Refinery 29
The Atlantic's 'Dear Therapist' columnist offers a startlingly revealing tour of the therapist's life, examining her relationships with her patients, her own therapist, and various figures in her personal life. — Entertainment Weekly, 20 New Books to Read in April
Reads like a novel and reveals what really happens on both sides of the couch. — Men's Health
A most satisfying and illuminating read for psychotherapy patients, their therapists, and all the rest of us. — New York Journal of Books
A fascinating, funny behind-the-scenes look at what happens when people — even shrinks themselves — 'break open,' with the help of a therapist. — Shondaland
[Maybe You Should Talk to Someone] explores the ups and downs of life with humor and grace. — Bookbub.com
A delightful, fascinating dive into human behavior and idiosyncrasies, habits and defenses, fears and blind spots: hers, her patients', yours and mine. — Chicago Tribune
Both poignant and laugh-out-loud funny, [Gottlieb] reveals how our stories form the core of our lives. — Orange County Register
In her compassionate and emotionally generous new book, Gottlieb . . . pulls back the curtain of a therapist's world. [. . . ] The result is a humane and empathetic exploration of six disparate characters struggling to take control of their lives as they journey back to happiness. — ALA's Public Libraries Online
[A] smart, hilarious, insightful book. Lori Gottlieb will have you laughing and crying as she breaks down the problems of her patients, her therapist and herself. — Patch.com
Saturated with self-awareness and compassion, this is an irresistibly addictive tour of the human condition. — Kirkus Reviews (starred review)
Written with grace, humor, wisdom, and compassion, this [is a] heartwarming journey of self-discovery. — Library Journal
The coup de grace is Gottlieb's vulnerability with her own therapist. Some readers will know Gottlieb from her many TV appearances or her 'Dear Therapist' column, but even for the uninitiated-to-Gottlieb, it won't take long to settle in with this compelling read." — Booklist
Sparkling . . . Gottlieb portrays her patients, as well as herself as a patient, with compassion, humor, and grace. — Publishers Weekly
An entertaining, relatable, and moving homage to therapy—and being human. We're all in this together, folks—something this book hits home. — The Amazon Book Review
Warm, approachable and funny—a pleasure to read. — BookPage
Heartwarming and upbeat, this memoir demystifies therapy and celebrates the human spirit. — Shelf Awareness
Harper Design, 9780358667216, 240pp.
Publication Date: November 15, 2022
About the Author
Lori Gottlieb is a psychotherapist and author of the New York Times bestseller Maybe You Should Talk to Someone, which is being adapted as a television series. In addition to her clinical practice, she writes The Atlantic's weekly "Dear Therapist" advice column and contributes regularly to The New York Times and many other publications. Her recent TED Talk is one of the top 10 most watched of the year. A member of the Advisory Council for Bring Change to Mind, she is a sought-after expert in media such as The Today Show, Good Morning America, The CBS This Morning, CNN, and NPR's "Fresh Air." She is also the co-host of the new iHeart Radio podcast, "Dear Therapists," produced by Katie Couric. Learn more at LoriGottlieb.com or by following her on Twitter @LoriGottlieb1 and Instagram @lorigottlieb_author.