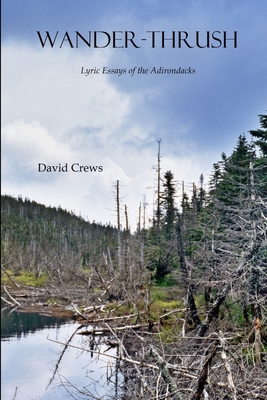 Wander-Thrush (Paperback)
Lulu.com, 9780359043019, 80pp.
Publication Date: November 14, 2018
* Individual store prices may vary.
Description
PUBLISHED BY RA PRESS. ""The writing of David Crews in Wander-Thrush is as evocative as a Hudson River School painting that uses words instead of oil and canvas. These essays are a history lesson, a naturalist's field journal and an elegiac personal tribute to the Adirondack Park, one of the world's great natural treasures. Wander-Thrush is poetry in narrative form, which will help even people who have never been to the Adirondacks imagine this wild, hardscrabble and unforgettable terrain of mountains, bogs and birdsong."" -Darryl McGrath, author of Flight Paths: A Field Journal of Hope, Heartbreak, and Miracles with New York's Bird People.
About the Author
DAVID CREWS serves as both editor for The Stillwater Review and director of the Betty June Silconas Poetry Center at Sussex County Community College, and leads the writers workshop for Moving Words—a project supported by ARTS By the People—that makes possible international collaboration among artists of prose, poetry, voice acting, and animation. He is author of the poetry collection High Peaks (Ra Press, 2015) which catalogs his hiking of the Adirondack "46ers" in upstate New York.
Praise For Wander-Thrush…
From the Author of High Peaks

"The writing of David Crews in Wander-Thrush is as evocative as a Hudson River School painting that uses words instead of oil and canvas. These essays are a history lesson, a naturalist's field journal and an elegiac personal tribute to the Adirondack Park, one of the world's great natural treasures. Wander-Thrush is poetry in narrative form, which will help even people who have never been to the Adirondacks imagine this wild, hardscrabble and unforgettable terrain of mountains, bogs and birdsong."

-Darryl McGrath, author of Flight Paths: A Field Journal of Hope, Heartbreak, and the Miracles with New York's Bird People

"In Wander-Thrush, David Crews helps understand the human forces that re-shaped the Adirondack landscape, nurturing within us an appreciation that transcends its value as a place to play. It must remain a place to dream, a place of refuge from the cares of a troubled world. We must learn to see the Adirondacks as David does—as a place where every sound of nature is a concordant note in the song of life."

-William C. Janeway, Executive Director, The Adirondack Council