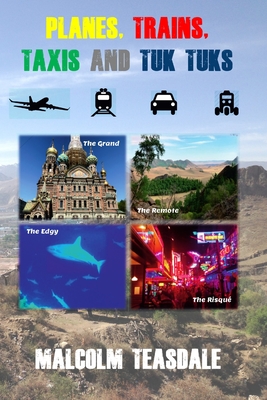 Planes, Trains, Taxis and Tuk Tuks
Paperback

* Individual store prices may vary.
Description
Malcolm Teasdale has spent a ridiculous amount of time on planes and trains. Add to that taxis and various types of tuk tuks. After an honest explanation about how he became a travel addict, Malcolm describes how some iconic places and wonders of the World are reachable with a little planning. It's basically an attempt to simplify what can be deemed as an intimidating task. You can then add these to your Bucket List. The rest of the stories in this book cover experiences in Europe, Asia, the Americas and the Caribbean. Not one to shy away from a challenge or two, he travels to distant locations to visit spectacular buildings and architecture, surrounds himself with sharks at 50 feet underwater, spends a night in the wilderness in a tent and the following day enjoys hanging out with the nomads, finds a spiritual encounter in an iconic palace, ventures into areas of seediness and questionable merit and then relaxes on the World's best beach just to get away from it all.
Lulu.com, 9780359280575, 286pp.
Publication Date: December 8, 2018