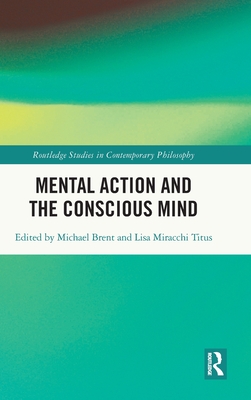 Mental Action and the Conscious Mind (Routledge Studies in Contemporary Philosophy)
Hardcover

* Individual store prices may vary.
Description
Mental action deserves a place among foundational topics in action theory and philosophy of mind. Recent accounts of human agency tend to overlook the role of conscious mental action in our daily lives, while contemporary accounts of the conscious mind often ignore the role of mental action and agency in shaping consciousness. This collection aims to establish the centrality of mental action for discussions of agency and mind. The thirteen original essays provide a wide-ranging vision of the various and nuanced philosophical issues at stake. Among the questions explored by the contributors are:
Which aspects of our conscious mental lives are agential?

Can mental action be reduced to and explained in terms of non-agential mental states, processes, or events?

Must mental action be included among the ontological categories required for understanding and explaining the conscious mind more generally?

Does mental action have implications for related topics, such as attention, self-knowledge, self-control, or the mind-body problem?
By investigating the nature, scope, and explanation of mental action, the essays presented here aim to demonstrate the significance of conscious mental action for discussions of agency and mind. Mental Action and the Conscious Mind will be of interest to scholars and graduate students working in philosophy of mind, philosophy of action, and philosophy of agency, as well as to philosophically inclined cognitive scientists.
Routledge, 9780367077518, 310pp.
Publication Date: July 15, 2022
About the Author
Michael Brent is Responsible A.I. Expert at Boston Consulting Group and Cofounding Faculty at the Brooklyn Institute for Social Research, USA. Previously, he was Senior Program Manager in the Office of Responsible A.I. at Microsoft Corporation and Assistant Professor of Philosophy at the University of Denver, USA. His published work has appeared in the Canadian Journal of Philosophy, Journal of Buddhist Ethics, and Philosophical Psychology.Lisa Miracchi Titus is Associate Professor of Philosophy at the University of Pennsylvania, USA, where she is also a General Robotics, Automation, Sensing, and Perception (GRASP) Lab Faculty Affiliate and a MindCORE Faculty Affiliate. Her published work has appeared in the Journal of Artificial Intelligence and Consciousness, Philosophical Psychology, Philosophy and Phenomenological Research, and Synthese.