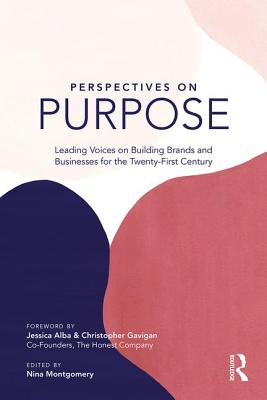 Perspectives on Purpose
Leading Voices on Building Brands and Businesses for the Twenty-First Century
Paperback

* Individual store prices may vary.
Other Editions of This Title:
Hardcover (2/26/2019)
Description
Perspectives on Purpose brings together industry leaders to advocate for a more human-centered and socially-conscious future for businesses. Sharing stories from their work at companies like Ben & Jerry (TM)s, Sephora, Airbnb, Diageo, VF Corporation, and Hyatt, these authors demonstrate how weaving purpose into the profit-making core of business helps companies do good and do well.
Foreword by Jessica Alba and Christopher Gavigan, Co-founders of The Honest Company
Chapters by:
Jorge Aguilar (Prophet)
Tom Andrews (TJALeadership, SYPartners)
Maryam Banikarim (Hyatt, NBC Universal, Gannett, Univision)
Ila Byrne and Ryan Hunter (Diageo)
Corrie Conrad (Sephora)
Alexandra Dimiziani (TwentyFirstCenturyBrand, Airbnb)
Ambika Gautam Pai (Wolf & Wilhelmine)
Heidi Hackemer (And So We Hunt)
Sam Hornsby (TRIPTK)
Jonathan Jackson (Harvard University, Blavity)
Sam Liebeskind (Gin Lane, Wolff Olins)
Rob Michalak (Ben & Jerry's)
Thomas Ordahl (Landor)
Frank Oswald (Columbia University)
Sarah Potts (Thorn)
Matthew Quint (Columbia Business School)
Haley Rushing (The Purpose Institute)
Letitia Webster (VF Corporation)
Freya Williams (Futerra)
Perspectives on Purpose and its sister book, Perspectives on Impact, bring together leading voices from across sectors to discuss how we must adapt our organizations for the twenty-first century world. Perspectives on Purpose looks at the shifting role of the corporation in society through the lens of purpose; Perspectives on Impact focuses on the recalibration of social impact approaches to tackle complex humanitarian, social, and environmental challenges.
Routledge, 9780367112370, 204pp.
Publication Date: February 28, 2019
About the Author
Margarita ('Nina') S. Montgomery is an archaeologist-turned-strategist currently working at IDEO. A PhD candidate at Oxford, she holds a fellowship at TRIPTK and has spoken on organizations and society at Harvard Business School and Oxford's Said Business School, among others. Nina received a BA in Classics from Dartmouth and a master's in Classical Archaeology from Oxford as a Reynolds Scholar.