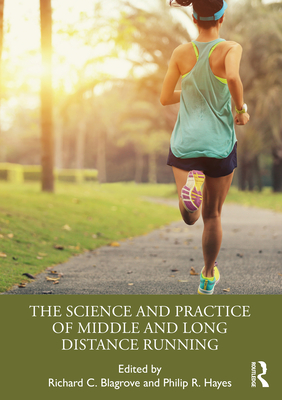 The Science and Practice of Middle and Long Distance Running
Paperback

* Individual store prices may vary.
Description
The popularity of distance running as a sport, and a recreational activity, is at an all-time high. Motivated by the desire to achieve a personal best, remain healthy, or simply complete an event, distance runners of all ages and abilities actively seek out advice from experienced coaches and sport scientists. This is also reflected in the growth of programmes of education for young coaches and aspiring sport scientists in recent years. There are a multitude of different approaches to training distance runners; however, the basic principles and ingredients required for success are applicable to any distance runner. The science that underpins the training and physical preparation of distance runners has developed considerably in recent years. The most experienced and successful coaches in the distance running community rarely have the opportunity to share their tried and tested methods of training. Similarly, the novel work of sport scientists is often only accessible to elite runners, their support teams and academia.
The Science and Practice of Middle and Long Distance Running links together the science and coaching artistry associated with preparing distance runners for events ranging from 800 m up to ultra-marathon distances. It combines the latest scientific evidence, published by world-leading sport scientists, with the sound training principles and strategies adopted by experienced coaches. The book translates cutting-edge scientific research from the fields of physiology, biomechanics, psychology and nutrition into practical suggestions for achieving success. Important topical issues and contemporary practices related to health and performance are also addressed. This book is an essential addition to the library of any distance runner, coach or sport scientist.
Routledge, 9780367423186, 426pp.
Publication Date: March 30, 2021
About the Author
Richard C. Blagrove, PhD, SFHEA, ASCC, CSCS is Lecturer in Physiology and Programme Director of the MSc Strength and Conditioning at Loughborough University, UK. Richard is an Accredited Strength and Conditioning Coach and Certified Strength and Conditioning Specialist and was previously Director of the UK Strength and Conditioning Association. He has provided coaching support to middle- and long-distance runners for almost 15 years, including several Olympians and athletes who have won medals at major international championships. He gained a PhD from Northumbria University investigating the utility of strength-based exercise in post-pubertal adolescent distance runners and has delivered over a dozen invited presentations on the physical preparation of runners.Philip R. Hayes, PhD, CSci is Senior Lecturer at Northumbria University, where he gained his PhD and has worked since 1991. During that time, he has spent 14 years as Programme Leader on the BSc. (Hons) Applied Sport and Exercise Science. His main research interest is the role of muscular strength (acute and chronically) and its role in (i) running performance, (ii) offsetting fatigue-related changes in gait, (iii) overuse injuries. Phil is a UK Athletics Level 4 middle-distance running coach, coaching for a local athletics club. He has coached GB U23, GB Students, GB U20, and GB U18 runners, along with Inter-Counties, British Universities and England Schools medallists. Previously, he has been the UK Athletics Regional Coach (North East England) for Endurance Events. Phil has also provided sport science support to numerous local athletes, some of whom have competed at international championships including the Olympics, World Cross-Country Championships and Commonwealth Games.