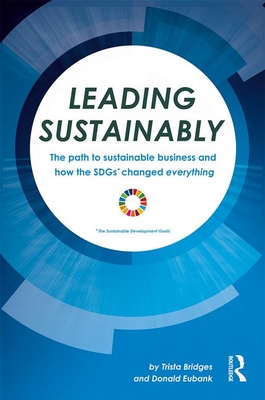 Leading Sustainably
The Path to Sustainable Business and How the SDGs Changed Everything
Hardcover

* Individual store prices may vary.
Description
The business world is at an important crossroads. The age of the stakeholder is rapidly superseding that of the shareholder as climate change and political and societal shifts upend years of seeming prosperity. To move past this agitated age, business and society must learn to lead sustainably by putting purpose on equal footing with profit. The first step is understanding what's meant by sustainability and how it offers an opportunity for both business and society.
Inspired by the launch of the 2030 United Nations Sustainable Development Goals (SDGs), the book captures the ideas of more than 100 change makers from around the world about how business is putting sustainability at the core of strategy to survive, thrive, and realign its interests with society's. Leading Sustainably looks at how sustainability has evolved in a business context, offering powerful insights, key facts, and guidance on building sustainability capability within companies, measuring and managing impact, sustainable finance's transformation, and other topics critical to aligning businesses' central activities with sustainable principles.
The book introduces five vignettes profiling best-in-class companies that were sustainable from the start and international case studies on business sustainability efforts, spanning industries from hospitality to waste management, fashion, finance, and more. Finally, Bridges and Eubank provide frameworks and in-depth direction firms can leverage when accelerating their transition to more sustainable business models.
The book is a perfect guide for mid-level to senior managers seeking to understand this fast-changing business environment, how to factor sustainability into their decision-making, and why the SDGs changed everything.
Routledge, 9780367428365, 176pp.
Publication Date: July 31, 2020
About the Author
Trista Bridges is a strategy and marketing expert with extensive experience across various geographies and sectors including consumer products, financial services, technology, and healthcare. As co-founder of Read the Air, she advises organizations on sustainability, providing them with the insights and solutions needed to transition to sustainable business models. Donald Eubank is an experienced manager who's worked across the IT, finance, and media industries in Asia. As co-founder of Read the Air, he serves as a key advisor to businesses that are integrating sustainability into their core strategy, guiding their teams to lead sustainably and apply critical tools for managing impact.