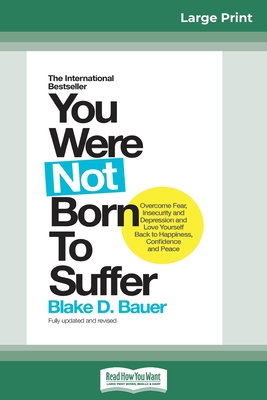 You Were Not Born to Suffer
How to Overcome Fear, Insecurity and Depression and Love Yourself Back to Happiness, Confidence and Peace (16pt Large
Paperback

* Individual store prices may vary.
Other Editions of This Title:
Digital Audiobook (3/20/2017)
Paperback (3/21/2017)
Hardcover (11/14/2012)
Paperback (11/14/2012)
Description
Simply, logically and from the heart, You Were Not Born To Suffer intimately guides you through the most challenging obstacles you face in your search for lasting peace, health, and happiness. This book offers practical advice that will help you transform suffering, fear and insecurity in the present and find the strength and courage necessary to enjoy your life, fulfil your purpose and be true to yourself in every situation. You'll discover why all depression, addiction and illnesses are simply cries asking you to stop pleasing others. These pages effectively outline how to relate to yourself with acceptance, honesty and compassion as the key to self-healing, self-confidence, self-worth and self-respect. Having already helped thousands of people around the world who could not find lasting solutions from conventional medicine, psychiatry, or religion, this book offers practical wisdom, synthesized from various spiritual and medical traditions, that goes straight to the heart of our deepest wounds, needs, desires, and dreams. Once there, it inspires understanding, forgiveness and clarity in the places that are universally the most difficult to transform. It also clarifies how to effectively direct your thoughts, words, and actions toward creating an authentic life, free from guilt, self-pity, and regret. If you're tired of settling for crumbs of love, health, happiness, connection or peace, this book offers the answers you've been waiting for.
ReadHowYouWant, 9780369325273, 512pp.
Publication Date: April 28, 2017