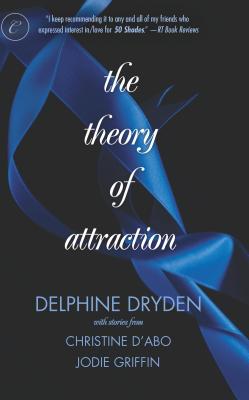 The Theory of Attraction (Paperback)
Carina Press, 9780373002047, 380pp.
Publication Date: October 16, 2012
* Individual store prices may vary.
or
Not Currently Available for Direct Purchase
Description

The Theory of Attraction by Delphine Dryden
Camilla can set her watch by her sexy rocket-scientist neighbor's schedule...but she soon learns that isn't the only thing Ivan likes to be strict about. He needs to be in charge in the bedroom as well--and Cami discovers there can be more pleasure in submitting than she ever imagined....
A Shot in the Dark by Christine d'Abo
Carter is one of the hottest men ever to walk into Paige Long's coffee shop. Firefighter by day, Dom by night, he's her ultimate fantasy. But can Carter convince Paige to submit to happiness outside the bedroom, too?
Forbidden Fantasies by Jodie Griffin
After fifteen years of marriage, Jessica and Alex's sex life is, well, a little predictable. It just can't compare with the hot new world Jessica discovers in the pages of erotic romances. Until their fantasies are brought to life during a special weekend at a unique B and B: Bondage and Breakfast....

About the Author
Jodie Griffin didn t always want to be a writer. She spent hours reading, but school papers were written one painful word at a time. One day, a story idea came, demanding to be put on paper. After several years of practice, she took the leap, submitted her first manuscript, and hasn t looked back since. Jodie s own happily-ever-after includes one incredibly supportive husband and one future heroione. Forbidden Fantasies is Jodie's first book."
Advertisement