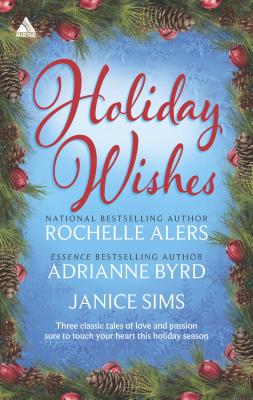 Holiday Wishes (Mass Market Paperbound)
Kimani Press, 9780373091331, 313pp.
Publication Date: October 29, 2013
* Individual store prices may vary.
or
Not Currently Available for Direct Purchase
Description
The scent of evergreen lingers and romance is in the air this joyous holiday season. Three beloved authors bring you heartwarming classic tales that are the perfect way to celebrate this special time of year.
Shepherd Moon
by Rochelle Alers
Tragedy forced Rhianna Campbell to run away from the small town of Shepherd. Years later, she returns to find her former fiance's brother resents her for leaving after his brother died in a Christmas Eve accident. Can Emery Sutherland find a way to forgive Rhianna? And will they both find peace and maybe something more this holiday seasontogether?
Wishing on a Starr
by Adrianne Byrd
Years ago, Gia Hunter's husband was killed in combat, so she was forced to give up their infant daughter, Starr. In a twist of fate, Starr's adoptive father, Daniel Davis, and Gia have a chance encounter while Christmas shopping. Their attraction is immediate, but complications arise because Starr has been searching for her biological mother. Will there be a future together waiting under the tree for this would-be family?
A Christmas Serenade
by Janice Sims
Callie Hart is having a hard time being grateful this Thanksgiving. She just lost her job in Atlanta, and while traveling home to her family in Charleston, she gets a flat tire. Out of nowhere, a tall, handsome stranger appears to help her. After thanking him, Callie doesn't expect to see him ever again. But Callie's mother has a plan to keep her daughter close to homeand that plan includes the gorgeous stranger that Callie cannot forget.
About the Author
National bestselling author Adrianne Byrd has been featured in many publications, including "Today s Black Woman, Upscale," and "Heart and Soul." She has also won local awards for screenwriting. For the future, she looks forward to continuing to create characters that make people smile, laugh, and fall in love. She currently calls Georgia home.

With the publication of Temptation's Song in July 2010, Janice Sims celebrates fourteen years as a romance writer.In fourteen years she'spublishedseventeen novels and had nine stories included in anthologies. When asked why she writes romances, she smiles and says it's the only genre in which happily ever after is a foregone conclusion. Plus, where elseare you going tofinda perfect male?

Hailed by readers and booksellers alike as one of today's most popular African-American authors of women's fiction, Ms. Alers is a regular onbestsellers list, and has been a recipient of numerous awards, including the Vivian Stephens Award for Excellence in Romance Writing and a Zora Neale Hurston Literary Award.Visit her Web site www.rochellealers.com

"
Advertisement