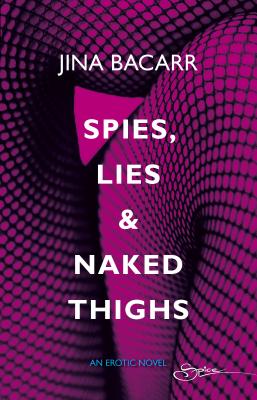 Spies, Lies & Naked Thighs (Paperback)
Spice, 9780373605224, 425pp.
Publication Date: March 1, 2008
* Individual store prices may vary.
or
Not Currently Available for Direct Purchase
Description

Breezy Malone has left her cautious archaeologist's life behind, only to be poured into a leather corset and demand that bad guys askno, begfor mercy in her new gig as a covert agent for the FBI. A covert sex agent, to be exact.
Not that she's given much choice. The FBI is dangling the ultimate carrotif she can use her seduction skills to trace an ancient, stolen artifact, it'll lead her to Sharif, the terrorist who framed her for a murder that landed her in a Middle East prison. Now she's prepared to break any rule to make sure Sharif pays.
But a mysterious and alluring agent called One-Eyed Jack is on her tail, and Breezy's not sure if he's friend, foe or something even more dangerousa sensual distraction aimed at throwing her off her guard. She'll show him who's in control.

About the Author
Jina Bacarr is the author of The Japanese Art of Sex and worked as the Japanese consultant on KCBS-TV, MSNBC, TechTV's Wired for Sex and British Sky Broadcasting\u2019s Saucy TV. Her ability to speak the language helped her find jobs acting in Japanese TV commercials and work as a companion girl. She is a playwright with three plays produced and wrote forty scripts for daytime TV. She worked as an artist's model, lived in Paris, speaks French, and loves all things Parisian
Advertisement