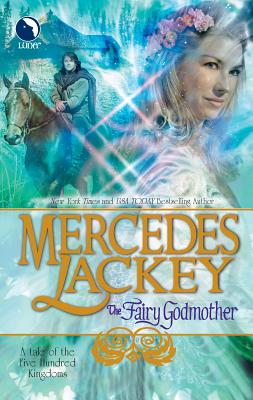 The Fairy Godmother (Mass Market Paperback)
Luna Books, 9780373803330, 487pp.
Publication Date: May 1, 2010
Other Editions of This Title:
Mass Market Paperback (11/1/2004)
MP3 CD (7/19/2016)
* Individual store prices may vary.
Description
"She'll keep you up long past your bedtime." #1 New York Times bestselling author Stephen King "The prolific Lackey (the Valdemar series) draws on the darker, Brothers Grimm side of fairy lore for her enchanting tale..." --Publisher's Weekly In the land of the Five Hundred Kingdoms, if you can't carry out your legendary role, life is no fairy tale.... Elena Klovis was supposed to be her kingdom's Cinderella--until fate left her with a completely inappropriate prince So she set out to make a new life for herself. But breaking with "The Tradition" was no easy matter--until she got a little help from her own fairy godmother. Who promptly offered Elena a most unexpected job.... Now, instead of sleeping in the chimney, she has to deal with arrogant, stuffedshirt princes who keep trying to rise above their place in the tale. And there's one in particular who needs to be dealt with.... Sometimes a fairy godmother's work is never done.... Book 1 of Five Hundred Kingdoms. Previously published.
Praise For The Fairy Godmother…
"Dr. Traver doesn't just instruct readers on how to achieve happier, healthier lives, she provides compelling evidence for why her methods work." -- Dr. Mark Hyman, bestselling author of The UltraMind Solution and UltraMetabolism



"I've seen our employees lose 40+ pounds, get off their blood pressure and diabetes medications, figure out their sleep problems, reduce stress, and more. The Program really works!" -- Dagan McLennan, RN, Wellness Center, Google



"Dr. Traver's The Program is opening the next frontier of medicine with its smart, simple, and science-based approach to protecting your health." -- Bradley A. Perkins, M.D., executive vice president for strategy and innovation at Vanguard Health Systems



"This is a tipping point book: it shows us how to get beyond sick care to doable healthy living." -- Bob Johansen, bestselling author of Get There Early and Leaders Make the Future



"This no-nonsense, evidence-based approach can transform lives by teaching people how to do what they know they should, but is so increasingly difficult to practice in the modern world." -- J. Nick Baird, M.D., CEO, Alliance to Make US Healthiest



"Wow! What an undertaking! The Program provides just the right mix of what, why, and how for readers interested in improving their health and well-being." -- Cathy Heaney, Ph.D., Stanford Prevention and Research Center



"Simply wonderful. Reading The Program somehow reminded me of reading Shakespeare. Each page is so laden with verities that a slow read is mandated. So, read slow and thrive." -- Walter M. Bortz II, M.D., bestselling author of Dare to Be 100 and We Live Too Short and Die Too Long
or
Not Currently Available for Direct Purchase