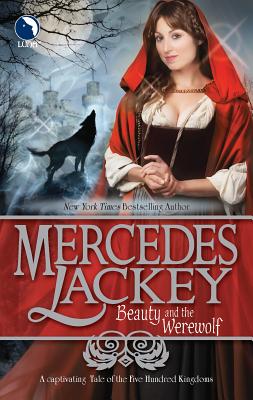 Beauty and the Werewolf (Mass Market Paperbound)
Luna Books, 9780373803460, 408pp.
Publication Date: May 29, 2012
Description

The eldest daughter is often doomed in fairy tales. But BellaIsabella Beauchamps, daughter of a wealthy merchantvows to escape the usual pitfalls.
Anxious to avoid the traditional path, Bella dons a red cloak and ventures into the forbidden forest to consult with "Granny," the local wisewoman. But on the way home she's attacked by a wolfwho turns out to be a cursed nobleman. Secluded in his castle, Bella is torn between her family and this strange man who creates marvelous inventions and makes her laughwhen he isn't howling at the moon.
Bella knows all too well that breaking spells is never easy. But a determined beauty, a wizard (after all, he's only an occasional werewolf) and a little Godmotherly interference might just be able to bring about a happy ending.

About the Author
New York Times bestselling author Mercedes Lackey has written over one hundred titles and has no plans to slow down. Known best for her tales of Valdemar and The Five Hundred Kingdoms, she's also a prolific lyricist and records her own music.
Praise For Beauty and the Werewolf…
"Lackey's satisfying fairy tale will captivate fantasy readers with its well-imagined world and romance fans, who will relish the growing relationship and sexy scenes."
-Booklist on The Fairy Godmother



"Fans of Lackey's Valdemar series as well as general fantasy enthusiasts should enjoy this classic fairy tale with a pair of proactive, resourceful heroes."
-Library Journal on Fortune's Fool



"[P]lenty of twists and laughs...most of the fun comes from finding all the fairy tale in-jokes peppering the pages.
-Publishers Weekly on The Sleeping Beauty



"A delightful fairy tale revamp. Lackey ensures that familiar stories are turned on their ear with amusing results. Appealing characters faced with challenging circumstances keep the plot lively. You don't want to mess with godmothers!"
- RT Book Reviews on The Snow Queen
Advertisement