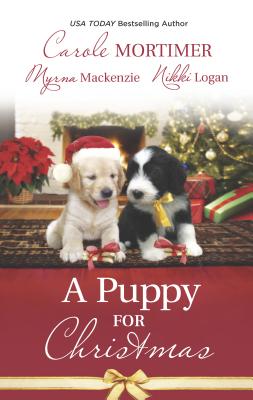 A Puppy for Christmas: On the Secretary's Christmas List\The Soldier, the Puppy and Me\The Patter of Paws at Christmas (Mass Market Paperbound)
On the Secretary's Christmas List\The Soldier, the Puppy and Me\The Patter of Paws at Christmas
Harlequin, 9780373837809, 320pp.
Publication Date: October 1, 2013
* Individual store prices may vary.
or
Not Currently Available for Direct Purchase
Description
On the Secretary's Christmas List by Carole Mortimer
Bree has landed an amazing job, but her new boss is a difficult, unreliable playboywho is also infuriatingly gorgeous When Bree looks after Jackson's son and energetic puppy, she realizes what she really wants this Christmas.
The Soldier, the Puppy and Me by Myrna Mackenzie
Christmas is a difficult time for war hero Trey McFadden and it doesn't help that his neighbour, Ella Delancey, and her adorable puppy, Fizz, seem determined on spreading festive cheer.
The Patter of Paws at Christmas by Nikki Logan
Ingrid has to spend Christmas with gorgeous zookeeper Gabriel Marque. They're keeping watch for the zoo's first litter of wild dogs. Will the patter of tiny paws bring them together, this time forever?
About the Author
Carole Mortimer was born in England, the youngest of three children. She began writing in 1978, and has now written over one hundred and seventy books for Harlequin Mills and Boon(r). Carole has six sons, Matthew, Joshua, Timothy, Michael, David and Peter. She says, I m happily married to Peter senior; we re best friends as well as lovers, which is probably the best recipe for a successful relationship. We live in a lovely part of England.

Myrna Mackenzie would have liked to be a princess but that job wasn't available. And since she loved stories and happy endings, becoming a romance writer was even better. An award-winning author, Myrna was born in Campbell, Missouri in the US, grew up outside Chicago and now divides her time between Chicago and Lake Geneva, Wisconsin. She adores the Internet, coffee, hiking, and "attempting" gardening. Readers can visit Myrna at her website: www.myrnamackenzie.com

Nikki Logan lives amongst a string of wetlands in Australia with her partner and a menagerie of animals. Her stories are full of romance in descriptive, natural environments. She believes the richness and danger of wild places perfectly mirror the passion and risk of falling in love. Nikki has written for a living for most of her life and authored her first romance on a sabbatical from work, determined to be published by forty, her first book came out in February 2010, her fortieth year"
Advertisement