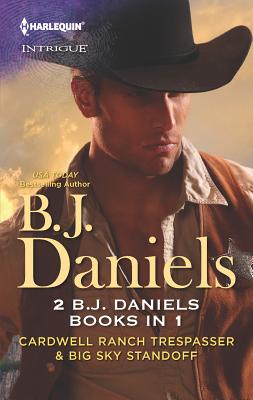 Cardwell Ranch Trespasser & Big Sky Standoff (Mass Market Paperbound)
Harlequin, 9780373837939, 448pp.
Publication Date: March 26, 2013
Description

Cardwell Beware
The Cardwell clan has a new, mysterious member. Dana Cardwell warmly welcomed her Justice cousin into the family fold and to the ranch for a reunion. But this cunning kin has other plans for Danaand designs on her husband, Hud.
Hilde Jacobson has known Dana too long to let her best friend get conned, or worsekilled. Unfortunately Hilde is no match for a skilled impostor who's duped everyone in the canyon. Only Deputy Marshal Colt Dawson believes Hilde's claims about the phony relation; only his strong arms have saved her from "accidents" intended to get her out of the way. Together can they convince the Cardwells a predator lurks in their happy home?
Big Sky Standoff also included in this book

About the Author
USA Today bestselling author B.J. Daniels wrote her first book after a career as an award-winning newspaper journalist. Since then she has more than 40 short stories and 70 books in print. Her best-selling Harlequin Intrigue series, Whitehorse, Montana, has appeared on the USA Today bestselling list numerous times. She has also won a variety of awards including a Career Achievement Award for romantic suspense. Daniels lives in Montana with her husband, Parker.
Advertisement