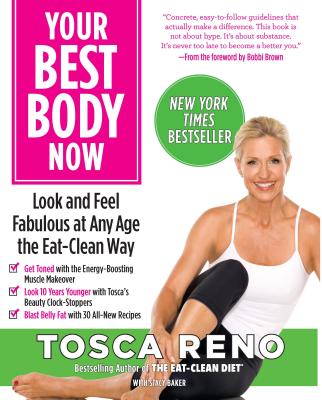 Your Best Body Now: Look and Feel Fabulous at Any Age the Eat-Clean Way (Paperback)
Look and Feel Fabulous at Any Age the Eat-Clean Way
Harlequin, 9780373892242, 336pp.
Publication Date: September 28, 2010
Description
New York Times bestselling author Tosca Reno knows exactly how you feel. She went from being a flabby, 200+ pound woman to a slim and sexy fitness expertall past the age of 40 Now, for the first time ever, she reveals her secrets to looking better every year. Using the simple, Eat-Clean principles that have helped millions lose weight and featuring all-new advice from Tosca and her team of top experts, discover how you, too, can:
Boost your metabolism to burn fat fastTurn back the clock and age-proof your bodyLook and feel younger than you have in yearsCreate your best bodynow
About the Author
Bestselling author, magazine columnist, and 50-year-old swimsuit and fitness model, Tosca Reno, has spent the past decade putting her principles of eating clean, health, fitness, and mind/body/spirit wellness in motion in her own life, as well as those of her devotees.
Advertisement