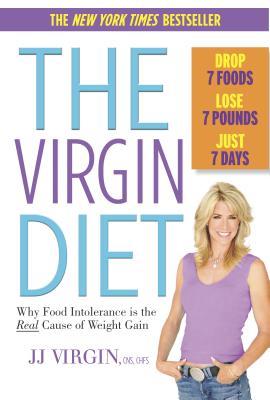 The Virgin Diet: Drop 7 Foods, Lose 7 Pounds, Just 7 Days (Hardcover)
Drop 7 Foods, Lose 7 Pounds, Just 7 Days
Harlequin, 9780373892716, 310pp.
Publication Date: December 4, 2012
* Individual store prices may vary.
or
Not Currently Available for Direct Purchase
Description

Your fat is not your fault.
Are you eating all the right thingslow-fat yogurt, egg-white omelets, whole-grain bread, even tofubut still can't lose the weight? Your favorite "diet" foods may be to blame.
In this groundbreaking program, nutrition and fitness expert JJ Virgin reveals the real secret behind weight gainfood intolerance. A negative reaction to certain foods like dairy or gluten can sabotage your health by triggering inflammation and causing a host of nasty symptoms like bloating, breakouts, headaches, achy joints andworst of allstubborn weight gain.
On The Virgin Diet, you'll eat plenty of anti-inflammatory, healing foods to reclaim your health and reset your metabolism, while avoiding the 7 foods that are most likely to cause food intolerance. You'll never feel hungry or deprived, and in just one week, you'll drop up to 7 pounds, lose belly bloat, gain energy, clear up inflammation and look and feel years younger. And that's just the beginning

About the Author
J.J. Virgin is one of the nation s foremost fitness and nutrition experts, an accomplished public speaker and media personality. Her 25 years in the health and fitness industry, the past 10 in holistic nutrition and functional medicine, have earned J.J. recognition as the go-to weight loss expert. J.J. is the author of Six Weeks to Sleeveless and Sexy and the co-star of the TLC reality series, Freaky Eaters."
Praise For The Virgin Diet: Drop 7 Foods, Lose 7 Pounds, Just 7 Days…
"Eliminates the 'healthy' foods that are actually holding your health hostage, so you can lose weight quickly and permanently."-Mark Hyman, MD, author of the #1 New York Times bestseller, The Blood Sugar Solution



"A foolproof, science-based plan to lose weight, boost your metabolism and reclaim your health, for life." -Daniel G. Amen, MD, author of Change Your Brain, Change Your Body



"You must read this book if you think you're doing everything right and still struggling to lose weight!"-Suzanne Somers, bestselling author of 23 books, including Bombshell



"In this book, JJ reveals one of the primary reasons why people are doing everything 'right' but still not losing weight. Her tell-it-like-it-is attitude is refreshing, clear and informative. I highly recommend The Virgin Diet for anyone who has ever struggled with their weight and knows there has to be a better way. That way is illuminated in this book!" -Cynthia Pasquella, CCN, creator of SoCal Cleanse and bestselling author of PINK Method



"Food sensitivity is a hidden epidemic-this eye-opening book will change the way you think of food so you can lose weight for good." -Frank Lipman, MD, author of Revive: Stop Feeling Spent and Start Living Again



"The Virgin Diet demystifies food sensitivities while offering the reader a fantastic plan that will help them to lose weight and feel great."-Mike Dow, PhD, author of Diet Rehab



"JJ's Virgin Diet offers the ultimate plan to slim down, boost energy and feel your very best, whether you're vegan, vegetarian or omnivore!" -Alex Jamieson, author of The Great American Detox Diet



"JJ Virgin is the real deal! She debunks the diet myths and gives you a program that really works!" -Jonny Bowden, PhD, CNS, aka "The Rogue Nutritionist," bestselling author of The 150 Healthiest Foods on Earth and The Great Cholesterol Myth



"The Virgin Diet provides the exact game plan you need to finally beat the exhausting game of weight-loss resistance. This book is sure to shake up the diet world and put soy, wheat and dairy (and a few others) on notice! Well-researched and filled with case studies of people who have lived this diet, my prediction is The Virgin Diet will become a classic." -Leanne Ely, ONC, New York Times bestselling author from SavingDinner.com
Advertisement