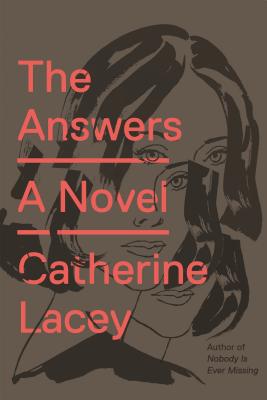 The Answers
A Novel
Hardcover

* Individual store prices may vary.
Other Editions of This Title:
Digital Audiobook (6/5/2017)
Paperback (6/5/2018)
MP3 CD (6/6/2017)
Compact Disc (6/6/2017)
Compact Disc (6/6/2017)
Description
NAMED A TOP 10 NOVEL OF 2017 BY THE WALL STREET JOURNAL AND VOGUE, A BEST BOOK OF 2017 BY ESQUIRE, HUFFINGTON POST, POP SUGAR, ELECTRIC LITERATURE AND KIRKUS, AND A 2017 NPR GREAT READ. ONE OF DWIGHT GARNER'S TOP BOOKS OF 2017 IN THE NEW YORK TIMES.

A NEW YORK TIMES BOOK REVIEW EDITOR'S CHOICE AND A FINALIST FOR THE CHICAGO REVIEW OF BOOKS FICTION AWARD.

"Like Margaret Atwood's The Handmaid's Tale, [The Answers] is also a novel about a subjugated woman, in this case not to a totalitarian theocracy but to subtler forces its heroine is only beginning to understand and fears she is complicit with." --Dwight Garner, New York Times

Mary Parsons is broke. Dead broke, really: between an onslaught of medical bills and a mountain of credit card debt, she has been pushed to the brink. Hounded by bill collectors and still plagued by the painful and bizarre symptoms that doctors couldn't diagnose, Mary seeks relief from a holistic treatment called Pneuma Adaptive Kinesthesia—PAKing, for short. Miraculously, it works. But PAKing is prohibitively expensive. Like so many young adults trying to make ends meet in New York City, Mary scours Craigslist and bulletin boards for a second job, and eventually lands an interview for a high-paying gig that's even stranger than her symptoms or the New Agey PAKing.

Mary's new job title is Emotional Girlfriend in the "Girlfriend Experiment"—the brainchild of a wealthy and infamous actor, Kurt Sky, who has hired a team of biotech researchers to solve the problem of how to build and maintain the perfect romantic relationship, cast - ing himself as the experiment's only constant. Around Kurt, several women orbit as his girlfriends with spe - cific functions. There's a Maternal Girlfriend who folds his laundry, an Anger Girlfriend who fights with him, a Mundanity Girlfriend who just hangs around his loft, and a whole team of girlfriends to take care of Intimacy. With so little to lose, Mary falls headfirst into Kurt's messy, ego-driven simulacrum of human connection.

Told in Catherine Lacey's signature spiraling, hypnotic prose, The Answers is both a mesmerizing dive into the depths of one woman's psyche and a critical look at the conventions and institutions that infiltrate our most personal, private moments. As Mary struggles to understand herself—her body, her city, the trials of her past, the uncertainty of her future—the reader must confront the impossible questions that fuel Catherine Lacey's work: How do you measure love? Can you truly know someone else? Do we even know ourselves? And listen for Lacey's uncanny answers.
Praise For The Answers: A Novel…
Praise for The Answers

Recommended reading by Vanity Fair, Huffington Post, W, Nylon, Elle, Buzzfeed, and Kirkus

"[The Answers] has the effortless sparkle and speed of something written by an author with a dozen novels behind her instead of just one. It is funny and eerie and idea-dense—a flavor combination that turns out to be addictive . . . [The Answers] bites off a lot more than Lacey's debut, and it does a much better job of chewing it. This is a breathtaking leap to witness, and a promising trajectory to follow. On the basis of The Answers, I'd read anything Catherine Lacey tried her hand at: science fiction, a screenplay, an epic poem . . . hell, a limerick. And as many novels as she possibly could." —Molly Young, New York Times Book Review

"Lacey's sentences are long and clean and unstanchable . . . she sweeps you up in the formidable current of her thought, and then she drops you down the rabbit hole. She's the real thing, and in The Answers she takes full command of her powers . . . This is a novel of intellect and amplitude that deepens as it moves forward, until you feel prickling awe at how much mental territory unfolds . . . Lacey's special gift is for capturing the realistic flickering of individual consciousness." —Dwight Garner, New York Times

"The Answers is in part a sparkling satire of our era of big data . . . But the novel is also a poignant spiritual lament, deepening the themes of Ms. Lacey's excellent debut, Nobody Is Ever Missing . . . [Lacey's] searching, religious dimensions add to the fresh commentary on present-day godheads to make The Answers not just one of the most ingenious novels of 2017 but also one of the most moving." —Sam Sacks, Wall Street Journal

"This is Lacey's specialty: She captures with eerie precision the strangeness of being a person in the world, living alongside other human beings with unknowable thoughts and feelings . . . Reading Lacey's fiction feels like walking through a dark apartment in someone's mind, full of winding hallways and unmarked doors. You never know quite where you are or where you'll end up." —Joy Press, Los Angeles Times

"Haunting . . . [The Answers is] a quiet, calm, somewhat circuitous rumination on what we miss and miss out on when our connections to other human beings are synthetic. And it serves as a reminder that sometimes the fiction that feels most relevant to a hallucinatory political moment is not itself overtly political . . . A thoughtful, complex, feminist book that artfully mines the fun-house insanity of 21st century American womanhood by a uniquely talented writer who knows not to put forth any answers, only more questions." —Nina Renata Aron, New Republic

"Such an inventive setup isn't merely an excuse for Lacey to show off her considerable inventiveness. It also allows her to dig into some fertile philosophical ground, raising questions to which the novel, against its title and like all good art, offers no final answers . . . Love is a strange, strange thing, and so is the self. No one in contemporary fiction does a better job of showing us these facts than Catherine Lacey." —Anthony Domestico, Boston Globe

"Catherine Lacey's dating dystopia The Answers is this summer's must-read novel . . . A darkly funny, tartly feminist look at the tender state of our bodies and souls in the Information Age . . . [Lacey's] work manages to be both conceptual and human, socially aware and mordant—think DeLillo for millennials—[and it] captures the absurdity of a culture that persists in thinking that enlightenment is a matter of the right purchase, hashtag, or Google search." —Megan O'Grady, Vogue

"The genius of Catherine Lacey lies in the fact that her new book, The Answers, doesn't feel like too much; the pieces are bizarre and timely and fit together like puzzle pieces into a somehow timeless examination of humanity . . . Lacey's prose radiates elegance beneath its unassuming, unflashy surface; there's nary a maladroit word or an unrevealing detail. She skillfully balances a truly absurd array of hot-button topics and weird narrative twists, playing them off each other virtuosically to weave a surreal-feeling story with deeply pragmatic concerns." —Claire Fallon, Huffington Post

"Lacey pulls off a diverting and provocative satire, studded with episodes of real gravity, without engaging in slapstick. The ironies are buried deep in the novel's symmetrical structure and never played for laughs, though there are enough deadpan comic revelations to qualify Lacey, as some critics have already suggested, as an heir to Don DeLillo in White Noise mode. " —Christian Lorentzen, New York

"Catherine Lacey examines, with clinical chill and precision, late-capitalism's perversions of love . . . The Answers cinches [Lacey's previous accolades] while forging new narrative territory. It's more plot-driven and ruthless than Nobody Is Ever Missing, a world more familiar with the carnal cruelty of a Mary Gaitskill story than Adler's aphoristic prose . . ." —J. Jezewska Stevens, BOMB

"Complex and haunting . . . Masterful . . . Lacey writes loneliness and solitude with a profound depth, injecting life into the anxious fluttering of those wondering, wandering individuals who just don't know what to do with themselves and who can't stop asking life's most impenetrable questions." —Laura Adamcyzyk, The A.V. Club

"[The Answers] directs [its] energy into an unpredictable, layered plot that will likely take most readers by surprise . . . For Lacey's remarkable skill to be fully embraced, we may need a new genre to categorize her work under . . . Her sentences are like reading an iconic prose style before it's become iconic." —Joshua James Amberson, Los Angeles Review of Books

"For a novel that's so cerebral, The Answers is impressively tightly plotted and Lacey's prose notably refined in its lucidity. It's an exciting and clever follow-up to her acclaimed debut, Nobody Is Ever Missing, and testifies to her inclusion on Granta's recent best of young American novelists list . . . The Answers is an unsettling, but whip-smart meditation on love, intimacy and contemporary female experience, minus the fairytale ending." —Lucy Scholes, The Independent

"Catherine Lacey is one of the most intelligent and brittle and funny writers of her generation. In The Answers, she builds—out of the raw stuff of bewilderment and absence—a soaring, heartbreaking work that's just on the right side of being nearly too beautiful to bear." —Lauren Groff, author of Fates and Furies

"Remarkable . . . Lacey displays an exceptional ability to articulate the elusiveness of knowing others, as well as the desire to find meaning and trust within." —Publishers Weekly (starred review)

"Startling and stunning and compulsively strange, Lacey's sophomore novel is a haunting investigation into the nature of love . . . With otherworldly precision and subtle wit, Lacey creates a gently surreal dreamscape that's both intoxicating and profound. A singular novel; as unexpected as it is rich." —Kirkus (starred review)

"Lacey is particularly attuned to the emotional elasticity of her female characters, especially as they face problems that can feel physically taxing . . . [She] makes it easy to believe women, which has been, as we all know, perhaps the hardest thing to do from a narrative standpoint at any particular time in history . . . Lacey manages to entertain us as she makes a point about women on the fringe." —Kaitlin Phillips, Bookforum

"An adept novel . . . Lacey digs into the choppy turf beneath a woman's relationship to her body, her identity and her search for balance between independence and meaningful relationships . . . Lacey doesn't give us answers, but she sure gives us a wild story with a memorable protagonist." —Shelf Awareness

"Surreal, thought-provoking, and intriguingly untidy" —Booklist
Farrar, Straus and Giroux, 9780374100261, 304pp.
Publication Date: June 6, 2017
About the Author
Catherine Lacey is the author of the novels Nobody Is Ever Missing, The Answers, and Pew, and the short story collection Certain American States. She has received a Guggenheim Fellowship, a Whiting Award, and a New York Foundation for the Arts fellowship. She was a finalist, twice, for the New York Public Library's Young Lions Fiction Award, along with the Dylan Thomas Prize and the PEN/Jean Stein Book Award, and was named one of Granta's Best of Young American Novelists. Her essays and short fiction have appeared in The New Yorker, Harper's Magazine, The New York Times, The Believer, and elsewhere. Born in Mississippi, she is based in Chicago.
1. The main character in The Answers is Mary Parsons, a young woman with a mysterious ailment who accepts a unique job offer in order to pay for the only therapy that helps her feel better. Who is Mary? What are the events that have shaped her life? What does she mean when she says in the opening of the book, "There was at least one morning I was certain, though only for a few hours, that everything that could ever really happen to me had already happened to me"?
2. Many of the characters in The Answers have experienced trauma that has interfered with their emotional growth and sense of identity. Mary, in particular, bears physical and psychic wounds. What might be the cause of Mary's pain? Why does PAKing help her? What have other characters experienced and how were they harmed? How have they attempted to heal?
3. What does Mary love about travel? Why, at the end of the book, has she become someone who hardly ever leaves her apartment? How does this change in Mary's behavior illuminate the themes of identity, anonymity, and celebrity that run through the book?
4. What is the objective of the Girlfriend Experiment (the "GX")? Why is Mary hired as the Emotional Girlfriend? What roles do the other Girlfriends play? How is each of them qualified? Why does the Experiment include an Anger Girlfriend?
5. Ironically, there are more questions than answers in The Answers. Mary says, "Sometimes it seems all I have are questions, that I will ask the same ones all my life." What are the big questions posed in the book? How do Mary, Kurt, Chandra, and others attempt to find answers?
6. Mary has had one serious relationship in her life—with a man named Paul. Shortly before going to work for the GX, she spends a day reflecting on their year together. Does she come to terms with her feelings for him as the GX progresses? Who else does Mary care about? Does she gain deeper insight into her feelings for them?
7. There are many possible reasons why Kurt Sky might be involved with the GX—to achieve a creative breakthrough, to learn how to love and be loved, to develop a product that will increase his wealth and fame. What is Kurt's motivation? Does this change as the GX progresses?
8. What is limerence? With their sensors and Relational Experiments, what does the Research Division learn about people in love? What do they miss? Why do they decide Mary is an unsatisfactory subject?
9. After three months on the job, Mary is required to tell Kurt that she loves him (p. 217). He replies, "I love you, too." Is there evidence that his feelings are genuine? Chapter 22 of Part Two is made up almost entirely of questions about love. It ends with the speaker wondering, "How to best love?" What are some of the ways love is defined? By Mary and Paul? By Kurt and Alexi? By Ashley?
10. The Girlfriends are hired to be part of a team. Each woman is assigned a specific role, which combined are meant to simulate all the facets of a romantic relationship. In the onboarding meeting, Matheson informs them that the ultimate objective of the GX is "to devise a scientifically proven system for making human pair bonding behavior more perfect and satisfying . . ." (p. 110). Do the roles chosen for the Girlfriends accurately represent interactions between real partners? Are there any roles you would add or remove? If this had been a Boyfriend Experiment, how might the roles have been different?
11. Why has Kurt not been able to finish his film The Walk? Why does he want Mary in the editing room? As she sits with Kurt while he works, what is the difference between how she is required to behave and how she really feels? Are his feelings for her genuine or is he under the influence of an Internal Directive from the Research Division?
12. Are the Relational Experiments realistic approximations of how people in love behave? What effect does the Personal History and Opinion Sharing Experiment have on Kurt and Mary? Why does Kurt create an experiment that seems designed to hurt the members of the Intimacy Team?
13. What happens between Kurt and Mary the night they get high and go out to a street fair? Are their behavior and feelings more genuine under the influence of the drug? How does this public appearance compare to the Gala?
14. The Answers is about love and identity. It is also about escape. Mary's story can be read as a series of escapes, beginning in adolescence when her aunt Clara removes her from her father's care and, according to Mary, saves her life. Who and what else does Mary escape from and how is she changed each time? What are other instances of escape or attempted escape? What is Kurt trying to escape?
15. Mary tells Kurt, "Love is a compromise for only getting to be one person" (p. 228). Why does Kurt make her repeat this so he can record it? What else does Mary do or say that influences the development of Identity Distance Therapy and the final version of The Walk? Is she fairly compensated for her contributions? Has she been helped or harmed by her work for the GX?
or
Not Currently Available for Direct Purchase