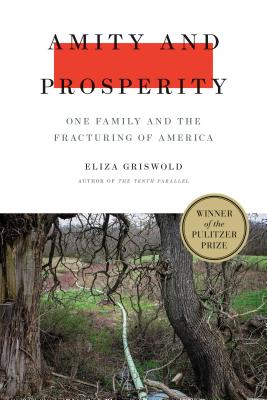 Amity and Prosperity
One Family and the Fracturing of America
Hardcover

* Individual store prices may vary.
Other Editions of This Title:
Digital Audiobook (6/11/2018)
Paperback (6/4/2019)
CD-Audio (6/12/2018)
Description
Winner of the 2019 Pulitzer Prize for General Nonfiction

In Amity and Prosperity, the prizewinning poet and journalist Eliza Griswold tells the story of the energy boom's impact on a small town at the edge of Appalachia and one woman's transformation from a struggling single parent to an unlikely activist.

Stacey Haney is a local nurse working hard to raise two kids and keep up her small farm when the fracking boom comes to her hometown of Amity, Pennsylvania. Intrigued by reports of lucrative natural gas leases in her neighbors' mailboxes, she strikes a deal with a Texas-based energy company. Soon trucks begin rumbling past her small farm, a fenced-off drill site rises on an adjacent hilltop, and domestic animals and pets start to die. When mysterious sicknesses begin to afflict her children, she appeals to the company for help. Its representatives insist that nothing is wrong.

Alarmed by her children's illnesses, Haney joins with neighbors and a committed husband-and-wife legal team to investigate what's really in the water and air. Against local opposition, Haney and her allies doggedly pursue their case in court and begin to expose the damage that's being done to the land her family has lived on for centuries. Soon a community that has long been suspicious of outsiders faces wrenching new questions about who is responsible for their fate, and for redressing it: The faceless corporations that are poisoning the land? The environmentalists who fail to see their economic distress? A federal government that is mandated to protect but fails on the job? Drawing on seven years of immersive reporting, Griswold reveals what happens when an imperiled town faces a crisis of values, and a family wagers everything on an improbable quest for justice.
Praise For Amity and Prosperity: One Family and the Fracturing of America…
Winner of the 2019 Pulitzer Prize for General Nonfiction
New York Times Book Review Notable Book


"[A] wonderful account, the deserved winner of this year's Pulitzer Prize for General Nonfiction . . . The virtue of Griswold's reporting is that, though it's never sentimental, you understand and sympathize with these men and women." —Bill McKibben, The Times Literary Supplement

"Expertly constructed . . . Griswold — the kind of reporter who can convince a subject to let her reveal the message inside a Valentine card, and who notices what color somebody's refrigerator is — painstakingly builds the narrative amid its historical and social context . . . Her relentless, measured narration helped me understand my own blind spots — that sadness over ruined views is a kind of class privilege, the outgrowth of a particular stance toward the land. —Erika Howsare, Los Angeles Review of Books

"Amity and Prosperity is at heart a David and Goliath story fit for the movies. It has everything but a happy ending: bucolic setting concealing fortune and danger; poor but proud locals who've endured sequential boom bust cycles of resource extraction . . . tough, reluctant victim-heroes . . . and a courtroom drama, as a tenacious husband-wife legal team takes on the industry and the state . . . [a] valuable, discomforting book" —JoAnn Wypijewski, The New York Times Book Review

"Riveting . . . Page-turner . . . If J.D. Vance's Hillbilly Elegy famously portrayed the Rust Belt ethos of Appalachian transplants into southern Ohio, Amity and Prosperity tells with vivid detail the contours of daily life in Washington and Greene counties . . . Ms. Griswold is an energetic writer, and the characters she writes about are themselves colorful, raw and dogged . . . Amity and Prosperity becomes not only a glimpse into postindustrial small towns and the environmental consequences of fracking, but also a legal thriller worthy of any novel by John Grisham. —Byron Borger, Pittsburg Post-Gazette

"In her new book, Amity and Prosperity, journalist Eliza Griswold provides a deeply human counterpoint to this political fray. She takes on the decidedly fraught issue of energy extraction through a vivid, compassionate portrait of one family living in the long shadow of industry . . . Griswold chronicles these escalating horrors with disarming intimacy." —Meara Sharma, The Washington Post

"Powerful and deeply humane" —The National Book Review

"Her sensitive and judicious new book, Amity and Prosperity: One Family and the Fracturing of America, is neither an outraged sermon delivered from a populist soapbox nor a pinched, professorial lecture. Griswold, a journalist and a poet, paid close attention to a community in southwestern Pennsylvania over the course of seven years to convey its confounding experience with hydraulic fracturing . . . What Griswold depicts is a community, like the earth, cracked open. . . . Parts of "Amity and Prosperity" read as intimately as a novel, though its insidious, slow-motion ordeal is all too real." —Jennifer Szalai, The New York Times

"Griswold creates a complex, elegantly written portrait of Stacey and a community ambivalent about the industry they hope can bring prosperity." —BBC

"Veteran journalist Eliza Griswold's . . . Amity and Prosperity is part Erin Brockovich, part Hillbilly Elegy. You'll be inspired by [Stacey Haney, Beth Voyles and Kendra Smith] who called B.S. on what was happening around them, pointing a finger at both money-hungry businessmen and day-tripping liberals studying them like specimens. Their galvanizing activism is proof that, to help someone, first you have to listen." —Elisabeth Egan, Glamour

"Griswold offers a compelling portrayal of Stacey Haney and her fight . . . Memorable . . An important addition to the emerging genre of works about fracking and its environmental and human costs. This will find large audiences among concerned citizens and warrants the attention of public officials as well as fans of J.D. Vance's Hillbilly Elegy." —Library Journal (Starred Review)

"Griswold's empathetic yet analytical account of Haney's indefatigable role as advocate for justice is a thorough and thoroughly blood-pressure-raising account of the greed and fraud embedded in the environmentally ruinous natural-gas industry. As honest and unvarnished an account of the human cost of corporate corruption as one will find." —Booklist (Starred Review)

"Compelling and empathetic." —Karen Olsson, Bookforum

"With empathy and diligence, Griswold brings attention to the emotional and financial tolls Haney and her family endured in this revealing portrait of rural America in dire straits." —Publishers Weekly
Farrar, Straus and Giroux, 9780374103118, 336pp.
Publication Date: June 12, 2018
About the Author
Eliza Griswold, a Guggenheim fellow, is the author of a collection of poems, Wideawake Field (FSG, 2007) and a nonfiction book, The Tenth Parallel: Dispatches from the Fault Line Between Christianity and Islam (FSG, 2010), a New York Times bestseller that was awarded the J. Anthony Lukas Prize. She has worked with Seamus Murphy in Africa and Asia for more than a decade. She lives in New York City.
1. Washington County was particularly vulnerable to the fracking industry because of poverty. What is at the heart of that poverty? Why isn't it possible for the area to provide a good livelihood in America anymore?
2. In chapter 2, "When the Boom Began," Stacey signs a contract with Range Resources granting her the lowest possible royalty rate allowed by law (12.5%), minus a variety of Range expenses. If you had been in her situation, would you have signed the contract?
3. How are Harley's physical health and emotional health intertwined? What accounts for the differences between the way he and his sister, Paige, experience their symptoms?
4. Chapter 19, "Policing the State," describes the history of ACT 13, the Pennsylvania law that quashed local governments' ability to regulate oil and gas operators. The law also required physicians to sign non-disclosure agreements in order to learn which chemicals had sickened their patients. As you read about the ensuing legal battle, culminating in key provisions of ACT 13 being declared unconstitutional, where did you place the blame for Stacey's situation? Are voters the solution or the problem?
5. How does Pappy's family history affect Stacey? What does the history of the region (particularly William Penn's "holy experiment" and the eventual brutality between Native Americans and Scots Irish immigrants) teach us about the current power struggles between industry, government, and rebels?
6. Hang 'em High meetings were attended by an odd combination of Pennsylvanians who were united in the fight against Range Resources but disagreed about how and why. How did Stacey cope with the political contradictions in her community? Why would a conservationist reject environmentalists? Why aren't scientists more politically empowered?
7. Access to clean water has always been a sign of freedom to Stacey, and her turn to water buffalos represented defeat. Is access to clean water a human right, or is clean water better understood as a commodity that might be bought?
8. The healthcare industry provided Stacey with a middle-class wage and is one of the few steady employers in her region. Yet she struggled to pay for the thousands of dollars in medical tests required for herself and her family. What does that say about the economics of illness in America?
9. Discuss the book's title. What would it take to bring amity and prosperity to Washington County?
10. Stacey hoped for a settlement, but Harley was opposed to it. Would you have accepted a settlement?
11. What accounts for the tenacity of lawyers like the Smiths (who were willing to pursue cases against Range for years on a shoestring budget) and plaintiffs like Stacey? What keeps them from being easily intimidated or succumbing to despair?
12. Ron Yeager obtained a pre-drill test, but Buzz, Stacey, and the Voyleses didn't. If you were on a jury, what proof would you need of his water in order to be convinced about the cause of the contamination? If the liner of a drill cuttings pit or a waste pond is shown to be leaking, should that be sufficient evidence that the pit or pond is the source of toxins?
13. As you read about the suffering of Stacey's animals (including the offspring of Boots and Diva), along with the tragic contamination of springs that flow from the Ten Mile Creek Watershed, how did the book shape your view of the natural world? How much responsibility do we have to protect the planet and its creatures, beyond what's necessary for our own survival?
14. What did you discover about the way the energy industry weighs risk versus rewards? What would your life look like if humans stopped extracting minerals from the earth?
or
Not Currently Available for Direct Purchase