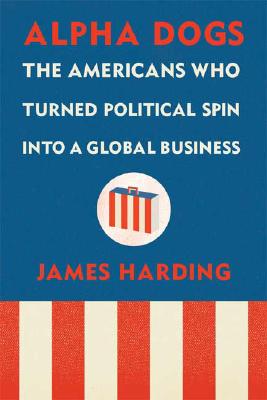 Alpha Dogs: The Americans Who Turned Political Spin into a Global Business (Hardcover)
The Americans Who Turned Political Spin into a Global Business
Farrar, Straus and Giroux, 9780374103675, 272pp.
Publication Date: May 13, 2008
* Individual store prices may vary.
or
Not Currently Available for Direct Purchase
Description
Alpha Dogs is the story of the men from an enormously influential campaign business called Sawyer Miller who served as backroom strategists on every presidential contest from Richard Nixon's to George W. Bush's. David Sawyer was a New England aristocrat with dreams of a career as a filmmaker; Scott Miller, the son of an Ohio shoe salesman, had a knack for copywriting. Unlikely partners, they became a political powerhouse, directing democratic revolutions from the Philippines to Chile, steering a dozen presidents and prime ministers into office, and instilling the campaign ethic in corporate giants from Coca-Cola to Apple. Long after the firm had broken up and sold out, its alumni had moved into the White House, to dozens of foreign countries, and into the offices of America's blue-chip chief executives. The men of Sawyer Miller were the Manhattan Project of spin politics: a small but extraordinary group who invented an American-style political campaigning and exported it around the world. In this lively and engaging narrative, James Harding tells the story of a few men whose political savvy, entrepreneurial drive, and sheer greed would alter the landscape of global politics. It is a story full of office intrigue, fierce rivalries, and disastrous miscalculations. And it is the tale of how world politics became American, and how American business became political.
About the Author
James Harding is the Business and City Editor at "The Times "in London. He was previously the Washington bureau chief of the "Financial Times." He has written for "The Washington Post," "The New Republic," and "Slate," among other publications. This is his first book.
Praise For Alpha Dogs: The Americans Who Turned Political Spin into a Global Business…
"James Harding's Alpha Dogs is one of those wonderful books that takes you to a time and place you may not know much about but where life as we know it was changed in real and lasting ways. This inside story of how American-style political spin was sold to the world is a fascinating and insightful glimpse into the clockwork of global power. What's more, it's a great read featuring complex characters, high stakes, and drama. They've tried to make movies about this sort of thing but movies can't hold a candle to the real intrigue, ambition, and plot twists that in the end impacted millions of lives." —David Rothkopf, author of Superclass "A terrific read. Long before Karl Rove and James Carville became household names, Scott Miller and David Sawyer were peddling the techniques and political snake oil of modern American campaigns to dictators, scoundrels, and earnest and courageous reformers throughout the world. James Harding gives us an eye-opening, sobering account of the rise and fall of one of America's premier political consulting firms, and the saints and sinners it helped get elected to office. It's the rough and tumble of modern politics and the alpha dogs who made it that way." —Dennis W. Johnson, George Washington University, author of No Place for Amateurs: How Political Consultants Are Reshaping American Democracy "Since Theodore White, those who write about politics strive to shape a narrative, tell a story that makes events come alive. Most fail. James Harding succeeds. Harding sits readers at his campfire and vividly tells the story of the birth over the past three decades of modern campaign consulting firms, notably the Sawyer Miller Group, a firm that started with noble intent and ended in cynicism. Harding is a man of learning, so there is a historical frame of reference, a perspective on how those who set out to educate citizens came to manipulate them both here and abroad. But what makes this story come alive are the characters: those who speak of their early hopes and of their later depravity; those who quit and those whose lives end in tragedy those who know they have had a pernicious effect on politics; and those in designer suits who don't have a clue or don't much care. The two most frequently cited words of the 2008 presidential campaign—"change" and "authenticity"—owe to the frustration of Americans with the spin and manipulation so commonplace in campaigns. If you want to understand why, Alpha Dogs is the book for you." —Ken Auletta
Advertisement