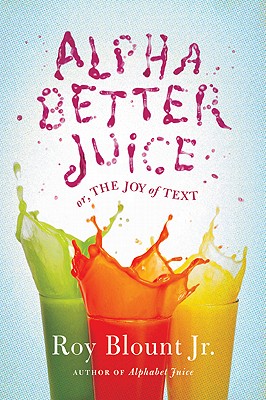 Alphabetter Juice
Or, the Joy of Text
Hardcover

* Individual store prices may vary.
Other Editions of This Title:
Paperback (5/8/2012)
Description
Fresh-squeezed Lexicology, with Twists

No man of letters savors the ABC's, or serves them up, like language-loving humorist Roy Blount Jr. His glossary, from ad hominy to zizz, is hearty, full bodied, and out to please discriminating palates coarse and fine. In 2008, he celebrated the gists, tangs, and energies of letters and their combinations in Alphabet Juice, to wide acclaim. Now, Alphabetter Juice. Which is better.

This book is for anyone—novice wordsmith, sensuous reader, or career grammarian—who loves to get physical with words. What is the universal sign of disgust, ew, doing in beautiful and cutie? Why is toadless, but not frogless, in the Oxford English Dictionary? How can the U. S. Supreme Court find relevance in gollywoddles? Might there be scientific evidence for the sonicky value of hunch? And why would someone not bother to spell correctly the very word he is trying to define on Urbandictionary.com?

Digging into how locutions evolve, and work, or fail, Blount draws upon everything from The Tempest to The Wire. He takes us to Iceland, for salmon-watching with a "girl gillie," and to Georgian England, where a distinguished etymologist bites off more of a "giantess" than he can chew. Jimmy Stewart appears, in connection with kludge and the bombing of Switzerland. Litigation over supercalifragilisticexpialidocious leads to a vintage werewolf movie; news of possum-tossing, to metanarrative.

As Michael Dirda wrote in The Washington Post Book World, "The immensely likeable Blount clearly possesses what was called in the Italian Renaissance 'sprezzatura,' that rare and enviable ability to do even the most difficult things without breaking a sweat." Alphabetter Juice is brimming with sprezzatura. Have a taste.
Praise For Alphabetter Juice: Or, the Joy of Text…
"Blount's selection of words is particularly 'sonicky' and is accompanied by amusing facts and anecdotes and crazy stories that show the peculiarities of etymology and definitions and the deep and abiding beauty of words. Writers and readers will love this book."—Booklist "The humorist and panelist on public radio's Wait, Wait, Don't Tell Me pours a tall glass of wordplay, witticism, curmudgeonry, and anecdote in this beguiling follow-up to Alphabet Juice. . . Blount's hilarious collection of riffs and raves adds up to a cantankerous ode to the English language in all its shambling grace." —Publishers Weekly (starred review)
Farrar Straus Giroux, 9780374103705, 283pp.
Publication Date: May 10, 2011
About the Author
Roy Blount Jr. is the author of twenty-one previous books, covering subjects from the Pittsburgh Steelers to Robert E. Lee to what dogs are thinking. He is a regular panelist on NPR's "Wait, Wait . . . Don't Tell Me!" and is a member of the American Heritage Dictionary Usage Panel. Born in Indianapolis and raised in Decatur, Georgia, Blount now lives in western Massachusetts with his wife, the painter Joan Griswold.
or
Not Currently Available for Direct Purchase