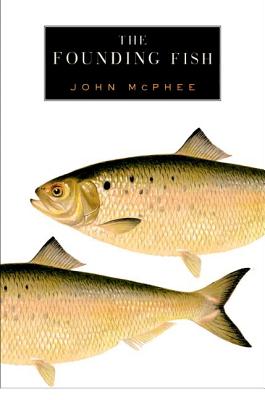 The Founding Fish (Hardcover)
Farrar, Straus and Giroux, 9780374104443, 368pp.
Publication Date: October 13, 2002
Other Editions of This Title:
Digital Audiobook (2/14/2008)
Paperback (9/10/2003)
* Individual store prices may vary.
Description
A long-awaited new book by the nonfiction master, winner of the Pulitzer Prize
Few fish are as beloved-or as obsessed over-as the American shad. Although shad spend most of their lives in salt water, they enter rivers by the hundreds of thousands in the spring and swim upstream heroic distances in order to spawn, then return to the ocean.
John McPhee is a shad fisherman, and his passion for the annual shad run has led him, over the years, to learn much of what there is to know about the fish known as Alosa sapidissima, or "most savory." In The Founding Fish McPhee makes of his obsession a work of literary art. In characteristically bold and spirited prose-inflected, here and there, with wry humor-McPhee places the fish within natural history and American history. He explores the fish's cameo role in the lives of William Penn, Washington, Jefferson, Thoreau, Lincoln, and John Wilkes Booth. He travels with various ichthyologists, including a fish behaviorist and an anatomist of fishes; takes instruction in the making of shad darts from a master of the art; and cooks shad and shad roe a variety of ways (delectably explained at the end of the book). Mostly, though, McPhee goes fishing for shad-standing for hours in the Delaware River in stocking waders and cleated boots, or gently bumping over rapids in a chocolate-colored Kevlar canoe. His adventures in the pursuit of shad occasion the kind of writing, at once expert and ardent, in which he has no equal.
About the Author
John McPhee was born in Princeton, New Jersey, and was educated at Princeton University and Cambridge University. His writing career began at Time magazine and led to his long association with The New Yorker, where he has been a staff writer since 1965. Also in 1965, he published his first book, A Sense of Where You Are, with Farrar, Straus and Giroux, and in the years since, he has written over 30 books, including Oranges (1967), Coming into the Country (1977), The Control of Nature (1989), The Founding Fish (2002), Uncommon Carriers (2007), and Silk Parachute (2011). Encounters with the Archdruid (1972) and The Curve of Binding Energy (1974) were nominated for National Book Awards in the category of science. McPhee received the Award in Literature from the Academy of Arts and Letters in 1977. In 1999, he was awarded the Pulitzer Prize for Annals of the Former World. He lives in Princeton, New Jersey.
Praise For The Founding Fish…
"McPhee reaffirms his stature as a bold American original. His prose is rugged, straightforward and unassuming, and can be just as witty. This book sings like anglers' lines cast on the water. It runs with the wisdom of ocean-going shad." —Publishers Weekly (starred review)
or
Not Currently Available for Direct Purchase