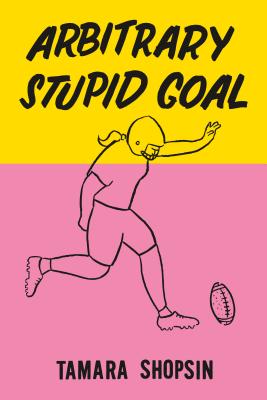 Arbitrary Stupid Goal
Hardcover

* Individual store prices may vary.
Other Editions of This Title:
Digital Audiobook (7/17/2017)
Paperback (7/17/2018)
Praise For Arbitrary Stupid Goal…
"Tamara Shopsin's illustrations are instantly recognizable: economical, seemingly simple and straightforward, but always working on a few different levels. Tamara the person is similar: quiet but charming and warm and tough and determined. Now it turns out her prose is the same way: funny and playful but revealing, and making us see the world we thought we knew with fresh eyes." —Christoph Niemann, author of I Lego N.Y.

"Tamara Shopsin's new memoir is hilarious. Just in like the West Village itself, you zigzag along on a fun adventure, never knowing who you are going to meet. What a fun read!" —Amy Sedaris

"Arbitrary Stupid Goal is a completely riveting world—when I looked up from its pages, regular life seemed boring and safe and modern like one big iPhone. This book captures not just a lost New York but a whole lost way of life." —Miranda July

"Tamara Shopsin's memoir is a funny and absorbing portrait of the city in a grubbier, less corporate incarnation. If you believe, as she does—and I do—that New York is, 'matter-of-fact, the best place on earth,' then read this book. And if you don't believe that, after you read this book, you will." —Roz Chast

"Tamara Shopsin's new book, Arbitrary Stupid Goal, is a little like a meal at Shopsin's, her family's restaurant. It's got a bit of everything, in a way that shouldn't rightly work but does. . . . [Arbitary Stupid Goal] is the consummate insider's account, a treasure trove of lore, legend, and anecdote, the closest thing to an official history that The Store is likely to get . . . Arbitrary Stupid Goal doesn't wallow, and it doesn't sulk. It is full of the spry, witty spirit of the old Village, the neighborhood's magical realness."—Alexandra Schwartz, The New Yorker

"Arbitrary Stupid Goal is a scrapbook of a memoir, littered with Shopsin's illustrations and her husband and frequent collaborator Jason Fulford's photography, a labyrinth of memories, bits of family lore, scraps of trivial knowledge, interludes about Shopsin and Fulford's travels, cameos from The Store's many notable customers: Jeff Goldblum, John Belushi, Joseph Brodsky. It's one of those meandering, difficult-to-pin-down books that's all the more charming for being so stubbornly resistant to genre or traditional expectations of narrative."—Julia Felsenthal, Vogue

"Refreshingly quirky . . . Rest assured that Arbitrary Stupid Goal is actually neither arbitrary nor stupid." —Heller McAlpin, NPR

"Tamara Shopsin grew up in Shopsin's, and Arbitrary Stupid Goal is her new, 'no-muss memoir,' is at once charming and sorrowing, a magnificent time-capsule containing the soul of a drowned city." —Cory Doctorow, Boing Boing

"Shopsin is Bukowski-esque in her blunt yet poetic language, in her ability to build a world that you can feel in your bones, in her depiction of its characters." —Amanda Kludt, Eater

"A taut, warm, fully immersive plunge into the West Village of the '80s and '90s" —Jeff Johnson, The Awl

"Shopsin's mom and dad, proprietors of a beloved Greenwich Village market, gave the key to regulars for after-hours shopping emergencies. Here their author-cook-designer daughter shares memories of those days, accompanying her stories with charming illustrations that conjure a bygone New York." —People


"This memoir is so delightful, heartfelt, philosophical, charming, witty, and impossible to put down. Shopsin regales us with stream-of-conscious vignettes about and flashbacks to her family's Greenwich Village restaurant that harken back to a city and a time long gone. An unforgettable revolving door of quirky characters, ranging from her larger-than-life father, Ken, and his best friend to John Belushi and everyone in between. I can't recommend it enough." —Gael LeLamer, Books & Books, Miami Beach, Fla.

"[Shopsin] weaves a marvelous patchwork quilt of stories about a Manhattan that doesn't exist anymore . . [Arbitrary Stupid Goal is] an artistic ode to a way of life that people now living in New York City might never experience." —Publishers Weekly (Pick of the Week, Starred Review)

"A warm evocation of a quirky life and exuberant times." —Kirkus
MCD, 9780374105860, 336pp.
Publication Date: July 18, 2017
About the Author
Tamara Shopsin is an illustrator, graphic designer, writer, part-time cook, and a co-owner of the New York City eatery Shopsin's. She is the author of Mumbai New York Scranton, What Is This?, and Arbitrary Stupid Goal; and coauthor, with Jason Fulford, of the books This Equals That and Offline Activities.
or
Not Currently Available for Direct Purchase