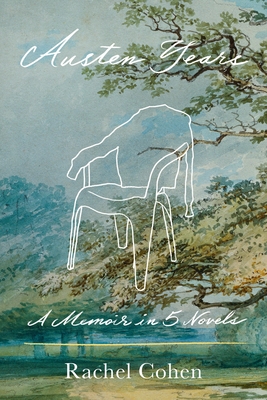 Austen Years
A Memoir in Five Novels
Hardcover

* Individual store prices may vary.
Other Editions of This Title:
Digital Audiobook (7/20/2020)
Paperback (7/20/2021)
CD-Audio (7/21/2020)
Description
One of The Globe and Mail's Best Books of 2020

"A thoroughly authentic, smart and consoling account of one writer's commitment to another." --The New York Times Book Review (editors' choice)

"An absolutely fascinating book: I will never read Austen the same way again." —Helen Macdonald, author of H is for Hawk

An astonishingly nuanced reading of Jane Austen that yields a rare understanding of how to live

"About seven years ago, not too long before our daughter was born, and a year before my father died, Jane Austen became my only author."

In the turbulent period around the birth of her first child and the death of her father, Rachel Cohen turned to Jane Austen to make sense of her new reality. For Cohen, simultaneously grief-stricken and buoyed by the birth of her daughter, reading Austen became her refuge and her ballast. She was able to reckon with difficult questions about mourning, memorializing, living in a household, paying attention to the world, reading, writing, and imagining through Austen's novels.

Austen Years is a deeply felt and sensitive examination of a writer's relationship to reading, and to her own family, winding together memoir, criticism, and biographical and historical material about Austen herself. And like the sequence of Austen's novels, the scope of Austen Years widens successively, with each chapter following one of Austen's novels. We begin with Cohen in Cambridge, Massachusetts, where she raises her small children and contemplates her father's last letter, a moment paired with the grief of Sense and Sensibility and the social bonds of Pride and Prejudice. Later, moving with her family to Chicago, Cohen grapples with her growing children, teaching, and her father's legacy, all refracted through the denser, more complex Mansfield Park and Emma.

With unusual depth and fresh insight into Austen's life and literature, and guided by Austen's mournful and hopeful final novel, Persuasion, Rachel Cohen's Austen Years is a rare memoir of mourning and transcendence, a love letter to a literary master, and a powerful consideration of the odd process that merges our interior experiences with the world at large.
Praise For Austen Years: A Memoir in Five Novels…
"A thoroughly authentic, smart and consoling account of one writer's commitment to another . . . Austen Years is full of neat observations and provocative comparisons, folded into the story with a subtlety that keeps Cohen's sense from getting sententious." --Sophie Gee, The New York Times Book Review (editors' choice)

"Among the myriad passionate readers of Austen, who seem to produce dozens of new books about her every year, Cohen occupies a special place . . . Cohen writes with emotion and insight about her father and his death." --Marion Winik, The Washington Post

"In this memoir-essay hybrid, Cohen reads and rereads Jane Austen's work and tells us not just what it all means but also what it does for us — how the author's pin-sharp assessments and characters instruct us about the world. There isn't an ounce of kitsch or flowery claptrap. Instead, Cohen overlays a personal account of grieving her father with the help of Austen's fiction, emerging with one of the most emotionally astute understandings of the novelist's work, period." --Hillary Kelly, Los Angeles Times

"Cohen has taken her fascination with – and personal dependence on – one great author and transmutes it into something any reader in the world will find downright marvelous . . . The book is at once an impressive analysis of Austen's fiction and a first-rate biography of the author herself. At its heart, however, this story is as much about the joy of reading as it is about anything else . . . a shining account of how indispensable books can be." --Steve Donoghue, The Christian Science Monitor

"[A] tender, rigorous criticism/memoir hybrid . . . [Austen Years] intimately matches Jane's literary interrogations — especially those about how women process the infinite varieties of grief — with tender personal sketches. The premise could turn hokey, but Cohen's readings are invigorating." --Vulture (29 Books We Can't Wait to Read This Summer)

"A carefully considered and lyrical memoir . . . Cohen nimbly combines biography, literary criticism and personal reflection. Like Austen's novels, which were reworked over lengthy periods during which the author's thoughts and circumstances shifted, Cohen's memoir – flecked with light and dark, hope and sorrow – has accumulated layers." --Chloë Ashby, TLS

"A complicated hybrid of a book that mixes Cohen's singular insight into Austen as a writer with Cohen's personal life . . . a moving and intelligent guide to reading Austen in our days of death . . . In the dark spring of 2020, Cohen turned me back toward Austen. I'm glad she did." --Ann Fabian, The National Book Review

"This haunting and haunted narrative pulls off the impossible task of allowing us to read over a thoughtful writer's shoulder, allowing us to discover these known-to-death novels by watching her observe, think, and, yes, feel through their pages." --Leah Price, Public Books

"A wondrous mix of memoir and biography . . . [Austen Years] is a book not to be hurried through but consumed in small portions and pondered over as it sparks introspection. [Cohen's] deep knowledge of and respect for Austen's novels will equally impress Austenites and readers less versed in her works." --Booklist (starred review)

"[Cohen] asserts that through Austen's novels we can feel more ourselves and see the world clearer . . . A successful reminder of how time-honored literature evokes insight into our present reality and why the classics should be read more and often." --Denise J. Stankovics, Library Journal

"A thoughtful meditation on the interweaving of literature and life . . . [Cohen] analyzes [Austen's novels] with astute sensitivity . . . A nuanced portrait of a writer and reader." --Kirkus

"Cohen's incisive new book explores her immersion into Austen's work during a fraught period in her personal life. Ultimately a narrative about grief, loss and resurfacing, it also provides a deep dive into some of Austen's most penetrating writing . . . Close reading and rereading grant [Cohen] new insights into her own life, drawn from the awakenings of Austen's resilient heroines . . . an absorbing pleasure that will stimulate and augment the reading of Austen for fans old and new." --Robert Weibezahl, BookPage
"[An] erudite . . . exploration of connection and loss . . . Cohen's writing at its best is lush and lyrical." --Publishers Weekly

"Rachel Cohen's Austen Years is a work of compassionate and meditative alchemy. It explores the patterns that hold together life, art, love and loss; the spaces between memory and memorialisation, between literary creation and lived experience, between inspiration and revelation, reading and re-reading. Like the implacable action of tidal waters upon the shore, it returns to, shapes, and quietly unearths hidden treasures from what we thought was familiar ground. It's an absolutely fascinating book: I will never read Austen the same way again." —Helen Macdonald, author of H is for Hawk

"I'm excited to read anything Rachel Cohen writes, inspired by the delicate precision of her thought and the grace of her expression. In Austen Years, the marriage of Rachel's rare attentiveness with Jane Austen's beloved novels makes for an exhilarating and beautiful book." --Claire Messud, author of The Burning Girl

"In the achingly precise Austen Years, the refusal to be finished reading the texts that mean most to us converges with the desire to bring a halt to time's passage in the mourning of the loss of a parent, or the daily transformations of being one. The delicacy and patience of Rachel Cohen's approach match that of her subject." –Jonathan Lethem, author of The Feral Detective

"I read Austen Years with real pleasure and fascination over several evenings — it's a truly exceptional piece of work, a tender and moving meditation on fiction and family memory, on Austen and on Cohen's beloved father, all so surprisingly combined and acutely observed. It's completely captivating."—Richard Holmes, author of This Long Pursuit: Reflections of a Romantic Biographer

"In her biographies, Rachel Cohen displays one of the most widely ranging minds I've ever encountered in a book. Stunningly, in Austen Years, she reveals that during a lengthy period of personal transitions, she turned exclusively to a single author, Jane Austen, immersing herself intensely. Her memoir is an astonishingly fresh reading of Austen's novels, a deeply felt reexamination of their great themes (love, inheritance, how to be with others in the world), and a lyrical ode to the pleasures and rewards of paying close attention. It will sit next to Pride and Prejudice on my shelf." --Ruth Franklin, author of Shirley Jackson: A Rather Haunted Life
Farrar, Straus and Giroux, 9780374107031, 304pp.
Publication Date: July 21, 2020
About the Author
Rachel Cohen is the author of A Chance Meeting: Intertwined Lives of American Writers and Artists, which won the PEN/Jerard Fund Award and was a finalist for the Guardian First Book Prize, and Bernard Berenson: A Life in the Picture Trade, which was longlisted for the JQ Wingate Literary Prize. Her essays have appeared in The New Yorker, The New York Times, The Guardian, The London Review of Books, The Believer, and elsewhere. She is the recipient of fellowships from the Guggenheim Foundation, the MacDowell Colony, and the New York Foundation for the Arts, and teaches in the Creative Writing Program at the University of Chicago.