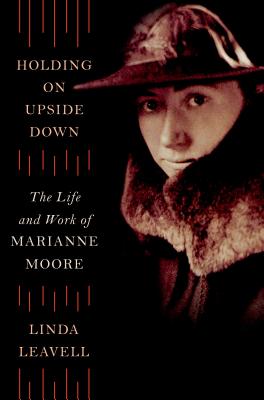 Holding On Upside Down
The Life and Work of Marianne Moore
Hardcover

* Individual store prices may vary.
Other Editions of This Title:
Paperback (9/30/2014)
Description
Winner of the Plutarch Award for the Best Biography of 2013

A mesmerizing and essential biography of the modernist poet Marianne Moore
The Marianne Moore that survives in the popular imagination is dignified, white-haired, and demure in her tricorne hat; she lives with her mother until the latter's death; she maintains meaningful friendships with fellow poets but never marries or falls in love.
Linda Leavell's Holding On Upside Down—the first biography of this major American poet written with the support of the Moore estate—delves beneath the surface of this calcified image to reveal a passionate, canny woman caught between genuine devotion to her mother and an irrepressible desire for personal autonomy and freedom. Her many poems about survival are not just quirky nature studies but acts of survival themselves.
Not only did the young poet join the Greenwich Village artists and writers who wanted to overthrow all her mother's pieties but she also won their admiration for the radical originality of her language and the technical proficiency of her verse. After her mother's death thirty years later, the aging recluse transformed herself, against all expectations, into a charismatic performer and beloved celebrity. She won virtually every literary prize available to her and was widely hailed as America's greatest living poet.
Elegantly written, meticulously researched, critically acute, and psychologically nuanced, Holding On Upside Down provides at last the biography that this major poet and complex personality deserves.
Praise For Holding On Upside Down: The Life and Work of Marianne Moore…
"The moment is ripe for [Marianne Moore] to be restored to us, depixified and complex. And so she has been in a swift, cool but empathetic new biography called Holding On Upside Down: The Life and Work of Marianne Moore, by Linda Leavell . . . It says much for Ms. Leavell's account of Moore's life that for all the hard and hard-to-fathom facts it marshals, it leaves the miracles intact." —Holland Cotter, The New York Times
"As Linda Leavell's perceptive and elegant biography suggests, Moore was herself a sort of literary mermaid, not quite the same creature from top to bottom. As a girl, she adopted animal names and a male pronoun; as an adult, she unwaveringly obeyed her mother even as she disregarded literary conventions. Later on, she transformed herself from a poet for the elite into a poet for the masses and from Brooklyn recluse into beloved performer . . . Holding On Upside Down captures well the strange and entrancing drama of Marianne's family life." —Abigail Deutsch, The Wall Street Journal
"[Holding On Upside Down] is a book of immense importance to readers of Moore, and of absorbing interest to anyone intrigued by the relationship between family life and poetic work . . . the major revelation of this fascinating biography is that Moore was, like the 'intensively watched' offspring of her poem 'The Paper Nautilus,' 'hindered to succeed.'" —Fiona Green, The Times Literary Supplement
"*Five out of Five Stars* Yet at the heart of Linda Leavell's revealing, respectful biography is a 'tyrannical love.' Amid a sea of poets with experimental domestic arrangements, Moore's still stands out as unusual . . . Leavell wields her wealth of material with great tact and conviction of the depth of love and understanding between Marianne and her mother. Mary might not have done her motherly duty of helping her daughter make the leap into adulthood. But her devoted ministrations enabled Marianne to make what William Carlos Williams called 'the unbridled leap' into new forms, new ways of seeing the world through words. Leavell is keen to point out how she thrived within her filial constraints, seeing self-discipline as freedom. She calls Marianne's poetry an act of survival. In Moore's own words, from one of her many animal poems, 'Paper Nautilus,' she was 'hindered to succeed.'" —Lucy Daniel, The Telegraph (London)
"[Holding on Upside Down is] deliberate and sensitive--'creeping slowly as with meditated stealth,' in Moore's words--capable of containing her many contradictions, most notably her desires for recognition and privacy . . . Leavell proves, few poets resist and reward patient study as much as Marianne Moore." —Parul Sehgal, Bookforum
"Linda Leavell's Holding On Upside Down, a biography of one of my favorite writers, the modernist master Marianne Moore, has meant a lot to me. Leavell writes very well indeed about a woman who found the metaphors to talk about a most unconventional childhood while observing and testing and questioning convention. Leavell has uncovered some fascinating details, including the backstory of Moore's parents, which the poet never talked about." —Hilton Als, The New Yorker online
"I've never had quite the response to a literary biography that I've had to this one. As told by Leavell, the story of Marianne Moore's psychological entrapment by her mother is the stuff of a monumental novel or play or opera." —Bruce Bawer, The New Criterion.
"This first authorised biography is notably level-headed and clear, with much new information about Moore's family and early life, health, finances and the father she never knew. With permission to quote from the archive, a benefit denied Moore's first biographer, Charles Molesworth, in 1990, Leavell is able to provide a deeper psychological study of this 'wonderful, amazing and delightful creature', as Elizabeth Bishop called her." —Jane Rye, The Spectator (UK)
"Leavell traces the evolution of Moore's style with brief illustrations from both published and unpublished work. She comfortably folds critical commentary into her narrative with quotations from the letters of Moore's contemporaries who encouraged and praised her . . . Holding On Upside Down goes a long way toward restoring Moore's place as a cornerstone of modern American poetry." —Bruce Jacobs, Shelf Awareness
"Marianne Moore is a 'poet of paradoxes,' Leavell asserts at the outset of this superb, recalibrating biography, the result of three decades of intense effort . . . Leavell's cogent interpretations of Moore's poetry and chronicling of how diligently she pursued startling artistic innovation under her mother's watchful eye in Greenwich Village and Brooklyn while teaching, working in a library, and serving as editor for The Dial, are equally revelatory. Like a sculptor working in clay, Leavell steadily builds up contour and texture as she portrays Moore as a poet of 'sly wit' and 'undetected but stormy passion.'" —Donna Seaman, Booklist (starred review)
"With sense and delicacy, Linda Leavell peels back the public image to reveal a deeply private woman whose poems are acts of survival. This admirable biography is a match for Marianne Moore's own 'relentless accuracy' and 'passion for the particular.'" —Lyndall Gordon, author of Lives Like Loaded Guns: Emily Dickinson and Her Family's Feuds and T.S. Eliot: An Imperfect Life
"Wallace Stevens said of Marianne Moore: 'She is not a writer. She is a woman who has profound needs.' Stevens wrote here against the idea that Moore was 'quirky,' peculiar, a singular creature like those of her famously intricate poems. Moore was inimitable, yes, but not unapproachable. Linda Leavell gives us both the writer and the woman, a poet embedded in a richly textured family life, passions, and the dazzle of early-mid 20th century New York. This book is that rare thing, a brilliantly attuned biography, a writer's life alive to the mysterious alchemies that distill poems. An American life, a writer's life, fleshed. Thanks to Leavell, Moore is finally off the shelf of curios. Her work will never look, or read, the same." —Maureen N. McLane, author of My Poets
"Finally, Marianne Moore has a biography that does justice to the richness, complexity, and significance of her writing career. Although Charles Molesworth's Marianne Moore: A Literary Life (1990) contributed importantly to Moore scholarship in its earlier days--before the Selected Letters (1998) was published and before many critics had begun to plumb the depths of her extraordinary archive--Linda Leavell's Holding on Upside Down: The Life and Work of Marianne Moore is the first authorized biography of the poet, and it is superb. It is insightful, revelatory, and insofar as I can judge, absolutely accurate (I say this, having probably read more of the family letters than any critic but Leavell herself) . . . Holding on Upside Down combines the grace, humor, and compelling story line one expects in good fiction with the detail of formidable scholarship, definitively deconstructing myths about Moore that have prevented too many readers and scholars from expending the effort required to deal seriously with her work . . . Whether you are interested in a good summer read or in taking notes on Leavell's scholarly excavations, you will like this book. It is a magnificent biography." —Cristanne Miller, MODERNISM / modernity
"An engaging blend of literary criticism and biography, this ambitious work by literature professor and Moore scholar Leavell . . . challenges the persistent image of the modernist poet as a repressed and withdrawn spinster . . . In this well-researched biography, Moore emerges as a poet of freedom with a passionate inner life." —Publishers Weekly
Farrar, Straus and Giroux, 9780374107291, 480pp.
Publication Date: October 22, 2013
About the Author
Linda Leavell has been studying Marianne Moore's life and work for nearly three decades. Among her previous publications is the award-winning critical study Marianne Moore and the Visual Arts: Prismatic Color. She lives with her husband in Fayetteville, Arkansas.
or
Not Currently Available for Direct Purchase