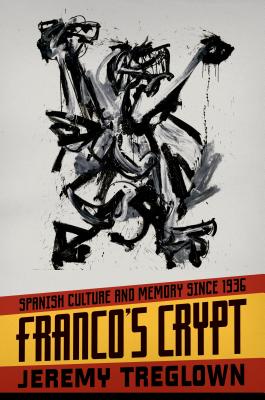 Franco's Crypt: Spanish Culture and Memory Since 1936 (Hardcover)
Spanish Culture and Memory Since 1936
Farrar Straus Giroux, 9780374108427, 320pp.
Publication Date: August 13, 2013
* Individual store prices may vary.
or
Not Currently Available for Direct Purchase
Description
An open-minded and clear-eyed reexamination of the cultural artifacts of Franco's fascist Spain
True, false, or both?
Spain's 1939-75 dictator, Francisco Franco, was a pioneer of water conservation and sustainable energy.
Pedro Almodovar is only the most recent in a line of great antiestablishment film directors who have worked continuously in Spain since the 1930s.
As early as 1943, former Republicans and Nationalists were collaborating in Spain to promote the visual arts, irrespective of the artists' political views.
Censorship can benefit literature.
Memory is not the same thing as history.
Inside Spain as well as outside, many believe-wrongly-that under Franco's fascist dictatorship, nothing truthful or imaginatively worthwhile could be said or written or shown. In his groundbreaking new book, "Franco's Crypt: Spanish Culture and Memory Since 1936," Jeremy Treglown argues that oversimplifications like these of a complicated, ambiguous actuality have contributed to a separate falsehood: that there was and continues to be a national pact to forget the evils for which Franco's side (and, according to this version, his side alone) was responsible.
The myth that truthfulness was impossible inside Franco's Spain may explain why foreign narratives ("For Whom the Bell Tolls," "Homage to Catalonia") have seemed more credible than Spanish ones. Yet La Guerra de Espana was, as its Spanish name asserts, Spain's own war, and in recent years the country has begun to make a more public attempt to "reclaim" its modern history of fascism. How it is doing so, and the role played in the process by notions of historical memory, are among the subjects of this wide-ranging and challenging book.
"Franco's Crypt" reveals that despite state censorship, events of the time were vividly recorded. Treglown looks at what's actually there-monuments, paintings, public works, novels, movies, video games-and considers, in a captivating narrative, the totality of what it shows. The result is a much-needed reexamination of a history we only thought we knew.
About the Author
Jeremy Treglown is a British writer and critic who spends part of every year in Spain and has written about the country for Granta and other magazines. His previous books include biographies of Roald Dahl, Henry Green (which won the Dictionary of Literary Biography Award), and V. S. Pritchett (which was short-listed for the Whitbread Biography Award and the Pol Roger Duff Cooper Prize). Formerly the editor of The Times Literary Supplement and a fellow of the New York Public Library's Dorothy and Lewis B. Cullman Center for Scholars and Writers, he has taught at Oxford, University College London, Princeton, and the University of Warwick, and has written for The New Yorker and The New York Times Book Review.
Praise For Franco's Crypt: Spanish Culture and Memory Since 1936…
Praise for Franco's Crypt: "A discerning, provocative book, part travelogue, part reflection on how memory passes into history, and part cultural narrative, Franco's Crypt establishes that much more was going on during Franco's regime than is usually credited. Touching on prickly issues with the pragmatic detachment of a foreigner, Mr. Treglown shows that subversive elements were at play in art, literature and cinema, and that a cautious yet irreversible process of modernity had begun long before Franco's death . . . Franco's Crypt [is] an unflinching addition to the literature on contemporary Spanish history and a cautionary tale about the nature of the beasts invoked by the political manipulation of bad memories. It also serves as a thought-provoking study on artistic expression under authoritarian regimes." —Valerie Miles, The New York Times "Franco's Crypt . . . provides by far the best, and most objective, brief introduction to Spain's memory wars to be found in any language . . . Mr. Treglown offers a stimulating new reading of the chief milestones of Spanish culture since 1939. In doing so, he highlights the vitality of the country's artistic activity under Franco, subjecting the standard leftist narrative of a culturally stale Francoist Spain to sharp contradiction." —Stanley Payne, The Wall Street Journal "Franco's Crypt, the latest book by the British literary critic Jeremy Treglown, is so refreshing. In his focus on the surprising richness of Spanish culture since the war, Treglown pushes back against a knee-jerk pro-Republican perspective—not by apologizing for the Nationalists but simply by abstaining from projecting his own moral stance on the culture of the period . . . To explain how the Spanish have come to terms with the war and Franco's rule, Treglown narrates a series of personal encounters with people and places in contemporary Spain, weaving them together with his examinations of cultural artifacts, including public works, paintings, movies, and novels. His analysis is anything but simplistic. He shows how the day-to-day cultural reality of the Francoist period was much more complex and less planned from above than most portrayals suggest." —Victor Pérez-Díaz, Foreign Affairs 
"Jeremy Treglown is an accomplished editor and literary critic, who has published three splendid biographies . . . He approaches his subject with the affectionate enthusiasm of an outsider—curious, well-informed, but not deeply entangled in the political struggles he describes with admirable evenhandedness . . . Treglown raises some important questions about historical memory and introduces readers to a number of neglected writers and filmmakers. Those who want to know more about Spain's troubled past and challenging present will find a great deal of useful and interesting material in this book." —James J. Sheehan, Commonweal
"Jeremy Treglown's
Franco's Crypt: Spanish Culture and Memory Since 1936
is such a necessary book: it is the first—at least in English—to investigate Spain's attempts "in recent years . . . to 'reclaim' its modern history." —James McAuley,
The Daily Beast
"Treglown studies the Spanish art, literature and public works produced during and just after Franco's rule and which he rightly thinks have been neglected by critics and journalists outside Spain . . . Treglown is right . . . that 'memory politics' is essentially an open front in the country's ongoing culture wars, and that disenchantment and opportunism have festered because of unique historical circumstances." —Jonathan Blitzer,
The Nation
"[Treglown] argues, in a forthright and original analysis, that Spanish culture and the memory of war have been steadily colonised and manipulated by the demands and pressure of international ideologies . . . The conventional view of the Franco years is that they were a time of sterility, when artistic expression was censored and opponents of the regime were arrested, tortured and imprisoned . . . By painstaking inquiry he shows that the psychological wounds of the battlefield were in fact a powerful inspiration for writers, artists and film-makers, and that much of the work published or exhibited was a direct challenge to the values of Franco's regime. He concludes that popular mythology has exaggerated the extent to which this work was ever subject to dictatorial control . . . One of the many pleasures of
Franco's Crypt
is that it draws our attention to a long list of Franco-era writers and film-makers whose work is unfamiliar or forgotten but who deserve to be translated or re-screened today." —Patrick Marnham,
The Spectator
"An ambitious study of seven decades of Spanish 'culture and memory' . . . Treglown's interplay of history with personal narratives is skilful and incisive. Equally perceptive is his illustration of the ways artists and writers were able to circumvent the constraints of censorship during the 36 years of Franco's dictatorship. Indeed, his book amply demonstrates that 'any notion that Franco's Spain was an artistic desert is the opposite of the truth' . . . Humans, Treglown reminds us, negotiate present and future, even when the ghosts of the past come back to haunt the living." —Mercedes Camino,
Times Higher Education
"At the heart of this enthralling book is the exhumation of a Spanish culture far too recent to have been forgotten, and too rich to have been dismissed out of disdain for the dictatorship. Whilst Treglown has much to say on the way the period has been recalled by more recent writers such as Javier Cercas and Antonio Muñoz Molina, his great accomplishment is the reinstatement of what went before . . . Close in its engagement and alive to the complexity of its subject matter, Treglown's book reminds us just how reductive we are being when we talk of 'Franco's Spain'." —Michael Kerrigan,
Financial Times
"Spain under Nationalist dictator Francisco Franco was not a mute, traumatized wasteland, but a country with a complex, imaginative culture that deserves to be remembered, according to this probing study. Treglown surveys an eclectic range of cultural artifacts from the Spanish Civil War, the Franco period, and Spain's modern democratic era—everything from monuments and hydro-electric dams, to video games and the latter-day movement to unearth the mass graves of Republican opponents shot by Nationalist forces. He unflinchingly registers the crimes of the Franco government, but argues that sophisticated, even subversive voices were tolerated and at times nurtured by the regime: novels with ambivalent attitudes toward the war and the sides that fought it, challenging art, films that satirized Franco-ite mores. Treglown presents subtle and perceptive critical readings of unjustly neglected works, showing how far they depart from the caricature of bland conservatism that some apply to the culture of the Franco era. But he also advances a deeper argument about modes of historical awareness, contrasting the confrontational and sometimes simplistic commemorative politics of democratic Spain with the oblique, symbolic but still rich expressiveness of the more repressed Franco period. Treglown's elegant and thoughtful meditation shows us that authoritarian power is neither monolithic nor immune to the soft power of civil society and individual creativity."  —Publishers Weekly
"This is an erudite and at the same time pleasurable and intriguing book about Spain's historical memory that gives the best and most thought-provoking portrait of the culture of the Franco era and its aftermath. Jeremy Treglown shows the reader poignant examples of commemoration of atrocities and their erasure—bland assurances of reconciliation and durable antipathy. Informative, searching, and disturbing, Franco's Crypt updates what V. S. Pritchett called 'the Spanish temper.'" —Paul Freedman, Chester D. Tripp Professor of History, Yale University
"Franco's Crypt is the most comprehensive, most perceptive book on Spain I have read in a long time. I'm full of admiration for the scale of Jeremy Treglown's undertaking, for its fine balance between storytelling and reflection, and for its subtle and deep political and aesthetic judgments, which touch on practically everything that irritates or pains me most about my country. Normally these matters are presented abroad with exasperating stereotypes, and at home with intolerable factionalism. Spain, so obsessed with memory, is extraordinarily forgetful. This is a book that must be read, in Spain and abroad, by anyone who wants to understand the country's history, her present, and her future." —Antonio Muñoz Molina, author of Sepharad and two-time winner of Spain's Premio Nacional de Narrativa

"How should a country remember civil war and dictatorship? Or is it better to forget? Jeremy Treglown has written an insightful and deeply humane account of Spain's attempts to dig up its past both literally, by searching with backhoes for mass graves, and imaginatively, through novels about survivors, films about tango, and paintings of screams. Franco's Crypt is an indispensable guide to Spanish culture in the twentieth century, and a provocative reflection on the ambiguities of truth-telling." —Caleb Crain, author of Necessary Errors
"A thoughtful, erudite hand grenade of a book that takes issue with contemporary narratives about Spanish cultural life during the Franco dictatorship (1939–75). Examining various works of fiction, journalism, and art, as well as public controversies about museums, graveyards, and other centers of historical gravity, Treglown argues that our understanding of culture under Franco has (ironically) been muddied by efforts to cultivate cultural memory of the period . . . Whether or not they share his concerns about cultural memory, readers interested in postwar Spanish art, literature, or politics will appreciate and likely learn from Treglown's deep knowledge of these subjects." —Brendan Driscoll, Booklist
 Praise for V. S. Pritchett: A Working Life:
"Anyone who admired Pritchett's writing will find Treglown's book astute, incisive (sometimes to the point of being trenchant), and extremely valuable in the effort to hold this great writer's life up to art's defiant reflection." —Richard Ford
Advertisement