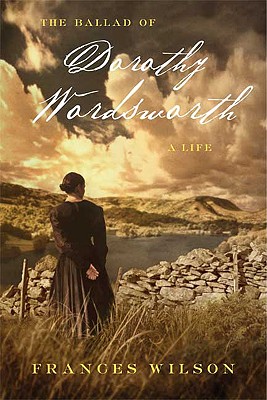 The Ballad of Dorothy Wordsworth
A Life
Hardcover

* Individual store prices may vary.
Other Editions of This Title:
Paperback (9/30/2016)
Description
Described by the writer and opium addict Thomas De Quincey as "the very wildest . . . person I have ever known," DorothyWordsworth was neither the self-effacing spinster nor the sacrificial saint of common telling. A brilliant stylist in her own right, Dorothy was at the center of the Romantic movement of the early nineteenth century. She was her brother William Wordsworth's inspiration, aide, and most valued reader, and a friend to Coleridge; both borrowed from her observations of the world for their own poems.William wrote of her, "She gave me eyes, she gave me ears."

In order to remain at her brother's side, Dorothy sacrificed both marriage and comfort, jealously guarding their close-knit domesticity—one marked by a startling freedom from social convention. In the famed Grasmere Journals, Dorothy kept a record of this idyllic life together. The tale that unfolds through her brief, electric entries reveals an intense bond between brother and sister, culminating in Dorothy's dramatic collapse on the day of William's wedding to their childhood friend Mary Hutchinson. Dorothy lived out the rest of her years with her brother and Mary. The woman who strode the hills in all hours and all weathers would eventually retreat into the house for the last three decades of her life.

In this succinct, arresting biography, Frances Wilson reveals Dorothy in all her complexity. From the coiled tension of Dorothy's journals, she unleashes the rich emotional life of a woman determined to live on her own terms, and honors her impact on the key figures of Romanticism.
Praise For The Ballad of Dorothy Wordsworth: A Life…
"Elegant . . . Ms. Wilson's decision to limit her scope was a small bit of genius. She's written a succinct yet roomy book, one that moves along with novelistic buoyancy and grace. She gets the facts-to-fancy ratio, always a difficult one for a biographer to weigh, exactly right. She lays out the essentials of Dorothy Wordsworth's life like a well-orchestrated banquet, leaving no doubt that the resonating years 1800­–3 are the bravura main course . . . In The Ballad of Dorothy Wordsworth, Ms. Wilson strides purposefully through Wordsworth's intoxicating life, quibbling when needed with earlier biographers, poking into every bit of tangled brush, triangulating her subject's life through the work of many other writers, some of them contemporary. The range of this biographer's references is wide, and wickedly inclusive. One chapter begins with a quotation from the political-punk band Gang of Four: 'This heaven gives me migraine.' This book, its own kind of heaven, gave me quite the opposite." —Dwight Garner, The New York Times

"Entertaining and sometimes ingenious . . . Wilson . . . makes a strong case for taking a fresh look at Dorothy Wordsworth . . . [She] dives deep and headlong into the journals, applying various modern psychological and medical hypotheses. She comes up with some fascinating insights." —Jamie James, Los Angeles Times

"Sensitive and elegantly written." —Publishers Weekly

"Frances Wilson's gifts as a textual critic, and her flair for dramatic storytelling, have delivered a new and potent Dorothy Wordsworth for the 21st century. In its precision and subtlety, her book has the power of a great portrait miniature." —Mark Bostridge, The Independent on Sunday

"[Wilson] is not always respectful, but she is always interesting . . . This gripping narrative presents a character more subtle than the devoted, self-effacing amanuensis of tradition, or the later feminist stereotype." —Margaret Drabble, The Times Literary Supplement
 "An
elegant
,
psychologically astute
and
original
book." —Virginia Rounding,
The Observer
"[A] fine biography . . . Eloquent in her revelation of Dorothy's tormented private self, Wilson is equally sensitive and astute in her reading of the journals." —Miranda Seymour, The Times (London)


"The Ballad of Dorothy Wordsworth doesn't disappoint . . . She writes with a definite sense of astonishment, but controls it with calm scholarly interest and a prevailing mood of humane tolerance. The combination is deeply attractive and original." —Andrew Motion, The Guardian

"Beautifully written, at times combative, and displaying a formidable knowledge of literature . . . Dorothy emerges as a fascinating woman—neither a handmaiden nor a victim but a talented and broken human being." —Richard King, The Sydney Morning Herald

"[An] enjoyable and original book . . . Frances Wilson sensitively analyses this intense relationship, and provides a cleverly structured commentary on the journal as a whole . . . Wilson is a good scholar and her judgment is sound; moreover, she is not afraid to use her imagination to carefully explore what cannot be verified." —Adam Sisman, The Irish Times

"Sympathetic . . . Informed by delicacy and common sense . . . The writing is often lovely, and there are many moving, observant collations between the journal entries and William's poems." —Ann Wroe, The Daily Telegraph
"This searing portrait of Dorothy Wordsworth draws on her celebrated journals but refracts them through a distinctly now sensibility. This is not the Dorothy so movingly addressed at the conclusion of her brother's magnum opus 'Tintern Abbey.' Nor is this the self-effacing sororal companion of the poet's youth, and helpmeet and support of his sedate later life. Here, she is at the center of a nest of incest, anorexia, and destructive passions reminiscent of Wuthering heights (indeed, Wilson speculates that Emily Brontë based Heathcliff and Cathy on her understanding of the relationship between the Wordsworth siblings). For all the author's aggressively contemporary psychological perspectives, Wilson has produced a deeply insightful, disturbing correcting to the conventional understanding of the angel of Dove Cottage." —
The Atlantic Monthly
 "Graceful, perceptive and poignant." —
Kirkus Reviews
Farrar, Straus and Giroux, 9780374108670, 336pp.
Publication Date: February 17, 2009
About the Author
Frances Wilson is the author of "Literary Seductions: Compulsive Writers and Diverted Readers "and "The Courtesan's Revenge: Harriette Wilson, the Woman Who Blackmailed the King." She lives in London with her daughter.
or
Not Currently Available for Direct Purchase