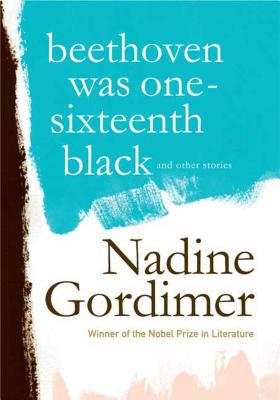 Beethoven Was One-Sixteenth Black: And Other Stories (Hardcover)
And Other Stories
Farrar Straus Giroux, 9780374109820, 177pp.
Publication Date: November 27, 2007
* Individual store prices may vary.
or
Not Currently Available for Direct Purchase
Description
"You're not responsible for your ancestry, are you . . . But if that's so, why have marched under banned slogans, got yourself beaten up by the police, arrested a couple of times; plastered walls with subversive posters . . . The past is valid only in relation to whether the present recognizes it."

In this collection of new stories, Beethoven Was One-Sixteenth Black, Nadine Gordimer crosses the frontiers of politics, memory, sexuality, and love with the fearless insight that is the hallmark of her writing. In the title story a middle-aged academic who had been an anti-apartheid activist embarks on an unadmitted pursuit of the possibilities for his own racial identity in his great-grandfather's fortune-hunting interlude of living rough on diamond diggings in South Africa, his young wife far away in London. "Dreaming of the Dead" conjures up a lunch in a New York Chinese restaurant where Susan Sontag and Edward Said return in surprising new avatars as guests in the dream of a loving friend. The historian in "History" is a parrot who confronts people with the scandalizing voice reproduction of quarrels and clandestine love-talk on which it has eavesdropped."Alternative Endings" considers the way writers make arbitrary choices in how to end stories and offers three, each relating the same situation, but with a different resolution, arrived at by the three senses: sight, sound, and smell.
About the Author
Nadine Gordimer (1923-2014), the recipient of the 1991 Nobel Prize in Literature, was born in a small South African town. Her first book, a collection of stories, was published when she was in her early twenties. Her ten books of stories include Something Out There (1984), and Jump and Other Stories (1991). Her novels include The Lying Days (1953), A World of Strangers (1958), Occasion for Loving (1963), The Late Bourgeois World (1966), A Guest of Honour (1971), The Conservationist (1975), Burger's Daughter (1979), July's People (1981), A Sport of Nature (1987), My Son's Story (1990), None to Accompany Me (1994), The House Gun (1998), The Pickup(2001), Get a Life (2005), and No Time Like the Present (2012). A World of Strangers, The Late Bourgeois World, and Burger's Daughter were originally banned in South Africa. She published three books of literary and political essays: The Essential Gesture (1988); Writing and Being (1995), the Charles Eliot Norton Lectures she gave at Harvard in 1994; and Living in Hope and History (1999).Ms. Gordimer was a vice president of PEN International and an executive member of the Congress of South African Writers. She was a fellow of the Royal Society of Literature in Great Britain and an honorary member of both the American Academy of Arts and Letters and the American Academy of Arts and Sciences. She was also a Commandeur de'Ordre des Arts et des Lettres (France). She held fourteen honorary degrees from universities including Harvard, Yale, Smith College, the New School for Social Research, City College of New York, the University of Leuven in Belgium, Oxford University, and Cambridge University.Ms. Gordimer won numerous literary awards, including the Booker Prize for The Conservationist, both internationally and in South Africa.
Praise For Beethoven Was One-Sixteenth Black: And Other Stories…
"It is Gordimer's special skill that she can both make us feel the distinct yearnings of these characters, where nothing else matters, and allow us to stand back and perceive the parts they play in a larger collective pattern. As she always has, Gordimer offers her readers a rare combination of intimacy and transcendence."—The New York Times Book Review

"On nearly every page there's evidence of Gordimer's intellectual rigor, as well as the upright discipline all serious writers possess."—The Los Angeles Times

"The pages in Nadine Gordimer's slim new collection of stories truly contain multitudes, so rich are they with invention, insight, and artistry.... Gordimer shows that in her 80s she is actually still growing as a writer—what a rare and admirable feat."—The San Francisco Chronicle

"Like John Le Carre, another fine writer from this generation, [Gordimer] has gone on to explore the world after the demise of the material she was best-known for with intelligence, grace and power . . . brief glimpses into the mind of one of Africa's great modern literary geniuses ... the overall effect here is that of lasting mastery of the mode."—Dallas Morning News

"[Gordimer's] voice travels across the page, darkening certain regions, changing barometric pressure in others—and then, just as quickly as it arrived, the voice moves on, leaving you with the memory of an occurrence so vivid and yet ephemral that it takes on the lived quality of real experience."—Newark Star-Ledger

"Gordimer still has a canny eye for the world's vastness and complexity, and her expert fiction goes far in bringing us close to the mystery and value of it all."—Washington Times

"At 84, [Gordimer] remains deeply engaged with literature's role as a bellwether of current affairs and a corrective to ideological laziness."—Financial Times

"Nadine Gordimer pushes buttons and the boundaries of race, politics, and sex."—Vanity Fair

"Gordimer is a precise, politically astute writer whose novels, story, and nonfiction works are charged with sprightly humor, sudden insights, and fearless candor."—Elle magazine

"Peppered with parentheses, dashes, and incomplete clauses, her writing is deceptively tight, and a story's resolution often hinges on one or two lines . . . Kafka's influence has inspired its own metamorphosis, alive on her page—an 'ectoplasm of my imagination.'"—Bookforum

"Tantalizing and provocative short stories . . . With Gordimer's exquisite use of language, keen insight into social relationships, and elegant writing style in full form, this work is recommended for all libraries."—Library Journal (starred review)

"Thirteen stories from South African Nobel Prize–winner Gordimer offer a staccato demonstration of how people's origins, inheritances and histories—and the loss of them—are inescapable.... Terrifying, sometimes acidly funny and often beautiful."—Publishers Weekly (starred review)

"Executed with finesse and power."—Kirkus Reviews

"Gordimer has been writing about her native South Africa for more than 50 years, and in this lively collection, she continues to tell the contemporary stories of people 'going about their own affairs within history's fall-out' . . . No slick irony, no heavy messages; as always, the mix of intimacy and politics stirs everything up."—Booklist
Advertisement