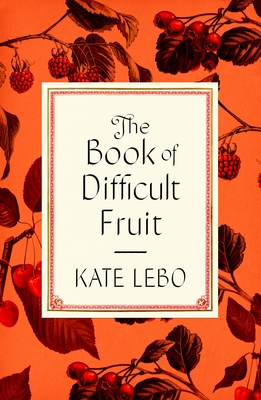 The Book of Difficult Fruit
Arguments for the Tart, Tender, and Unruly (with recipes)
Hardcover

* Individual store prices may vary.
Other Editions of This Title:
Digital Audiobook (4/5/2021)
Paperback (4/12/2022)
Compact Disc (4/6/2021)
MP3 CD (4/6/2021)
Description
Named a Best Book of the Year by The Atlantic, New York magazine and NPR

"Dazzling." —Samin Nosrat, The New York Times Magazine

Inspired by twenty-six fruits, the essayist, poet, and pie lady Kate Lebo expertly blends natural, culinary, medical, and personal history.

A is for aronia, berry member of the apple family, clothes-stainer, superfruit with reputed healing power. D is for durian, endowed with a dramatic rind and a shifting odor—peaches, old garlic. M is for medlar, name-checked by Shakespeare for its crude shape, beloved by gardeners for its flowers. Q is for quince, which, when fresh, gives off the scent of "roses and citrus and rich women's perfume," but if eaten raw is so astringent it wicks the juice from one's mouth.

In a work of unique invention, these and other difficult fruits serve as the central ingredients of twenty-six lyrical essays (with recipes). What makes a fruit difficult? Its cultivation, its harvest, its preparation, the brevity of its moment for ripeness, its tendency toward rot or poison, the way it might overrun your garden. Here, these fruits will take you on unexpected turns and give sideways insights into relationships, self-care, land stewardship, medical and botanical history, and so much more. What if the primary way you show love is through baking, but your partner suffers from celiac disease? Why leave in the pits for Willa Cather's plum jam? How can we rely on bodies as fragile as the fruits that nourish them?

Kate Lebo's unquenchable curiosity promises adventure: intimate, sensuous, ranging, bitter, challenging, rotten, ripe. After reading The Book of Difficult Fruit, you will never think of sweetness the same way again.
Praise For The Book of Difficult Fruit: Arguments for the Tart, Tender, and Unruly (with recipes)…
A Best Book of the Year: The Atlantic, NPR, The Globe and Mail, Electric Lit, New York Magazine (Honorable Mention)
Shortlisted for the Pacific Northwest Book Award

"[A] glorious mash-up of memoir, love note, and cookbook . . . Every sentence is as sensuous as the first bite into a cold, juicy plum."
—Hillary Kelly, New York magazine

"Darkly funny . . . often fascinating, sometimes juicy, rarely dry . . . The Book of Difficult Fruit is brimming with obscure knowledge that's going to loom over every gin martini I drink for the next decade, and there are fantastic recipes too . . . Delicious and meaningful."
—Alex Beggs, The New York Times Book Review

"A collection of personal essays about family, illness and nature, each linked to a different fruit that—over the years, warranted or otherwise—has developed something of a bad reputation. It is a beautiful read."
—Stuart Heritage, The Guardian

"A brilliant, richly layered and absolutely delicious book. [Lebo's] writing—breathtakingly beautiful, brave and complex—sparkles and lingers . . . Sharp, poetic, enchanting and chockfull of precise language, insight and wit, [The Book of Difficult Fruit] is as well-researched and recipe-tested as it is intimate—contemporary food writing at its finest."
—Adriana Janovich, Washington State Magazine

"[A] freewheeling, recipe-filled journey through the interconnected natural and social worlds of fruit."
—Emma Sarappo, The Atlantic

"Weaving botanical and medicinal histories, relationships between people and land, and the idea of nourishment, this book (which includes recipes) is inventive and charming, but it's also profound and deeply felt. The connection between food and land is never forgotten, and the writing is superb."
—Sarah Neilson, Buzzfeed

"[A] richly researched food history, gentle memoir and left-field recipe book . . . It would be a shame if this book didn't attract readers without an existing curiosity in the subject, because Lebo brings as generous an eye to its broader topics—relationships, reproductive health, illness and death—as she does her fruits and their histories and uses, their beauty and their terror."
—Sophie Morris, i newspaper

"A zingy blend of natural, culinary and personal history . . . A prickly, piquant delight."
—Hephzibah Anderson, The Observer

"Delightfully unexpected . . . Eloquent, well-researched, and thoughtfully conceived and organized, this genre-defying book will appeal to foodies as well as those who appreciate both fine writing and the pleasures of domestic arts and crafts. A one-of-a-kind reading experience."
—Kirkus Reviews, starred

"Witty . . . Unusual and piquant, this . . . will hit the spot with readers hungry for something a little different."
—Publishers Weekly, starred

"A remarkable combination of food writing, memoir, medical and natural history, and cultural anthropology that's unlike anything you've read before . . . Taking a 'food book' into all those areas in a compelling way is a high-wire act that Lebo performs with seeming ease and an inviting style. There are hilarious lines, and poignant reflections as well."
—Dan Nailen, The Pacific Northwest Inlander

"Imaginative and darkly funny . . . A treat for those who love language and arcane trivia."
—The Globe and Mail

"Intriguing [and] wonder-filled. Lovers of food and nature writing will appreciate Lebo's rangy, researched ode to wildness."
—Booklist

"Lebo effectively uses fruit as a starting point for exploring raw feelings and offering wry observations about her life, friends, and family. Perhaps the most moving chapters are where Lebo turns inward, focusing on her hopes and dreams and how reflecting on the tastes and textures of various fruits has inspired her to write . . . A genre-blending work that will intrigue readers of literary nonfiction, personal essays, or food history."
—Library Journal

"A glorious blend of cookbook, memoir, and love notes."
—The Helm

"On the arrival of The Book of Difficult Fruit, I started reading it straightaway. And kept going. And kept going. This is a very special, smart, fun, weird, and charming book."
—Rosie Schaap, author of Drinking with Men and Becoming a Sommelier

"Kate Lebo has written a thorny and twisty memoir disguised as a compendium of problematic fruits (and grains, and stems, and seeds). She doesn't so much describe as confront her subjects: their poisonous pits, treacherous thorns, offensive odors, and invasive roots. But her buckets of foraged berries, her tart jams, and her bright and potent cordials live in the real world alongside troubled families, rampant wildfires, and the prickly terror of a newfound tumor. Kate Lebo is the best kind of poet-naturalist: her writing is savage and lyrical and scientific all at once. The Book of Difficult Fruit is feral and fierce—and I never thought I'd say that about a book on fruit."
—Amy Stewart, author of The Drunken Botanist: The Plants That Create the World's Great Drinks

"I loved this sage and sensuous book, and was enraptured by its curious tour through a Wunderkammer of plants, history, and personal narrative. Kate Lebo's introspection and intelligence gleam on every page as she looks inward and outward through these colorful lenses. Her essays are ripe with illumination, enchantment, and a dash of the haunted."
—Melissa Febos, author of Girlhood

"With rich, puckery prose, Kate Lebo takes us on an engaging journey into her culinary world and offers surprisingly complex stories of neglected fruits that need a little more coaxing than your average blueberry. Here, too, are uncommon recipes for treats like faceclock coffee, gooseberry cheese, juniper bitters, and thimbleberry kvass. And Lebo even generously includes the Osage orange. Its best use? Ha! Read this book and find out."
—Erik Larson, author of The Splendid and the Vile

"The Book of Difficult Fruit is a field guide for cooks and poets, a digestive aid for the pleasures and pains of life in a human body. Kate Lebo's graceful prose is as searching as it is assured, whether the story leads to medlar jelly or family secrets, a mother's illness or ume plums. This book is equal parts curiosity, comfort, and quiet brilliance—in short, a work of art."
—Molly Wizenberg, author of The Fixed Stars and A Homemade Life
Farrar, Straus and Giroux, 9780374110321, 416pp.
Publication Date: April 6, 2021
About the Author
Kate Lebo is the author of the cookbook Pie School and the poetry chapbook Seven Prayers to Cathy McMorris Rodgers, and is the coeditor, with Samuel Ligon, of Pie & Whiskey: Writers Under the Influence of Butter & Booze. Her essay about listening through hearing loss, "The Loudproof Room," originally appeared in New England Review and was anthologized in The Best American Essays 2015. She lives in Spokane, Washington, where she is an apprentice cheesemaker to Lora Lea Misterly of Quillisascut Farm.