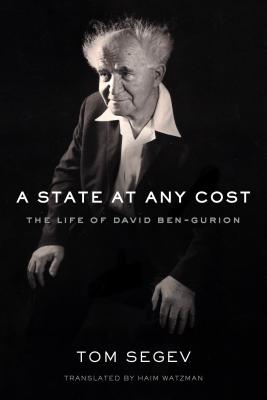 A State at Any Cost
The Life of David Ben-Gurion
Hardcover

* Individual store prices may vary.
Other Editions of This Title:
Digital Audiobook (11/18/2019)
Paperback (11/10/2020)
MP3 CD (11/19/2019)
Compact Disc (11/19/2019)
Description
2019 National Jewish Book Award Finalist

"[A] fascinating biography . . . a masterly portrait of a titanic yet unfulfilled man . . . this is a gripping study of power, and the loneliness of power." —The Economist

As the founder of Israel, David Ben-Gurion long ago secured his reputation as a leading figure of the twentieth century. Determined from an early age to create a Jewish state, he thereupon took control of the Zionist movement, declared Israel's independence, and navigated his country through wars, controversies and remarkable achievements. And yet Ben-Gurion remains an enigma—he could be driven and imperious, or quizzical and confounding.

In this definitive biography, Israel's leading journalist-historian Tom Segev uses large amounts of previously unreleased archival material to give an original, nuanced account, transcending the myths and legends that have accreted around the man. Segev's probing biography ranges from the villages of Poland to Manhattan libraries, London hotels, and the hills of Palestine, and shows us Ben-Gurion's relentless activity across six decades. Along the way, Segev reveals for the first time Ben-Gurion's secret negotiations with the British on the eve of Israel's independence, his willingness to countenance the forced transfer of Arab neighbors, his relative indifference to Jerusalem, and his occasional "nutty moments"—from UFO sightings to plans for Israel to acquire territory in South America. Segev also reveals that Ben-Gurion first heard about the Holocaust from a Palestinian Arab acquaintance, and explores his tempestuous private life, including the testimony of four former lovers.

The result is a full and startling portrait of a man who sought a state "at any cost"—at times through risk-taking, violence, and unpredictability, and at other times through compromise, moderation, and reason. Segev's Ben-Gurion is neither a saint nor a villain but rather a historical actor who belongs in the company of Lenin or Churchill—a twentieth-century leader whose iron will and complex temperament left a complex and contentious legacy that we still reckon with today.
Praise For A State at Any Cost: The Life of David Ben-Gurion…
"Segev . . . has spent four decades exploring Ben-Gurion's impact on Israel, in a body of work that has no equal either for the brilliance of his storytelling or the ironies of his analysis. He is neither a sentimental apologist for Ben-Gurion nor a crusading dethroner in the style of the New Historians with whom he has often been grouped. He is, rather, a student of power, and is at once fascinated and horrified by what he sees." —Adam Shatz, London Review of Books

"Long and rich in detail, A State at Any Cost offers a lucid account of Ben-Gurion's tumultuous life and complex character . . . Segev handles this mixture of adolescent melancholy, secular rebelliousness, and fin-de-siècle ideologies with skill. He has a knack for weaving together the mundane and the momentous, the personal and the political. As in all his books, Segev doesn't just relay facts, he captures sensibilities." —Assaf Sharon, The New York Review of Books

"[A] deeply researched, engrossing and, in some respects, controversial biography . . . Segev is best when probing the human side of the complex leader. Often brusque in manner, outwardly self-assured and iron-willed, Ben-Gurion poured his innermost emotions into his diaries and letters . . . Through the drama of his life, and despite his failings—both personal and political—Ben-Gurion emerges in Segev's book as a man of vision and integrity." —Francine Klagsbrun, The New York Times Book Review

"The Israeli historian Tom Segev paints a conflicting portrait of Israel's founder in his monumental A State at Any Cost . . . Unlike Ben-Gurion's previous biographers, even the best of whom found it impossible not to stray at times in to hagiography, Segev is unsparing in his depiction of the less appealing sides of his private and political personalities. He also convincingly and meticulously builds the case for Ben-Gurion as a visionary leader, efficient organiser and persuasive advocate without whose efforts Israel, as an independent and sovereign state, may never have come into being." —Anshel Pfeffer, The Times (London)

"[A] fascinating biography . . . a masterly portrait of a titanic yet unfulfilled man . . . this is a gripping study of power, and the loneliness of power." —The Economist

"[A] meticulously researched biography . . . Segev makes several significant historiographical interventions, challenging conventional accounts of Ben-Gurion's views and of the period of Israeli history during which he led the country . . . [he] deftly shows how many of Ben-Gurion's decisions still reverberate in the lives of Israelis and Palestinians today." —Joshua Leifer, The Baffler

"Richly and comprehensively portrayed by Tom Segev, one of the "new historians" challenging Israel's founding myths, this new biography of David Ben-Gurion presents the history of Zionism and the shaping of the state of Israel through the life and times of its most important founder and political leader." —Samuel Farber, Jacobin

"[An] inspiring account of the life and times of David Ben-Gurion . . . Tom Segev's majestic biography will become mandatory reading for those who seriously wish to learn about the rise of Israel." —Colin Schindler, The Jewish Chronicle

"Deploying exhaustive research, which included access to previously unavailable archival material, Segev unearths a man of contradictions . . . what Segev's deft unfolding of the trajectory of Ben-Gurion's life makes clear is that his legacy is Israel itself." —Diane Cole, The Washington Post

"A magisterial work, sure to take its place as a standard reference . . . those who know Segev's tours-de-force One Palestine, Complete, 1967, and The Seventh Million know that it is impossible for him to write an uninteresting sentence. There is nobody like Segev for knowing how to spin a yarn—and what a yarn this one is —and for developing a historical context for a narrative." —Jerome A. Chanes, The New York Jewish Week

"Writing without fear or favor, Tom Segev has authority . . . [A State at Any Cost] is also an oblique but illuminating history of the making of Israel." —David Pryce-Jones, The New Criterion

"[Segev] brings togeth­er an extra­or­di­nary num­ber of both auto­bi­o­graph­i­cal and bio­graph­i­cal mate­ri­als to pro­duce a beau­ti­ful por­trait of a chal­lenged and chal­leng­ing leader, whose Zion­ist dream was achieved through a dis­parate mix of a bold vision and a tire­less march through the intri­ca­cies of statecraft . . . Segev brings Ben-Gurion's char­ac­ter to life and makes his efforts on behalf of Israel and the Jew­ish peo­ple deeply per­son­al and poignant . . . A State at Any Cost is an engag­ing, enter­tain­ing, and at times a sur­pris­ing por­trait." —Jonathan Fass, Jewish Book Council

"To say that Segev has written another history of David Ben-Gurion (1886–1973) would be an understatement . . . [A State at Any Cost is] a definitive biography of Israel's former prime minister . . . Scholars and devoted readers of political history, notably of the Middle East, will turn to Segev's majestic analysis of this pivotal leader for decades to come." —Library Journal

"Eminent Israeli journalist and historian [Tom Segev] chronicles the life of a driven leader who galvanized others to the exhausting, relentless pursuit of a state of Israel . . . A fair portrait of a difficult, hard-nosed character." —Kirkus

"Tom Segev's meticulously researched and most elegantly written new biography of David Ben-Gurion is a must for anybody interested in both the glorious and the dark pages of the history of Zionism and Israel, as reflected throughout the life and times of the Jewish State's most important founding father." —Saul Friedländer, Pulitzer Prize-winning author of Nazi Germany and the Jews and Where Memory Leads

"[A] carefully researched and nonjudgemental biography . . . Tom Segev's A State at Any Cost aptly summarizes the lodestar of Ben-Gurion's life." —Avraham Avi-hai, The Jerusalem Post

"In the course of six years of research, Segev . . . discovered a leader fraught with dramatic contrasts . . . the author has come up with significant historical revelations." —Ofer Aderet, Haaretz

"The beauty of Segev's biography of Ben-Gurion is that Segev is less an analyst and more a meticulous historical detective. We are not offered a treatise on anti-Semitism, nationalism, or the historical migration patterns of Jews to the Land of Israel, but instead given a Ben-Gurion's eye view of events. And this is enormously useful." —Ben Judah, The American Interest

"Segev's book is of immense value because it steers clear of mythology and presents his subject in all his complexity." —Azriel Bermant, Fathom Journal
Farrar, Straus and Giroux, 9780374112646, 816pp.
Publication Date: September 24, 2019
About the Author
Tom Segev is a columnist for Ha'aretz, Israel's leading newspaper, and author of several works on the history of Israel: 1949: The First Israelis; The Seventh Million: The Israelis and the Holocaust; and One Palestine, Complete: Jews and Arabs under the British Mandate. He lives in Jerusalem.
or
Not Currently Available for Direct Purchase