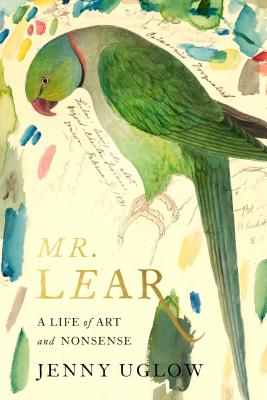 Mr. Lear
A Life of Art and Nonsense
Hardcover

* Individual store prices may vary.
Description
A sparkling biography of the poet and artist Edward Lear by the award-winning biographer Jenny Uglow
Edward Lear, the renowned English artist, musician, author, and poet, lived a vivid, fascinating life, but confessed, "I hardly enjoy any one thing on earth while it is present." He was a man in a hurry, "running about on railroads" from London to country estates and boarding steamships to Italy, Corfu, India, and Palestine. He is still loved for his "nonsenses," from startling, joyous limericks to great love poems like "The Owl and the Pussy Cat" and "The Dong with a Luminous Nose," and he is famous, too, for his brilliant natural history paintings, landscapes, and travel writing. But although Lear belongs solidly to the age of Darwin and Dickens—he gave Queen Victoria drawing lessons, and his many friends included Tennyson and the Pre-Raphaelite painters—his genius for the absurd and his dazzling wordplay make him a very modern spirit. He speaks to us today.
Lear was a man of great simplicity and charm—children adored him—yet his humor masked epilepsy, depression, and loneliness. Jenny Uglow's beautifully illustrated biography, full of the color of the age, brings us his swooping moods, passionate friendships, and restless travels. Above all, Mr. Lear shows how this uniquely gifted man lived all his life on the boundaries of rules and structures, disciplines and desires—an exile of the heart.
Praise For Mr. Lear: A Life of Art and Nonsense…
"No one would seem better qualified to write a biography of Lear than Jenny Uglow . . . eloquent and astonishing." —Adam Gopnik, The New Yorker
"Mr. Lear is by Jenny Uglow, and her name on anything guarantees both biographical and critical excellence." —Michael Dirda, The Washington Post
"With careful attention Ms Uglow gets to the heart of a man who found joy in the absurdities of life . . . In 600 pages, her tome never tires the reader. As she unpicks Lear's layers, at points she seems to inhabit him. His love of language bubbles through her own, leaving a striking and memorable portrait of the man she describes as 'an eerie, queery, sometimes weary, sometimes cheery Edward Lear.'" —The Economist
"A well-wrought life of an eminent Victorian who merits our broader acquaintance." —Kirkus Reviews
"Uglow's book is the best biography of Lear yet written, not because it avoids the boring, but because it finds ways to let boredom shed light on—and provide opportunity for—other things." —Matthew Bevis, London Review of Books
"Crammed with Lear's delicate drawings and paintings, this must be one of the most beautifully produced books of the year." —Suzi Feay, Financial Times
"Mr. Lear is a strikingly beautiful book."
—Daniel Karlin, Times Literary Supplement
"Sumptuously produced . . . Uglow's biography is richly detailed and astutely empathetic, a splendid portrait of this remarkable man."
—Christopher Hart, The Sunday Times (London)
"Superb . . . Quite wonderful . . . The astonishing thing is that Lear's serious paintings and nonsense verses were produced by the same person, but Uglow makes a convincing case for thinking that he needed both. His was a life of art and nonsense, the sublime and the ridiculous . . . Uglow's triumph is to show how his most famous works brought these contradictions together and struck sparks of creative life from them."
—Robert Douglas-Fairhurst, The Guardian
"Mr Lear is far more than a beautiful book—although it is that. [Uglow] is a natural storyteller and the most unobtrusive of biographers, blessed with an effortlessly understated prose style and a magpie's flair for detail."
—Eileen Battersby, The Irish Times
Farrar, Straus and Giroux, 9780374113339, 608pp.
Publication Date: April 17, 2018
About the Author
Jenny Uglow's books include prizewinning biographies of Elizabeth Gaskell and William Hogarth. The Lunar Men (FSG, 2002) was described by Richard Holmes as "an extraordinarily gripping account," while Nature's Engraver won the National Arts Writers Award for 2007. A Gambling Man (FSG, 2009) was short-listed for the 2010 Samuel Johnson Prize for Non-Fiction. Uglow grew up in Cumbria and now lives in Canterbury, England.
or
Not Currently Available for Direct Purchase