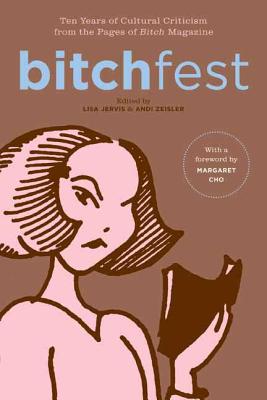 BITCHfest
Ten Years of Cultural Criticism from the Pages of Bitch Magazine
Paperback

* Individual store prices may vary.
Description
In the wake of Sassy and as an alternative to the more staid reporting of Ms., Bitch was launched in the mid-nineties as a Xerox-and-staple zine covering the landscape of popular culture from a feminist perspective. Both unabashed in its love for the guilty pleasures of consumer culture and deeply thoughtful about the way the pop landscape reflects and impacts women's lives, Bitch grew to be a popular, full-scale magazine with a readership that stretched worldwide. Today it stands as a touchstone of hip, young feminist thought, looking with both wit and irreverence at the way pop culture informs feminism—and vice versa—and encouraging readers to think critically about the messages lurking behind our favorite television shows, movies, music, books, blogs, and the like. BITCHFest offers an assortment of the most provocative essays, reporting, rants, and raves from the magazine's first ten years, along with new pieces written especially for the collection. Smart, nuanced, cranky, outrageous, and clear-eyed, the anthology covers everything from a 1996 celebration of pre-scandal Martha Stewart to a more recent critical look at the "gayby boom"; from a time line of black women on sitcoms to an analysis of fat suits as the new blackface; from an attempt to fashion a feminist vulgarity to a reclamation of female virginity. It's a recent history of feminist pop-culture critique and an arrow toward feminism's future.
Praise For BITCHfest: Ten Years of Cultural Criticism from the Pages of Bitch Magazine…
"We love Bitch and think BITCHfest is an essential component of any feminist's library." —Guerrilla Girls

"As delicious as a day spent with your funniest, smartest friend, this collection is also a call to action, inspiring readers to fight the fear of female power. As the many writers in here show, few wrongs are righted without a bitchfest first." —Cristina Page, author of How the Pro-Choice Movement Saved America: Freedom, Politics and the War on Sex

"In a society as celebrity-obsessed and fad-saturated as ours, we ignore pop culture at our peril. Hurray for the women of Bitch, who raised their banner of intelligence right at the intersection of pop culture and feminism. They've done so with humor, vision, fire, and guts, as this book of selections from their first decade proves. Read it, learn from it, enjoy it, argue with it, revel in it." —Robin Morgan

"With humor and insight Lisa Jervis, Andi Zeisler, and their contributors explore what it means to be female, a feminist, a lover of pop culture, and that other thing that rhymes with rich but is so much more fun." —Ariel Levy, author of Female Chauvinist Pigs: Women and the Rise of Raunch Culture

"Bitch is my favorite magazine. It makes feminism fun, relevant and approachable--it's like the Marlo Thomas of our time." —Joel Stein, columnist, Los Angeles Times

"We were working at Ms. magazine in 1996 when a xeroxed pamphlet arrived at the office bearing the name Bitch. We opened the zine and found what we'd been fearing didn't exist: feminist writing that was funny, engaged with pop culture, and yet intellectually rigorous. Eureka! BITCHfest is the greatest hits, and reading them is like hanging out with the smartest people you know." —Jennifer Baumgardner and Amy Richards, co-authors of Manifesta

"Essential reading for the modern woman." —Margaret Cho

"This often mind-stretching, occasionally predictable and generally entertaining collection of articles from Bitch magazine has something for every feminist, postfeminist and reactionary. Bitch was founded in 1996 in response to 'post-feminism' by 'freshly minted liberal arts graduates with crappy day jobs and a serious media jones.' With refreshing depth, literacy and humor, these essays explore questions surrounding puberty, gender identity, sex, 'domestic arrangements,' beauty, pop culture and mainstream media, and media literacy/activism. Tammy Oler examines menarche and female puberty in horror films; Gaby Moss analyzes the media's obsession with 'mean girls'; and Lisa Jervis gives a rundown of sex scenes and pride in YA lesbian novels. Leigh Shoemaker puts down Camille Paglia's contention that males are superior due to their urinary 'arc of transcendence' by evoking the Virgin Mary's breasts squirting milk through the air into Jesus' mouth. Audry Bilger protests the use of 'guys' as gender neutral. Conspicuously absent is any discussion of women and aging. Maybe we'll just have to wait for Bitch's 20th anniversary, when its editors will be pushing 50." —Publishers Weekly

"'Whenever anyone has called me a bitch, I have taken it as a compliment,' writes comedian Margaret Cho in the foreword to this anthology from the self-proclaimed Queen Bee of Grrrl Zines. Positioned as an antidote to the patronizing pages of Cosmopolitan and Vogue, Bitch revels in its power to provoke as it ponders the landscape of popular culture from a feminist perspective. In honor of the magazine's tenth anniversary, founding editors Jervis and Zeisler have amassed essays (including some specifically commissioned for the collection) on a bounty of brazen topics, from the ramifications of sexual abuse and rape to the lesbian tendencies of Japanese macaques. Its writers are no wallflowers: Leigh Shoemaker's 'stand-up' discussion of female urination, for example, adds new meaning to the expression, 'Looking out for #1.' From transsexuality to body image to gender-bending 'slash fiction' that amorously pairs the likes of Captain Kirk and Spock, there's plenty here to amuse and enlighten the target audience--and plenty to rattle the cages of card-carrying macho men and women who might find the racy rants a bit over the top." —Booklist

"This work represents an alternating mix of the most hilarious, alarming, and unexpected essays from Bitch magazine's first ten years. Over three-quarters of the works come from the last five years and, with the exception of an approving pre-scandal profile of Martha Stewart, retain cultural currency. About-Face founder Kathy Bruin journals on the eve of her celebrated 1998 'Don't Feed the Models' postering campaign. Keely Savoie presents a brilliant journalistic brief on the 400-plus animal species documented in homosexual relationships. Shauna Swartz turns out an indelible account of the severe life of reality porn actresses. BITCHfest writers, a mix of thought leaders and unknown activists, share a talent for asking thorny questions: how can Westerners distinguish between American cosmetic labiaplasty and African genital mutilation? Why can't female Cosmo readers admit they're attracted to, rather than jealous of, waifs on the glossy covers? Readers new to this feminist quarterly will find the articles, almost without exception, original, intelligent, and well written. This compilation has staying power. Highly recommended for both public and academic libraries." —Library Journal

"Feminist-energized pop-culture essays that appeal to a wide array of tastes and reading preferences as they celebrate Bitch's tenth anniversary. Margaret Cho doesn't mind being called a bitch, she quips in the introduction: 'I have taken it as a compliment.' So have many of the 43 writers assembled here, all equally frustrated by the force-feeding of mass-media values and the lack of motivational role models. Jervis and Zeisler founded the 'zine to eschew the complacent postfeminist viewpoint. Among the inspiring and the outspoken are features on young-adult novelist Norma Klein ('Stormin' Norma'); 'the trials of female adolescence' via horror film ('Bloodletting'); the empowering androgyny of '80s music videos ('Amazon Women on the Moon'); the atrocity of rape ('The Collapsible Woman'); and current hot topics gay parenting ('Queer and Pleasant Danger') and cosmetic reconstruction ('Plastic Passion,' 'Vulva Goldmine'). Many of these pieces are spirited with a unique feminine bravado, but the editors don't leave out the male point of view; there are terrific essays on the emasculating effects of male bonding ('Holy Fratrimony') and the notion of the fading usefulness of men ('Dead Man Walking'). Less engrossing offerings include discourses on speech tics ('The, Like, Downfall of the English Language,' 'On Language'), the art of peeing ('Urinalysis'), 'humilitainment' ('XXX Offender') and the 'tragedy' of lesbians who sexually desire men ('What Happens to a Dyke Deferred?'). Pieces that make room for humor are stronger than the indignant, alarmist entries; some of the strongest works get right to the awful truth: Martha Stewart is man-less because 'she doesn't seem to exude that warmth andcaring nature men enjoy' ('The Paradox of Martha Stewart'); both Jane Magazine ('Pratt-fall') and Carnie Wilson ('Your Stomach's the Size . . . ') should just go away. By volume's end, alas, feminism fatigue definitely sets in and deep, anti-conspiratorially cleansing breaths are in order for all warrior princesses. Smartly written, socio-cultural vignettes that speak to everyone, loud and clear." —Kirkus Reviews
Farrar, Straus and Giroux, 9780374113438, 400pp.
Publication Date: August 8, 2006
About the Author
Lisa Jervis is publisher of Bitch and a regular lecturer on media and feminism. She is co-editor of BITCHfest: Ten Years of Cultural Criticism from the Pages of Bitch Magazine.

Andi Zeisler is Bitch's editorial/creative director. Zeisler writes regularly for newspapers and magazines nationwide.
or
Not Currently Available for Direct Purchase