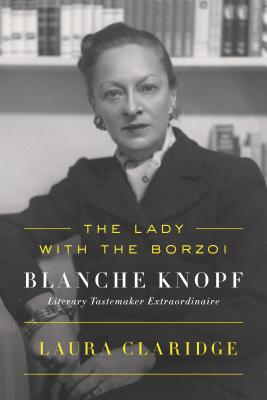 The Lady with the Borzoi
Blanche Knopf, Literary Tastemaker Extraordinaire
Hardcover

* Individual store prices may vary.
Other Editions of This Title:
Paperback (3/21/2017)
Description
The untold story of Blanche Knopf, the singular woman who helped define American literature
Left off her company's fifth anniversary tribute but described by Thomas Mann as "the soul of the firm," Blanche Knopf began her career when she founded Alfred A. Knopf with her husband in 1915. With her finger on the pulse of a rapidly changing culture, Blanche quickly became a driving force behind the firm.
A conduit to the literature of Langston Hughes and the Harlem Renaissance, Blanche also legitimized the hard-boiled detective fiction of writers such as Dashiell Hammett, James M. Cain, and Raymond Chandler; signed and nurtured literary authors like Willa Cather, Elizabeth Bowen, and Muriel Spark; acquired momentous works of journalism by John Hersey and William Shirer; and introduced American readers to Albert Camus, André Gide, and Simone de Beauvoir, giving these French writers the benefit of her consummate editorial taste.
As Knopf celebrates its centennial, Laura Claridge looks back at the firm's beginnings and the dynamic woman who helped to define American letters for the twentieth century. Drawing on a vast cache of papers, Claridge also captures Blanche's "witty, loyal, and amusing" personality, and her charged yet oddly loving relationship with her husband. An intimate and often surprising biography, The Lady with the Borzoi is the story of an ambitious, seductive, and impossibly hardworking woman who was determined not to be overlooked or easily categorized.
Praise For The Lady with the Borzoi: Blanche Knopf, Literary Tastemaker Extraordinaire…
"Claridge is the first to bring Blanche Wolf Knopf fully out of the shadows in this meticulous, groundbreaking biography . . . Claridge illuminates a radiant facet of American publishing and women's history as she portrays Blanche Knopf in all her brainy and aesthetic glory and elegant fortitude." —Booklist (starred review)
"[Claridge] manages to synthesize an enormous amount of research and biographical information to paint a complete picture of a complex figure. Packed with interesting literary anecdotes, this biography reveals a powerful woman who played an integral role in 20th-century publishing." —Publishers Weekly
"Claridge's lucid and sympathetic portrait of an unconventional and path-breaking woman mired in a marriage that left her emotionally bereft but professionally empowered, will resonate with any reader who, like Blanche Knopf, has ever found salvation in books." —Emily Bingham, author of Irrepressible
"At turns reviled and adored, fragile and invincible, free and shackled, Blanche Knopf was often denied credit for the success of the publishing firm she founded with her husband, and that bears his name alone. Laura Claridge's biography of a woman and the books she loved shows in particular how much French existentialism and hard-boiled detective fiction owe to Blanche Knopf's daring, independent vision. With a winning eye to detail, with empathy and wit, Laura Claridge gives Blanche Knopf her hard-earned seat at the high table of literary modernism." —Alice Kaplan, author of Dreaming in French
"Blanche Knopf emerges as a revelation in this first biography: Elegant, highly strung, unappreciated and lonely in her marriage, she was a brilliant editor, a writer's best reader, and essential to the creation of the great house of Knopf. No Blanche, no Knopf." —Dorothy Gallagher, author of Lillian Hellman: An Imperious Life
"A fascinating look at Blanche Knopf . . . Filled with insights into the literary intrigues of the times and Blanche's careful handling and promotion of 'her' writers as well as the house's authors, this biography is highly recommended to readers who are interested in modernist literature, American literature, publishing, and creative writing." --Pam Kingsbury, Library Journal (starred review)
"[A] remarkable life story . . . Capacious and engaging . . . In The Lady with the Borzoi, Claridge triumphantly restores Blanche Knopf's central place in 20th-century publishing history." --Catherine Hollins, Book Page
"If you've ever struggled with the task of composing a guest list for the ultimate fantasy dinner party, Laura Caldridge's biography of Blanche Knopf...will show you whom to put at the head of your table...[A] textured portrait" --Liesl Schillinger, New York Times Book Review
"Claridge has written a deeply researched biography of an important but often unacknowledged publisher." --Editor's Choice, New York Times Book Review
"An intimate, nuanced, and complex portrait of Blanche Knopf . . . [Claridge's research] lends the book both authority and authenticity. The writing style isaccessible, evocative, and frank, and underpinned by significant scholarship." —Linda F. Burghardt, Jewish Book Council
"In her biography, Laura Claridge builds a compelling case that it was Blanche, far more than Alfred, who was responsible for that superiority, who pursued and persuaded writers to sign on—often for low salaries and pitiful advances—for the sake of the firm's reputation and for her own devoted personal attention." —Joanna Scutts, The New Republic
"A long-overdue acknowledgment of the pioneering role Blanche [Knopf] played at a time when women were nearly invisible in the business world." --Charles McGrath, The New Yorker
"Claridge's biography has a clear, polemical, and sympathetic aim: to recuperate Blanche Knopf's position as a giant in modern publishing, despite the efforts of her husband to obscure and minimize her role. This couldn't be more timely . . . Blanche is now the subject of an admiring, dutiful, full-length biography . . . Blanche's story, told by Claridge, astonishes."--Josh Lambert, Los Angeles Review of Books
Farrar, Straus and Giroux, 9780374114251, 416pp.
Publication Date: April 12, 2016
About the Author
Laura Claridge's books include Tamara de Lempicka: A Life of Deco and Decadence; Emily Post: Daughter of the Gilded Age, Mistress of America; and Norman Rockwell: A Life. A frequent contributor to The Wall Street Journal, Vogue, The Boston Globe, the Los Angeles Times, The Christian Science Monitor, and other publications, she lives in the Hudson Valley.
or
Not Currently Available for Direct Purchase