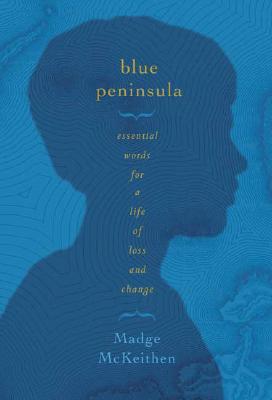 Blue Peninsula (Hardcover)
Essential Words for a Life of Loss and Change
Farrar, Straus and Giroux, 9780374115029, 240pp.
Publication Date: April 4, 2006
* Individual store prices may vary.
Description
"My son's illness is eight years old and has no name. It started when he was fourteen. He is now twenty-two. It is taking away his ability to walk and to reason. It is getting worse, some years more rapidly than others."
These words begin the first section of Blue Peninsula, a narrative of a son's degenerative illness in thirty-three parts focused around poems that have provided companionship and sustenance to the author. When multiple diagnostic avenues delivered no explanation for the worsening disabilities of her older son, Ike, Madge McKeithen "became a poetry addict--collecting, consuming, ripping poems out of magazines, buying slender volumes that would fit in my pocket or pocketbook, stashing them in loose-leaf notebooks, on shelves, stacking them on the floor. In the midst of all this grief, I had fallen in love. With words. Poems, especially. And just in time."
McKeithen draws on a wonderfully wide ranging group of of poets and lyricists--including Emily Dickinson, the Rolling Stones, Paul Celan, Bruce Springsteen, Marie Howe, Walt Whitman, and many others--to illuminate, comfort, and help to express her sorrow. Some chapters are reflections on friendships and family relationships in the context of a chronic and worsening illness. Some consider making peace with what life has dealt, and others value intentionally reworking it.
Not written to suggest easy solace, this powerful work aims to keep company, as would any individual whose loved one is on a course in which the only way out is through.
Praise For Blue Peninsula: Essential Words for a Life of Loss and Change…
"A mother with a passion for poetry, Madge McKeithen shows us by example how to find comfort in verse as she lives with the agonizing burden of her son's mysterious illness. In her words and those of others, she reveals a creative way to bear the pain of unresolved loss and grief. Poignantly, she finds strength and resiliency as poetry offers the solace of some truth when the ambiguities of life cannot." —Pauline Boss, author of Ambiguous Loss and Loss, Trauma and Resilience

"Madge McKeithen treats poetry as what Kenneth Burke calls 'equipment for living.' Poems become her abiding companions as she lives through and confronts her son's devastating unnamed illness. Blue Peninsula is a deeply moving book that, like good poetry itself, disturbs and consoles." —Edward Hirsch, author of Poet's Choice

"'After great pain,' Emily Dickinson wrote, 'a formal feeling comes.' And after the great pain of her son's grievous illness invaded Madge McKeithen's life, the formal grace of poetry came to her—or she to it. In that turning to poetry she has given us an extraordinary document of human solidarity and uncommon courage. We are always glad of a great poet in our midst. But it may be rarer still to find a great reader of it, to see embodied in a life the reason poetry matters at all. In her modest, steadfast encounter with individual poems set against the harrowing downward spiral of her son's life, McKeithen becomes what every writer longs for—the dreamed of 'dear reader' that literature lives for. Out of such pain to have fashioned such a heartening book—a remarkable achievement." —Patricia Hampl, author of I Could Tell You Stories: Sojourns in the Land of Memory

"BLUE PENINSULA is a sequence of meditations on poems not by a literary critic but by a mother who is fighting despair over her young son's bewildering and protracted sickness. Madge McKeithen tries on these poems—ranging from John Clare to Diane Ackerman—like garments to fit the changing shape of her sorrows, and she holds onto each one to keep herself from falling into the well of grief. Here—let there be no doubt-- poetry makes something happen." —Billy Collins
or
Not Currently Available for Direct Purchase